Author Archive
Tom Shoop
Editor at Large / tshoop@govexec.com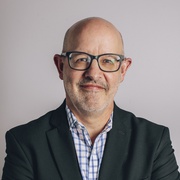 Tom Shoop is the former executive vice president and editor in chief at Government Executive Media Group, where he oversaw editorial operations at Government Executive, Nextgov, Defense One and Route Fifty. He started as associate editor of Government Executive magazine in 1989; launched the company's flagship website, GovExec.com, in 1996; and served as editor in chief from 2007 to 2021. He can be reached at tshoop@govexec.com.
CIO Briefing
Honorees in the annual Theodore Roosevelt Government Leadership Awards will also be unveiled before a virtual gala in October.
CIO Briefing
It's now. Luckily, we have one. And nominations are open for this year's class of inductees, along with the annual Teddy Awards for leadership achievement.
CIO Briefing
Federal agencies were modernizing their information technology systems and business processes at varying rates. Then came the pandemic.
---
CIO Briefing
Nominations are open for the second annual Theodore Roosevelt Government Leadership Awards.
CIO Briefing
A chance to tell your colleagues across government about innovative approaches you're implementing.
CIO Briefing
From Clara Barton to the Apollo 11 crew, these exemplary individuals have made historic contributions to American government.
CIO Briefing
Honorees are an all-star team of distinguished federal officials and industry partners.
CIO Briefing
We'll be naming an all-star team of officials who have gone above and beyond to serve the American people.
IT Modernization
Cultural factors, such as empowerment of staff, given greater weight than upgraded IT and bigger budgets.
CIO Briefing
This is your chance to highlight the important work you're doing, share your ideas with peers from other agencies and learn from their experiences.
CIO Briefing
Sits in lots of meetings, seeks to build consensus and handles the unexpected.
CIO Briefing
Expect another end-of-fiscal-year surge, especially in IT contracting.
CIO Briefing
Purchasing changes must come after health care website is fixed, he says.
CIO Briefing
Aaron Alexis was employed by HP subcontractor on Navy Marine Corps Intranet program.
CIO Briefing
Jennifer Pahlka, government's new deputy CTO, on pushing innovation in the federal context.
Ideas
Federal agencies used to drive technology innovation. Now, not so much.
CIO Briefing
Americans who 'live in networks' demand new ways of interacting with agencies.
Emerging Tech
Outage comes on one of the busiest travel days of the year.
By

Tom Shoop and Joseph Marks
Cybersecurity
DHS chief declines to provide timetable for when it might be issued.