Author Archive
Tara Copp
Senior Pentagon Reporter, Defense One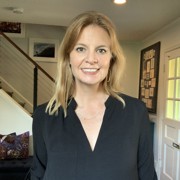 Tara Copp is senior Pentagon correspondent for Defense One. Copp has reported through the Middle East, Asia and Europe to cover defense policy and its impact on the lives of service members. Her investigative reporting on military aviation accidents and on skyrocketing veteran cancer rates drove Congressional hearings and legislation. Before returning to journalism, she worked as a senior defense analyst at the U.S. Government Accountability Office, focused on readiness and military operations in Iraq and Afghanistan. She is a Plan II graduate of the University of Texas and earned her masters in Security Studies at Georgetown University.
Emerging Tech
Within weeks, Walter Reed researchers expect to announce that human trials show success against Omicron—and even future strains.
CIO Briefing
The defense secretary also pushed for deeper ties between the Pentagon and technology firms.
By

Marcus Weisgerber and Tara Copp
---
CIO Briefing
Defense leaders want to make sure they can spot and track "phenomena" trespassing over training ranges.
Emerging Tech
Two lunar-exploration spacesuits won't be ready, a new report says, while bid protests have held up work on the lander.
CIO Briefing
For West Coast units, there's no wildfire season anymore. 'It's really a fire year now,' top general says.
CIO Briefing
Michael Brown to remain at DIU for now, Pentagon says.
Emerging Tech
China continues to burn all the fuel in its launches, allowing the used-up rockets to fall back to Earth uncontrolled.
Emerging Tech
The service is closing in on a "pan-coronavirus" vaccine and on synthetic antibodies that could protect a population before spread. But that may not be enough.
CIO Briefing
New memos suggest office space occupancy may never return to 100 percent.
By

Marcus Weisgerber and Tara Copp
CIO Briefing
Inspector General complaint alleges DIU Director Michael Brown's agency used federal hiring tools to hire friends, but office says it's competing for talent.
CIO Briefing
Former Pentagon acquisition chief has relevant experience defining threats and modernization needs, colleagues say.
By

Marcus Weisgerber and Tara Copp
CIO Briefing
Nominee Christine Wormuth has led strategy and policy at the highest levels. Can she lead cultural change as well?