Author Archive
Natalie Alms
Staff Reporter, Nextgov/FCW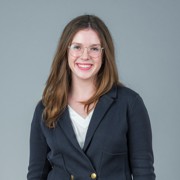 Natalie Alms is a staff reporter at Nextgov/FCW covering federal technology policy, service delivery, customer experience and the government's tech workforce. She is a graduate of Wake Forest University and has written for the Salisbury (N.C.) Post. Connect with Natalie on Twitter at
@AlmsNatalie
.
Digital Government
The Office of Management and Budget is piloting new digital experience indicators based on recently released guidance for the 21st Century IDEA Act.
Cybersecurity
The Office of Management and Budget's recent FISMA guidance notes the importance of the Cybersecurity and Infrastructure Security Agency's ability to scan agencies for vulnerabilities on an ongoing basis.
Cybersecurity
The new rotational program is an outgrowth of 2022 legislation backed by Sen. Gary Peters, D-Mich., who chairs the Homeland Security and Governmental Affairs Committee.
---
Digital Government
The new, bipartisan recreation-focused package is aimed at cutting red tape around national parks and public land, its backers say.
Modernization
Be on the lookout for a vacancy announcement for the SSA CIO position.
Acquisition
The General Services Administration recently reorganized its Federal Acquisition Service, eliminating its regional structure, a move its commissioner Sonny Hashmi says is already yielding positive results.
People
Within the newly formalized DHS Customer Experience Office, "our biggest challenge is that the demand far outstrips the supply," said its leader, Dana Chisnell.
Artificial Intelligence
As agencies move to fulfill requirements laid out in Biden's AI executive order, workforce gaps remain "one of the biggest barriers" according to a White House official.
People
Drenan Dudley, the deputy national cyber director for strategy and budget, will helm the ONCD until the Senate confirms a permanent leader.
People
As Biden's pick for national cyber director — Harry Coker — makes his way through the Senate, the current acting director nears her last day.
Digital Government
Texas Republican Pete Sessions said 18F "misled and lied to the government" about the credentialing service's capabilities .
Digital Government
Access to unemployment has been declining and differs drastically across demographic groups. The Labor Department is urging states and territories to do something about it in new guidance.
Digital Government
The registry will enable people to search for private employment retirement, group health and other welfare benefit plans that still owe them benefits.
Breaking News
People
The current acting CIO of the Centers for Medicare and Medicaid Services, Rajiv Uppal, has been selected to take the top tech post post at the IRS — the latest in a series of leadership changes in the CIO shop at the tax agency in recent months.
Digital Government
Federal Chief Information Officer Clare Martorana said coming guidance will focus both on external- and internal-facing government tech.
Digital Government
Although Treasury Secretary Janet Yellen plugged progress in IRS efforts to tame paper in the agency, she also emphasized that "playing politics with IRS funding is unacceptable."
Digital Government
The Agriculture Department is also working to help states address card skimming and other persistent problems in the SNAP program.
Cybersecurity
A spring audit of agency mobile devices found several banned and outdated applications installed on personnel and contractor smartphones.
Artificial Intelligence
Agencies will be on the hook for tapping chief AI officers, adding risk management practices to AI like independent evaluations and more.
People
The personnel agency is also gearing up to recruit AI workers into the government as part of a talent surge called for in the recent AI executive order.