Author Archive
Kevin Baron
Executive Editor, Defense One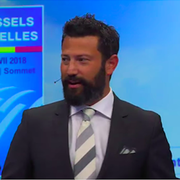 Kevin Baron is the founding executive editor of Defense One. Baron has lived in Washington for more than 20 years, covering international affairs, the military, the Pentagon, Congress, and politics for Foreign Policy, National Journal, Stars and Stripes, and the Boston Globe, where he ran investigative projects for five years at the Washington bureau. He is a frequent on-air contributor and previously was national security/military analyst at NBC News & MSNBC. Baron cut his muckraking teeth at the Center for Public Integrity and he is twice a Polk Award winner and a former vice president of the Pentagon Press Association. A member of the Council on Foreign Relations, Baron earned his M.A. in media and public affairs from George Washington University, B.A. in international studies from the University of Richmond, and studied in Paris. Raised in Florida, Baron now lives in Northern Virginia.
Emerging Tech
The command has goals for 2025 and 2030, but wants more guidance from the Pentagon.
By

Kevin Baron and Patrick Tucker
Cybersecurity
As DOD scrambles to find equipment for those who can work from home, Pentagon leaders tell personnel: 'No hand-shaking, no high-fives," and clean your workstations.
Emerging Tech
Artificial intelligence businesses in China help an authoritarian government and erode America's military advantage, the Joint Chiefs chairman said.
---
Emerging Tech
After seven rental scooters were abandoned at the Pentagon following this year's September 11 remembrances, police say they will begin impounding the unauthorized rides. Bikes, too.
IT Modernization
The battle for the Defense Department's $10 billion war cloud is getting a lot more interesting.
By

Kevin Baron, Patrick Tucker and Frank Konkel
CXO Briefing
The four-star boy from Boston brings to DHS the grief of losing friends to America's drug epidemic and a son to the war on terrorism.
CXO Briefing
Ash Carter continues his outreach tour to robotics labs and startup centers.
CXO Briefing
This battle for Mosul ultimately will be the biggest U.S. operation in Iraq since the end of the last war.