Author Archive
John Kamensky
Emeritus Fellow, IBM Center for the Business of Government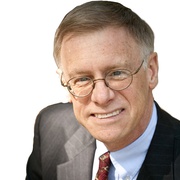 John M. Kamensky is Emeritus Fellow at the IBM Center for the Business of Government. He previously served as deputy director of Vice President Gore's National Partnership for Reinventing Government, a special assistant at the Office of Management and Budget, and as an assistant director at the Government Accountability Office. He is a fellow of the National Academy of Public Administration and received a Masters in Public Affairs from the Lyndon B. Johnson School of Public Affairs at the University of Texas at Austin.
Ideas
He is now the fifth president since Bill Clinton to announce a new customer focus for federal services.
Ideas
There's much that newcomers to government should learn from the past.
By

John Kamensky and Dan Chenok
Ideas
We may be entering a Golden Age of data sharing.
---
Ideas
Suddenly, the conversation about telework has shifted from "do we have the right technologies in place?" to "do we have the right people policies and training in place?"
Ideas
A series of Interviews with high achievers reveals some surprising things about what it takes to get things done in the bureaucracy.
Ideas
With the passage of the $2.3 trillion economic relief bill, things are happening at breakneck speed.
Ideas
A recent gathering of state and local officials had the feel of an old time revival.
Ideas
Officials are increasingly leveraging the power of behavioral science to enhance program performance.
Ideas
The private sector has been using psychological insight for years to promote certain outcomes.
Ideas
The federal workforce needs to be reskilled. Expect major disruptions ahead.
Ideas
Agencies need to do a better job of explaining what they do and why it matters.
Ideas
They're hard to create, and hard to sustain.
Ideas
Digital service teams face key challenges in being effective change agents in a traditional government setting.