Author Archive
Frank Konkel
Vice President, Editorial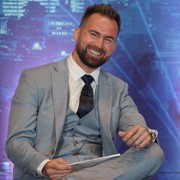 Frank Konkel is vice president of editorial and an editor at large for Nextgov/FCW. He writes about the intersection of government and technology. Frank began covering tech in 2013 upon moving to the Washington, D.C., area after getting his start in journalism covering local and state issues at daily newspapers in his home state of Michigan. Frank was born and raised on a dairy farm and graduated from Michigan State University.
Modernization
Ukraine's largest bank preserved economic stability for 20 million customers amid an ongoing war with Russia.
Digital Government
Citizen satisfaction increased almost 3% in 2023, according to the latest data from the American Customer Satisfaction Index.
Acquisition
A single contract garnered more than 350 protests.
---
People
Federal agency missions often take a back seat amid preparations for a funding lapse.
People
The United States Postal Service CIO explained her agency started its cloud journey early and maintains a business objectives focus for migrations.
People
Jessie Posilkin, currently the Technology Modernization Fund's customer experience portfolio director, will take over as acting executive director until a permanent candidate is selected.
By

Frank Konkel and Jessie Bur
Digital Government
Rep. Frank Pallone, D-N.J., questioned whether tech companies are doing enough to curb the massive influx of disinformation regarding the Israel-Hamas conflict.
Emerging Tech
The upcoming Hyperspace Challenge will link industry with the Defense Department and inform them of various opportunities to partner.
Acquisition
GDIT President Amy Gilliland discussed how the large systems integrator is responding to market shifts in a conversation with Nextgov/FCW.
Artificial Intelligence
Government and industry tech executives are focused on the risks as well as the opportunities presented by the generative AI revolution.
People
The Agriculture Department has made strides to modernize tech systems and improve service delivery, but there's more work to do, according to Chief Information Officer Gary Washington.
Modernization
The Department of Homeland Security's CIO detailed how his agency saved the public 20 million hours accessing agency services in a move that signals a major culture change.
Artificial Intelligence
At least one senator believes Congress' old age is hindering efforts to regulate the new technology.
Cybersecurity
The lessons of Ukraine argue for increased openness about public and private sector cyber attacks, two congressmen said on Monday.
Digital Government
The 80-pound AWS 'Snowblade' device provides cloud services to end users at all classification levels while meeting the military's highest ruggedization standards.
Emerging Tech
A bipartisan duo of lawmakers discussed artificial intelligence at Amazon Web Service's government summit.
Artificial Intelligence
Microsoft is opening up its commercial generative AI technology to public sector customers and partners.
Policy
The survey suggests more than half of government employees prefer to work for an agency that offers hybrid and remote flexibility.
Exclusive
Artificial Intelligence
Dave Goldfein, retired general and former Air Force chief of staff, will serve as the board's chairman, alongside professionals with backgrounds in defense and intelligence, technology, education, health care and state and local government.