Author Archive
Frank Konkel
Executive Editor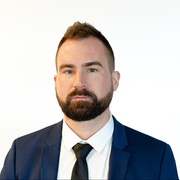 Frank Konkel is Nextgov's executive editor. He writes about the intersection of government and technology. Frank began covering tech in 2013 upon moving to the Washington, D.C., area after getting his start in journalism working at local and state issues at daily newspapers in his home state of Michigan. Frank was born and raised on a dairy farm and graduated from Michigan State University.
CIO Briefing
The prolonged government shutdown is getting "pretty scary" as the number of federal employees and contractors forced out of work could impact the nation's next jobs report.
IT Modernization
GSA signaled it is close to issuing a draft request for quotations for the Defense Enterprise Office Solutions contract.
CIO Briefing
The shutdown is having a major effect on government contractors and federal employees alike.
---
CIO Briefing
Furloughed federal employees turning to other jobs need to be aware of federal ethics guidelines and agency rules a second job could violate.
CIO Briefing
A survey suggests Amazon's new HQ2 in Arlington, Va., is going to dramatically disrupt the local workforce—especially in tech.
Emerging Tech
Americans do not favor strict limits on facial recognition technology, according to a new national survey.
CIO Briefing
Three important sites operated by the General Services Administration experienced technical problems last week.
IT Modernization
The bill would elevate the authority of the federal chief information officer and chief information security officer.  
CIO Briefing
Customer service agents advised users to keep trying.
Emerging Tech
The software allows the FBI to go through video surveillance footage much faster than agents can.
Cybersecurity
The guide stems from the Cybersecurity Act of 2015.
CIO Briefing
As we say goodbye to 2018, Nextgov's executive editor revisits some of our most impactful and important stories from the previous year.
CIO Briefing
The National Geospatial-Intelligence Agency will have a new director come February.
IT Modernization
The agency is entering an important transitional year as it combines its many schedules into one.
CIO Briefing
Nextgov readers have great taste and according to our most-read stories of 2018, that includes a hankering for the administration's major tech policies and a touch of scandal.
IT Modernization
The Defense Department is beginning to move applications to its milCloud 2.0, its next-generation on premise cloud solution.
Emerging Tech
An agency group is going abroad for ideas about 5G, artificial intelligence, machine learning and cybersecurity.
CIO Briefing
A judge ruled that Amazon Web Services has standing in Oracle's case against the Defense Department regarding its massive cloud contract.
IT Modernization
The General Services Administration urged industry partners to comment before the holidays if they have input for the proof-of-concept stage.
IT Modernization
With the U.S. Court of Federal Claims addressing a similar case, the Government Accountability Office dismissed IBM's protest.