Author Archive
Frank Konkel
Executive Editor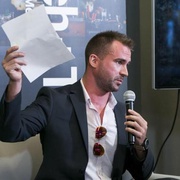 Frank Konkel is Nextgov's executive editor. He writes about the intersection of government and technology. Frank began covering tech in 2013 upon moving to the Washington, D.C., area after getting his start in journalism working at local and state issues at daily newspapers in his home state of Michigan. Frank was born and raised on a dairy farm and graduated from Michigan State University.
Cybersecurity
The Centers for Medicare and Medicaid Services acknowledged 75,000 people's records were accessed but haven't disclosed who might be behind it.
IT Modernization
After two years, the NSA finished rebidding its "Groundbreaker" program and is beginning work on a secretive new set of communications contracts.
---
CIO Briefing
The government released a go-to guide for customer experience practitioners.
CIO Briefing
The Defense Department is trying new methods of engagement to recruit young tech talent.
CIO Briefing
An Information Technology Industry Council reorganization is changing how it will push for government IT issues.
By

Aaron Boyd and Frank Konkel
IT Modernization
The Agriculture Department has avoided $26 million in spending due to the first phase of its modernization effort.
IT Modernization
The leaders of two contenders for the Pentagon's JEDI cloud contract sounded off on Google's decision not to bid.
CIO Briefing
The two contractors will create a $33.5 billion company.
Emerging Tech
18F and the Technology Transformation Services face a more certain future than just two years ago.
IT Modernization
IBM becomes the second company to file a pre-award bid protest against the Pentagon's multibillion cloud contract.
IT Modernization
The software giant made a slew of announcements Tuesday that indicate how seriously it is targeting government business, especially cloud computing.
CIO Briefing
The federal agency with the highest customer satisfaction scores continues its high performance, according to new internal survey data.
CIO Briefing
Another legal maneuver by Oracle just a week before bids for the Pentagon's $10 billion JEDI cloud contract are due.
CIO Briefing
Hanson will be Nextgov's first publisher, and will lead business development, product planning and client relations.
CIO Briefing
The bipartisan legislation would reauthorize, rename, codify and elevate the role of federal chief information officer.
CIO Briefing
Most of the citizens polled thought digital services are as important or more important than traditional service delivery.
CIO Briefing
The federal government could spend close to half its appropriated budget in the final fiscal quarter, which ends Sept. 30.
IT Modernization
Cloud spending is sky-high across federal agencies and only expected to grow from here, according to a new analysis.
Emerging Tech
The company continues to keep the legal pressure on the Defense Department.