Author Archive
Eric Katz
Senior Correspondent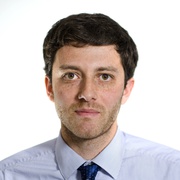 Eric Katz writes about federal agency operations and management. His deep coverage of Veterans Affairs, Homeland Security, the Environmental Protection Agency and U.S. Postal Service has earned him frequent guest spots on national radio and television news programs. Eric joined Government Executive in the summer of 2012 and previously worked for The Financial Times. He is a graduate of The George Washington University.
Policy
President Biden is expected to sign the measure to keep agencies funded past Friday.
Policy
The novel approach to avert a funding lapse now heads to the Senate.
People
Some Republicans joined Democrats to postpone the exceedingly rare effort.
---
People
The department will now focus on retaining those employees through various incentives and process improvements, officials say.
People
A variety of agencies would collectively add nearly 6,000 employees if Congress provides the supplemental funding.
People
"Everything just stops," employees say of the devastating impacts of near shutdowns.
Policy
Lawmakers passed a bipartisan measure just hours before a funding lapse was set to furlough hundreds of thousands of federal employees.
Policy
Senate will still attempt 11th-hour plan that faces uncertain future.
Policy
Degree of organization varies across government as agencies note a funding lapse could still be avoided.
People
The Biden administration is planning to take a novel shutdown approach at some agencies.
Policy
Confidence in a new short-term funding proposal was short-lived on Thursday.
Policy
The upper chamber has bipartisan support for many of its funding measures and will look to put pressure on the divided House.
Policy
The House and Senate remain significantly divided over spending for the rest of fiscal 2024.
People
The settlement agreement resolves an issue that arose during the Trump administration.
Modernization
The Biden administration has ambitious goals to electrify the federal fleet, but many obstacles remain.
Policy
The way forward is still complicated by the House, which is pushing partisan spending bills along party lines.
Digital Government
Bipartisan leaders pledge to pass fiscal 2024 funding bills to avoid a sequestration next year.
Digital Government
The agreement also reduces shutdown threats, plus other takeaways for federal employees.
People
The lawsuit seeks to force the Biden administration to take unilateral action to avoid a default.