Author Archive
Elahe Izadi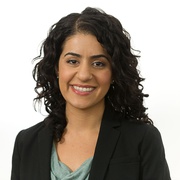 Elahe Izadi writes about Congress and politics for National Journal, having previously covered Congress and K Street for the Influence Alley microsite. Prior to joining National Journal, she wrote and curated DCentric.org, an NPR Project Argo blog at WAMU 88.5 focused on race and class. Elahe was also part of the team behind D.C. local news start-up TBD.com, and covered everything from crime to local government for The Gazette, The Washington Post's chain of community newspapers in Maryland. Elahe graduated from the University of Maryland with degrees in print journalism and African-American history. She was born in Washington, D.C., where she currently lives and regularly performs stand-up comedy.
CXO Briefing
Democrats who walked the plank for Obamacare in 2010 now have to watch the White House mess it up.
By

Elahe Izadi and Sam Baker

, National Journal
CXO Briefing
Rep. Camp wants the numbers by Friday, not next week.
By

Elahe Izadi

, National Journal
Data
The GOP's leading wave of strategists offer advice on how to fix the party's technological woes.
By

Elahe Izadi

, National Journal
---
Emerging Tech
Two of the most successful politicians on social media have different approaches for how they talk to voters.
By

Elahe Izadi

, National Journal