Author Archive
Aaron Boyd
Senior Editor, Nextgov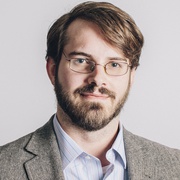 Aaron Boyd is an award-winning journalist currently serving as senior editor for technology and events at Nextgov. He primarily covers federal government IT contracting and cybersecurity issues affecting both civilian and defense agencies. As a lifelong nerd and policy wonk, he feels right at home covering the intersection of technology and policy in the nation's capital.
Digital Government
Financial assistance programs need to respond quickly to be effective. The vast troves of government data offer opportunities to shave down that time.
Emerging Tech
The department is awarding multiple spots on a $7.2 million contract for unmanned aerial systems-as-a-service.
Digital Government
The agency is going to use drones to conduct security assessments at airports, transportation incidents and large security events.
---
Digital Government
The resource hub out of the departments of Defense and Veterans Affairs is part of a larger White House initiative to better respond to the life experiences of Americans.
Digital Government
The text service will be the first project to come out of the General Services Administration's new Public Benefits Studio.
Digital Government
Agencies are approaching the White House's mandate with an eye for getting important information and access to as many people as possible.
Cybersecurity
The Logging Made Easy tool will move to CISA's GitHub page later this year but will be unsupported in the meantime.
Cybersecurity
Prosecutors unveiled charges Monday against a "troll farm" and Chinese nationals who worked with a Zoom employee to crash meetings with U.S.-based dissidents.
Digital Government
Additional proposals would give consumers more options, such as adding text messages to the Do-Not-Call registry.
Digital Government
Software asset management and purchases for the IT system underpinning security clearance background investigations will be consolidated under a single commercial contractor.
Cybersecurity
At least two groups tried to exploit the vulnerability to get deeper into the agency's networks, including a Vietnamese criminal gang.
Modernization
The tax agency intends to add Login this filing season—and as early as next week—as the integration is in final rounds of testing.
By

Natalie Alms and Aaron Boyd
Digital Government
The agency said the emails were generated in error and likely unrelated to the unscheduled downtime Wednesday morning.
Digital Government
In three years, creators of the Standard Application Process condensed 16 different agencies' processes into one central portal for confidential data requests.
Cybersecurity
The guidance document also explains how CISA and the FBI will work with agencies to investigate cybersecurity incidents.
Emerging Tech
The space agency wants to ensure commercial space stations have the rules and supplies to support government astronauts.
Cybersecurity
The packet capture, or PCAP, requirement's short timeframe and potentially massive data loads caused one expert to doubt whether it would be useful after a real cybersecurity incident.
Digital Government
The Health and Human Services Department's version of DARPA—ARPA-H—is setting up a wide-ranging contract for support staff.
Emerging Tech
The feedback will inform priorities for developing digital asset technologies, including potential for a central bank digital currency.