Q&A: Iran Nuclear Probe Must Advance, IAEA Chief Says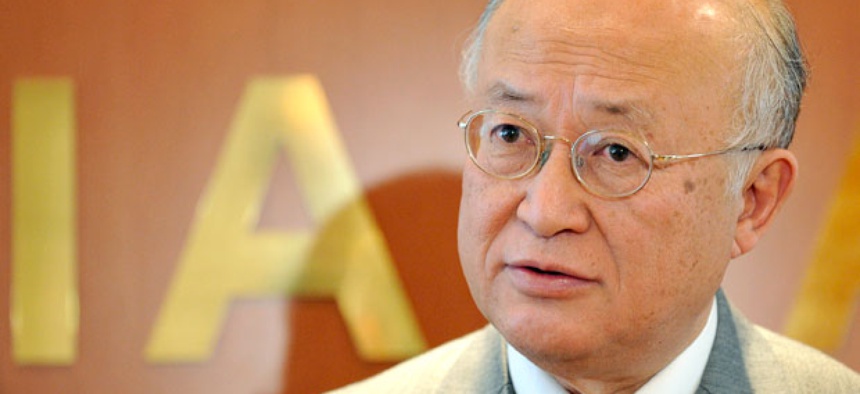 The investigation of Iran's nuclear program must be allowed to take on the real concerns at hand rather than remain stuck going "round in circles" in endless talks, according to the United Nations' top nuclear official.
The International Atomic Energy Agency since early 2012 has convened nine meetings with Iranian officials aimed at setting the terms for the stalled inquiry. The next session is scheduled for May 15.
In an April 16 written response to a series of questions, IAEA Director General Yukiya Amano said Tehran has yet to prove there are no "military dimensions" to its nuclear program. The United States and other nations are less restrained, asserting Iran is aiming at a nuclear-weapon capability, a charge vehemently denied by Iranian leaders.
"We have had nine rounds of talks on the structured approach document … but we were not able to reach agreement," Amano stated. "We need to move forward to address substance, not go round in circles discussing process."
Iran has proven to perhaps be Amano's biggest headache in nearly four years on the job. It is far from the only one, though. The agency remains frozen out of North Korea, which conducted its third nuclear test earlier this year. Syria has similarly proved unwilling to resolve suspicions about several facilities in its territory, one of which was an alleged nuclear reactor plant bombed by Israel in 2007.
"In all three cases we continue to work towards a successful outcome: the full implementation of IAEA safeguards agreements and resolutions of the Board of Governors and U.N. Security Council," Amano told Global Security Newswire. "We are not giving up."
Amano assumed leadership of the Vienna, Austria-based organization in December 2009 after a long diplomatic career that included serving as the Japanese Foreign Ministry's top arms control official and later as Tokyo's IAEA delegate.
It took several rounds of polling by the agency's 35-nation governing board for Amano to defeat South African diplomat Abdul Minty for the top post. Amano was broadly seen as the preferred candidate of Western nations, while Minty had the backing of many developing states.
Those regional tensions have persisted, with Iran complaining of unfair treatment by Amano -- specifically his unwillingness to turn over documents that provide the basis for the agency's suspicions. Some former IAEA officials have also questioned the agency chief's approach.
Amano said Iran is held to the same standards as all nations that join the Nuclear Nonproliferation Treaty as non-nuclear-weapon members. It is up to Iranian leaders to disprove "a substantial body of information" suggesting that it has conducted work that could be used in developing nuclear weapons, he added.
The dispute will almost certainly cross over into Amano's second term, which is effectively a lock after he received unanimous affirmation from the IAEA board in March. The watchdog's full membership has the final say in September.
In wide-ranging answers to e-mailed questions, Amano discussed the agency's work to address nuclear proliferation threats, its other duties including promoting peaceful use of atomic technology, criticism of the response to the 2011 Fukushima Daiichi nuclear plant disaster in Japan, and nuclear worries that deserve greater attention.
GSN: Why did you choose to seek a second term as IAEA director general?
Amano: Member states of the IAEA supported me to serve a second term. For my part, I find it a great privilege to serve as IAEA director general. I like the job: it's challenging and never dull. I appreciate the chance to do some good, to make a difference in the world.
GSN: What do you see as your accomplishments in the last four years, and what do you hope to do going ahead?
Amano: I think I've been able to achieve some concrete results in my time so far as director general. We've presented the Iran case with clarity, and also drew a conclusion on Syria. I succeeded in convening a forum to discuss nuclear-weapons-free zones in relation to the Middle East, after many years where such a meeting was not possible. The Fukushima Daiichi accident presented many challenges, but the agency's Action Plan on Nuclear Safety gained unanimous member state support and is driving international efforts to raise safety standards to the highest possible level. We've also raised awareness of how nuclear technology can contribute in fields such as cancer control, water management, food and the environment -- issues that affect the lives of people around the world.
The General Conference has still to approve the board's decision to re-appoint me, so I prefer not to talk in too much detail about my priorities for the next four years. As you know, the agency's mandate is to enhance the contribution of atomic energy to peace, health and prosperity around the world, and to help prevent the spread of nuclear weapons. I intend to pursue these multiple objectives in a balanced way, for all member states. And I will deliver concrete results by further improving management.
GSN: You recently noted the difficulty of negotiating with Iran. What makes that nation such a complicated negotiating partner?
Amano: I don't think it's for me to comment on Iran as a negotiating partner.
The situation itself has become more complex, in the sense that, for example, Iran is now enriching uranium up to 20 percent. As I've said before, it is frustrating that we have produced no concrete results in resolving outstanding issues.  We have had nine rounds of talks on the structured approach document, which is a modality to resolve outstanding issues, but we were not able to reach agreement. We need to move forward and address substance, not go round in circles discussing process.
The agency is firmly committed to resolving all outstanding issues through dialogue, and we will continue making every effort to reach agreement with a sense of urgency. But any such approach must allow the agency to do its verification job properly.
GSN: What is the likelihood of reaching an agreement on the scope of the IAEA investigation of Iran's nuclear program, and for resolving concerns about those activities?
Amano: I don't want to speculate. As I said, the agency is committed to resolving all the outstanding issues by diplomatic means. It's in Iran's own interest to engage fully with the agency to resolve outstanding issues regarding possible military dimensions to its nuclear program.
GSN: How do you respond to Iran's claim that it has not been treated fairly during your tenure as head of the IAEA? What about its demand for documents believed to have contributed to suspicions about its atomic activities?
Amano: It is quite simple: I believe that all non-nuclear-weapon states under the NPT should fully implement comprehensive safeguards agreements and other relevant obligations if there are any. No exception is made to this rule. We don't hold Iran to different standards.
The fact is that we have a substantial body of information that indicates that Iran has carried out activities relevant to the development of a nuclear explosive device. As things stand, the agency is unable to provide credible assurance about the absence of undeclared nuclear material and activities in Iran, and therefore to conclude that all nuclear material in Iran is in peaceful activities.
Iran needs to engage with us, to clarify the situation. We are ready to present clear, detailed questions to Iran. We are also ready to provide relevant documents, where we consider this appropriate.
GSN: Has the IAEA had any contact with the Kim Jong Un regime in North Korea? Has there been any sign that the government would consider allowing IAEA inspectors back into the country?
Amano: You'll remember that in March 2012 the D.P.R.K. invited an agency delegation to discuss technical issues relating to the monitoring of a possible moratorium on uranium enrichment activities at Yongbyon, but that this invitation was subsequently discontinued.
Obviously the recent nuclear test, and the announcement that the D.P.R.K. will rebuild and restart nuclear facilities including the 5 [megawatt] reactor at Yongbyon, were steps in the wrong direction. They are deeply regrettable, and in clear violation of U.N. Security Council resolutions.
The IAEA remains ready to contribute to the denuclearization of the Korean Peninsula. We are ready to resume our verification activities in the D.P.R.K., as soon as political agreement is reached among the countries concerned. I strongly urge the D.P.R.K. to implement fully all relevant resolutions of the U.N. Security Council and the IAEA Board of Governors.
GSN: What is the state of the IAEA probe of Syria? Can you move ahead while the civil war continues?
Amano: We have not received any new information from Syria or other member states that would change the assessment we made in May 2011, that a building destroyed at the Dair Alzour site was very likely to have been a nuclear reactor that should have been declared to the agency. We cannot give any assessment on the nature or operational status of three other locations that are alleged to be functionally related to Dair Alzour.
Although clearly the situation inside the country presents challenges, we are continuing to ask the Syrian government to engage with us to clarify the nature of these activities. We continue to have an interest in gaining access to relevant sites, people and documents.
GSN: The investigations of Iran, North Korea and Syria have all remained unresolved. How do you measure progress in those probes?
Amano: In those three cases, the Board of Governors decided that some of their activities constitute noncompliance with their comprehensive safeguards agreements and reported the cases to the U.N. Security Council. The U.N. Security Council, for its part, adopted resolutions, but none of these countries has implemented such resolutions. Those three cases are all different, and I can't compare one with another. Nevertheless, in all three cases we continue to work towards a successful outcome: the full implementation of IAEA safeguards agreements and resolutions of the Board of Governors and U.N. Security Council. We are not giving up.
GSN: Are there other nuclear proliferation threats that should be receiving more attention?
Amano: I would say an area that needs more attention in general is the threat that nuclear materials could be put to malicious use by nonstate players -- the issue of nuclear security. The most dangerous country is the country that doesn't recognize this danger. The agency works closely with member states to support them in addressing this threat, and we will be holding a ministerial-level conference in July aimed at enhancing global nuclear security efforts.
GSN: What other areas of the IAEA's work deserve more outside attention?
Amano: As I said earlier, the agency's work is not just about safeguards. We are best known to the public for our work in preventing the spread of nuclear weapons, or perhaps in nuclear safety. I've also mentioned our important role in nuclear security. But another essential part of our mandate is to promote the peaceful uses of nuclear technology, for the benefit of humanity.
For example, we help to increase food production in dozens of countries through the use of nuclear techniques to develop more robust varieties of crops that thrive in difficult conditions. We work to improve access to clean drinking water and to combat deadly animal diseases such as foot-and-mouth, which can destroy the livelihoods of entire communities.
Cancer control is high on our agenda. Some 70 percent of cancer cases are now diagnosed in developing countries, but most of these countries lack both radiotherapy equipment and properly trained specialists. Hundreds of thousands of people do not have access to treatment that could save their lives. We support projects to train health professionals, strengthen cancer diagnosis, management and treatment, and establish oncology and radiotherapy centers in countries such as Afghanistan, Eritrea and Mozambique.
These are just a few examples, but they give an idea of the huge range of practical benefits that the agency is helping to deliver to people around the world.
GSN: Has the agency identified the perpetrator or perpetrators behind the hacking attemptsreported last year?
Amano: I don't want to point the finger in any particular direction. We cannot be complacent; any organization can be a target for hacking attempts, and the agency is no exception. We treat information security very seriously, and take all possible measures to protect our computer systems and data from illegal access. Our experts are constantly assessing potential threats and looking for any weakness in our systems.
GSN: Do you believe the agency responded sufficiently quickly and forcefully to the Fukushima Daiichi disaster?
Amano: There are many misconceptions about the agency's role in a nuclear accident. We are often referred to as the 'nuclear watchdog', but this applies only to our verification work. In nuclear safety, responsibility lies with the operators, regulators and member states. We are not an international safety regulator, nor some kind of emergency force.
Within its mandate, the IAEA was active from day one in helping Japan to respond to the emergency, and helping the world to enhance safety.
Our incident and emergency center was fully activated within about an hour of the earthquake, and worked literally round the clock for weeks to gather and disseminate information and coordinate offers of help. We provide solid information that has been validated by the member state itself, and I believe that's an important reference point, particularly in a fast-moving emergency. I myself went to Japan one week after the accident began, to speak to the government and ask for a better flow of information. I sent expert teams to provide advice and help with radiation monitoring, food safety, and remediation of the consequences of the accident. The agency continues to send missions to Japan to help with challenges such as decommissioning and remediation.
We have learned lessons from the accident, and could do better in various ways if another one occurred. We are also helping to enhance nuclear safety: the member states of the agency endorsed the IAEA Action Plan on Nuclear Safety unanimously, and are now implementing it.
GSN: What work is ongoing at the Fukushima site?
Amano: While the IAEA has supported Japan with some guidance, recovery operations at Fukushima Daiichi are conducted by Japanese officials and workers. Those crews are conducting a large set of on-site operations, aimed at resolving short-term concerns and planning long-term actions.
As we have seen from the recent water leakage, and the power outage that caused cooling problems in the spent fuel pools, the situation at the site remains challenging. In the near term, efforts are continuing to cool the damaged reactor cores of Units 1, 2, and 3; to manage on-site water storage and mitigate seawater contamination; and to prepare space in the common spent fuel pool so that fuel can be removed from the Unit 4 spent fuel pool -- an operation scheduled to begin before the end of this year. Looking ahead, officials are planning for the ultimate disassembly of the reactors and the safe disposal of radioactive waste.