Americans love the final frontier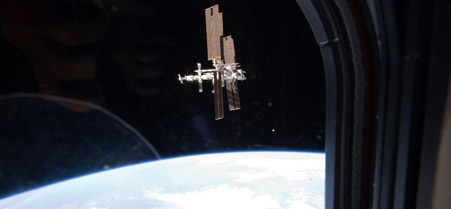 The International Space Station is visible from the window of space shuttle Atlantis. NASA
Why are conservative Republicans, who love nothing more than trimming government as far as they can, bent on perpetuating NASA's human spaceflight program?
Along with powerful appropriators and well-placed veteran members of Congress, tea party freshmen are concluding that sending humans into space is a valuable use of the country's limited resources.
That view is at odds with many in the scientific community, who believe that repeatedly sending astronauts to low-Earth orbit is a waste of time and resources. "We haven't learned one thing from the space station, not an iota," Bob Park, a former head of the University of Maryland's Physics Department told me. "There is nothing that a human being can do in space at this point that we can't do far better, cheaper, safer, more reliably--all of these things--than robots."
But human spaceflight has powerful allies, thanks to both the aerospace contractors who stand to make billions off future endeavors and the members of Congress who realize just how many jobs will be lost if manned flight is permanently shelved. Tens of thousands of jobs are on the line in Alabama, California, Florida, and Texas alone, with NASA itself and in dependent industries. Freshmen such as Reps. Sandy Adams , R-Fla., and Mo Brooks , R-Ala., represent districts that will be hit the hardest.
"It's about jobs, but it's not just about the jobs in my community," Adams said in an interview. "It's jobs throughout the nation that have been spinoffs from what has been gleaned from that research and technology and that innovation."
It's also about connections. Sen. Bill Nelson , D-Fla., is a former astronaut and has pushed his colleagues to keep funding human spaceflight. Sen. Richard Shelby , R-Ala., is a staunch defender of an aerospace industry that has a heavy footprint in the northern part of his state. Sens. Dianne Feinstein and Barbara Boxer , both D-Calif.; Kay Bailey Hutchison and John Cornyn , both R-Texas; and Orrin Hatch , R-Utah, are aggressively defending money set aside for contractors in their home states.
On the House side, a cadre of influential Republicans, led by Rep. Frank Wolf of Virginia, is looking out for NASA's interests as well.
"We have a responsibility to firewall and protect these core, essential functions of the federal government in an era of austerity that's unlike anything we've ever confronted before," said Rep. John Culberson , R-Texas, a fiscal hawk who nonetheless defends spending billions on a human spaceflight program. "We need to make sure NASA knows we love them and we're behind them 110 percent."
Unlike government studies that can be easily mocked, or programs that duplicate one another, there is a romantic allure to human spaceflight that has proven a valuable ally to the space caucus. Members of Congress and NASA scientists can play off that romance with a public that still flocks to Star Trek and Star Wars movies, as well as the very large proportion of taxpayers who remember where they were when Neil Armstrong walked on the moon.
The dichotomy of a program that provides little immediate value but enjoys plenty of societal goodwill, not to mention powerful backers on Capitol Hill, puts the Obama administration in a difficult position. Although President Obama's science team clearly wants to take any future space exploration in a new direction, senior officials cannot be too overt in opposing money directed at key states. One need only look to Charles Bolden, Obama's NASA administrator, for the White House's official line.
"The Obama administration remains committed to human exploration," Bolden told me. "America will continue to lead in human exploration and human spaceflight."
The trouble is, no one knows exactly what NASA's next steps are. The space-shuttle program officially ends on Thursday morning, when Atlantis is scheduled to return to the Kennedy Space Center after a final mission to the International Space Station. The program that was to replace the shuttles, Constellation, was so far over budget and behind schedule that the administration decided to scrap it and come up with a new plan, largely based on the nascent commercial industry.
But unlike other government programs that have met untimely ends at the hands of budget choppers, human spaceflight seems to have risen from the ashes. Separate earmarks in the House and Senate have set aside an additional $3 billion for the construction of a new heavy-lift rocket and capsule for human passengers.
There is some debate over how long a return to space may take. Bolden said that the industry consensus is that the first missions can lift off about three years after the government signs a deal with a private contractor and that the U.S. could send people into space aboard an American vehicle as early as 2014.
When it departed the International Space Station for a final time, the crew of Atlantis left behind a U.S. flag that flew on the very first shuttle mission three decades ago. It will remain at the station, symbolically, until the next time a NASA vehicle arrives there. Thanks to the powerful duo of robust Hill lobbying and a collective national veneration for spaceflight, that day will come despite the torrid budget-cutting and even though many scientists say it's not worth the money.