VA plans to build an Agent Orange disability claims system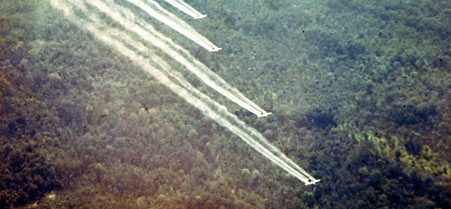 The defoliant used in the Vietnam war has been found to cause birth defects and cancer. U.S. Air Force
The Veterans Affairs Department plans to build a system to process simplified claims for Vietnam veterans exposed to the toxic chemical Agent Orange, creating its first fully automated disability claims network.
The system will support processing for what VA calls Agent Orange presumptive claims, which until March included 12 diseases associated with exposure to the defoliant that was widely used during the Vietnam War. In March, VA issued a notice in the Federal Register informing the public of its intent to add three classes of diseases to that list: certain leukemias, Parkinson's disease and ischemic heart disease.
The additions mean veterans who served in the Vietnam War and have one of the illnesses covered by the presumption of service connection don't have to prove their medical problems were the result of their military service.
On May 13, the Senate Appropriations Committee added $13.4 billion to the fiscal 2010 Emergency Supplemental Appropriations bill to cover the cost of adding the veterans who are expected to file for benefits under the new Agent Orange disability rules.
In 2009, VA received a total of more than 1 million claims for disability compensation and pensions. Veterans Affairs Secretary Eric Shinseki said the department could expect to receive 200,000 more claims because of the inclusion of the three diseases.
Shinseki said in March that he expects the Agent Orange claims processing system will herald a new way of doing business at VA with the "latest and fastest technology." The department currently processes disability claims manually with a workforce of 11,612 examiners.
Officials said they plan to start accepting bids on Friday for a fast-track procurement to build the system. On May 7, VA asked contractors who hold General Service Administration Schedule 70 information technology contracts to bid and gave them only 14 days to submit their offers. Contractors knew the solicitation was coming, however, because the department released a draft request for proposals in March.
VA said it wants the winning vendor to provide a modified commercial processing system capable of handling Web-enabled, machine-readable claim forms. Officials added they wanted the contractor to develop new business processes, technologies and systems that will reduce the overall claims backlog at the Veterans Benefit Administration, which manages disability claims.
The system marks the start of a shift from manual to automated claims processing at VBA, said Mary Lamb, chief operating officer at Suss Consulting, which advises federal contractors.
Larry Scott, who runs VA Watchdog , a veteran advocacy website, said if Veterans Affairs does not figure out how to automate claims, it will result in a pile up of claims "that will just kill them."
Paul Sullivan, executive director of Veterans for Common Sense, said his advocacy group "has our fingers crossed that this will work, and we will be paying close attention."