E-Verify prepared for surge in worker eligibility queries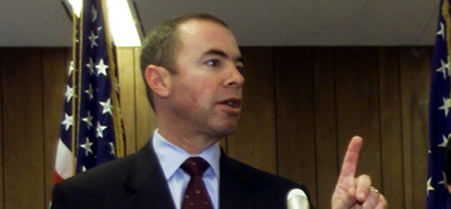 The new CIS Director Alejandro Mayorkas questioned this week whether the program could process a surge in queries. Jill Connelly/AP
A mandatory program for federal contractors that verifies the legal status of workers is processing requests in a timely fashion, according to the Homeland Security Department.
Federal contractors that were awarded contracts after Sept. 8 are required to use the E-Verify system to check if employees working on a new project if they are legally eligible to work in the United States. The system checks workers' Social Security numbers and immigration status against Social Security Administration and DHS databases. The requirement now is mandatory for federal contractors awarded contracts worth more than $100,000. Companies have 30 days following the award to sign up for E-Verify and 90 days after registering to begin checking employees.
Since the requirement took effect, 1,408 additional companies have signed on to use E-Verify, bringing the total number of users to 150,851 as of Sept. 15. More than 10,000 federal contractors signed up in anticipation of the new requirement, said Bill Wright, spokesman for Citizenship and Immigration Services, which manages the system. The contractor rule was delayed several times before it went into effect this month.
Recently appointed CIS Director Alejandro Mayorkas questioned this week whether the program could process a surge in queries, but E-Verify successfully managed the increase and is capable of processing more, Wright said. CIS expects E-Verify to process about 9 million queries in fiscal 2009, an increase from the 6.6 million queries processed in fiscal 2008.
The system has been tested to handle as many as 60 million queries annually, he said. Wright added that expectations of a surge in queries due the contractor rule were overstated, mostly because employees have 120 days from the time they first sign up to verify employees.
"I've been trying to explain to people that even if all 169,000 federal contractors [had] signed up on Sept. 8 and they wanted all 3.8 million of their employees verified, the system [wouldn't] crash. It [wouldn't] even blink," Wright said. "This so-called surge is not going to happen. [Companies] won't all do it on one day; they will spread it out obviously."
E-Verify is mandatory for employers in some states, including Mississippi and Arizona. Companies log on to a Web-based portal and sign up. Once enrolled, a manager or human resources official inputs employee data and waits for verification that the new hire is authorized to work in the United States. Nearly 97 percent of the queries are authorized within 24 hours. Most requests are answered within seconds.
The remaining 3.1 percent of the inquiries receive a reply of "tentative nonconfirmation," at which point the burden is on the company to prove its new hire is authorized to work in the United States. About 0.3 percent of employees contest their status and correct it, while 2.8 percent choose not to do so. The 2.8 percent figure likely reflects the percentage of workers who are not eligible to work in the United States, Wright said.
But it is the 0.3 percent, or approximately 24,000 queries annually, which concerns organizations like the American Civil Liberties Union. The ACLU has consistently opposed E-Verify and the requirement that federal contractors use it. The group's legislative counsel, Chris Calabrese, called the requirement "another roadblock to gainful employment for U.S. workers" and said the error rate is unacceptably high.
He said it is too early to tell whether the new requirement will lead to an increase in the error rate. "It's too early to know the negative effects yet," Calabrese said. "They are going to be cumulative. . . . I'm predicting an exponential increase in the number of enrollees."
Wright said a number of mismatches are attributed to errors in SSA's database related to the status of naturalized citizens who have not updated their records. Employers are required to notify individuals who receive a tentative nonconfirmation. The employee has eight federal working days to contact SSA to correct their records.
"As the number of queries goes up, the mismatch rate is going down," Wright said. "The track is going the right way. We're working with Social Security Administration because we're getting high numbers of tentative nonconfirmations on naturalized citizens."
CIS is using photo screening to address the mismatch rate. In 2007 the agency added a photo-screening tool for immigrants who use a green card or employment authorization document as identification. The E-Verify system can access to a database of 15 million photographs, so employers can match the applicant with a photo in the system.
Wright said E-Verify doesn't include photos of U.S. citizens, but the agency is working with states to access databases of drivers license photos. Biometric requirements such as fingerprinting may be included in the system. Sen. Chuck Schumer, D-N.Y., has proposed requiring biometric authentication for every worker in the United States.