sponsor content What's this?
Powering the Nation: How to Overcome Common Barriers to 5G Deployment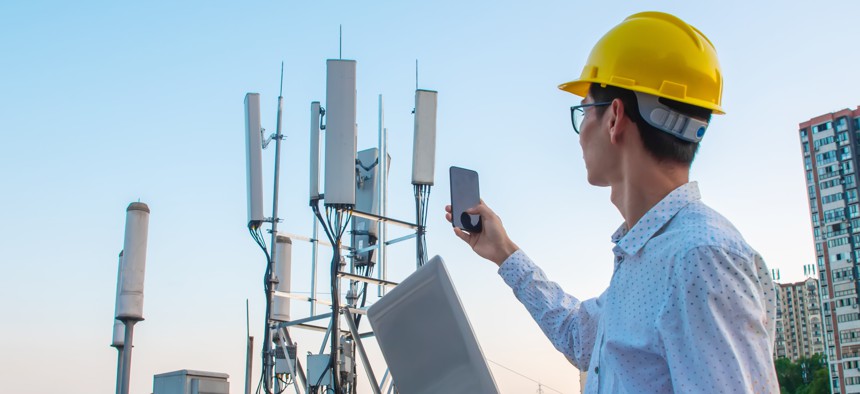 Presented by Verizon
As 5G networks become a reality for countless citizens, it's time for the government to start seriously looking at 5G, but what is 5G, and how can it help?
5G is the future. As the world becomes more mobile and data-driven, 5G networks will offer key advantages for government in terms of improving service delivery for constituents, maintaining competitive advantage in the battlespace and finding new, more effective ways to meet the mission.
However, as 5G moves from the drawing board to reality, it will be vital for federal leaders to not just equip their organizations with 5G-capable technology, but to understand how 5G networks will benefit them in the long run and what it can bring to the mission.
"I often compare 5G to a marathon that started five years ago," said Cornelius Brown, director, Department of Defense for Verizon, at Nextgov's recent 5G Futures summit, which was dedicated to exploring the impact of the fifth-generation network technology on government. "It's going to be really important that the U.S. continue to lead this effort and that we're helping shape the industry overall."
The DOD's 5G Strategy Implementation Plan defines 5G as being a strategic asset to operations, and that whosoever gains mastery over the technology will reap long-term economic and military advantage. Yet, in a recent poll conducted by Market Connections, only 6% of federal agencies have deployed 5G.
Several factors contribute to this low percentage, including cost, skills and security concerns. But as the world becomes more mobile and connected, harnessing 5G networks and ensuring these barriers don't hold agencies back is key.
So, what can IT and government leaders do to get a better idea of what 5G will mean for them? One answer is through a greater emphasis on testing.
The Power of Testbeds
Testbeds and pilots can help agencies sort through potential obstacles to 5G implementation while additionally understanding how 5G can best benefit their agency. A prime example of a successful 5G testbed is the U.S. Marine Corps Miramar 5G testbed, a collaborative effort between private industry partners, like Verizon, and the DOD, which went live at the beginning of this year. The Miramar 5G testbed focuses on exploring the intersection between 5G and edge computing for the DOD. It includes testing technologies like an automated package delivery shuttle, designed to provide troops with experience operating automated vehicles, as well as alternate reality platforms, 5G non-terrestrial network solutions, and 5G mesh node solutions.
Looking toward the future, the testbed is also responsible for holding competitions that aim to push the envelope for 5G tech and how it can be used by the DOD to improve operations and meet the mission.
Ultimately, at Miramar, the testbed is providing a much-needed service as the DOD explores the realm of possible for 5G — and what it will mean for our country.
Yet, despite these benefits, agencies still face significant obstacles when it comes to testing or piloting 5G technology in order to gain a greater understanding of how 5G can enable mission success.
Overcoming Barriers to 5G Pilots
Despite the obvious benefits to testing 5G tech, in the Market Connections poll, researchers uncovered that only 14% of federal agencies are conducting pilot operations. Not surprisingly, many of the barriers that agencies cite to 5G deployment are what hold them back from testing. A key obstacle, for example, is security — 43% of respondents reported security concerns as reason to delay implementation.
By working toward pilots of the technology, agencies can dip their toe in the water and better understand how 5G will impact cybersecurity efforts and how, if at all, it will open networks and data to increased vulnerabilities. What agencies may find, however, is that vendor partners have been working diligently behind the scenes to ensure the fastest, most reliable and secure network by leveraging the latest in cutting-edge cybersecurity tools.
"We view securing data as one of the most important aspects of 5G," says Brown. "What we've been doing is leveraging software-based zero-trust architectures like software-defined perimeter (SDP), and the DOD, we understand, will benefit from another key benefit around increased visibility into user activity."
Integration poses another key challenge as agencies look to incorporate 5G into ongoing operations and systems. For those facing structural challenges, the Federal Mobility Group published an extensive document outlining a framework that program managers can follow to pilot and launch the technology successfully and securely.
In their report, the Federal Mobility Group places a strong emphasis on understanding use cases. In fact, the first step in overcoming integration barriers is to "document 5G use cases to be supported and their corresponding 5G capabilities/requirements."
For agencies, this step is the perfect moment to reach out to trusted vendor partners.
"Today, we're working to help our customers see how 5G can get them to a particular use case, many of which might not have been possible without 5G," says Brown.
By joining forces and collaborating with private industry partners, agencies can quickly move through the corresponding steps outlined by the Federal Mobility Group because, as the old adage goes, "two heads are better than one." While agencies seek out use cases, private industry partners can be working to tackle the challenges of security and integration so that agencies can have a secure environment to explore how 5G will empower our nation.
"We focus on developing the art of the possible with 5G and there's a multitude of use cases that can be supported by our current LTE networks and by working both in parallel, I believe that will maximize our efforts and really change the future," says Brown.
This content is made possible by our sponsor Verizon; it is not written by and does not necessarily reflect the views of GovExec's editorial staff.
NEXT STORY: 4 Ways 5G Can Improve Public Safety