sponsor content What's this?
4 Ways 5G Can Improve Public Safety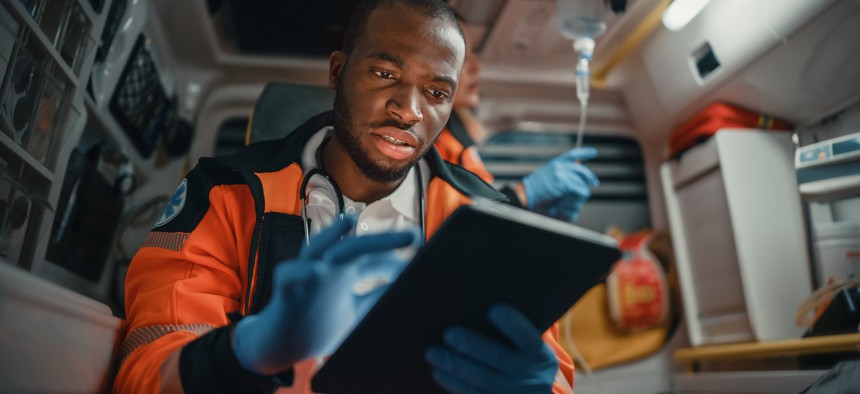 Presented by Verizon
From improved decision-making to better security, 5G is poised to revolutionize how public safety agencies and first responders meet their mission.
In an emergency, information is key. Not just any information, but the right information at the right time in the hands of the right people saves lives. No one knows this more than the first responders and public safety professionals working on the front lines to keep our communities safe. The challenge, of course, is that emergencies can often be chaotic, even for professionals, and ensuring insightful information reaches the correct person promptly can seem near impossible.
5G, however, can play a key role in helping first responders in the field access secure, insightful, real-time data. And as the world becomes more mobile, 5G technology can transform how public safety professionals meet the needs of their mission, according to John Harris, Executive Director of Federal at Verizon.
"As we've seen over the last year, a year and a half, so many solutions in [the public safety] segment have moved to the edge," he said, speaking at Nextgov's recent 5G Futures event. "And so many more things have to be done now in a mobile environment, as opposed to say, a fixed environment. So, when we think about 5G, it naturally has some really, really great capabilities to bring massive amounts of data to the edge."
What does more data and lower latency at the edge mean for public safety agencies? Harris offered four ways 5G can revolutionize public safety. Here's what he had to say.
1. Enable Decision-making at the Edge
Ultimately, more information at the edge means first responders can evaluate the situation at hand better and faster.
5G can provide critical data assets to public safety professionals in the field so they can make better-informed decisions based on video files and improved communications that previously couldn't be moved to the edge or the response site because of their massive size.
Moreover, as agencies leverage applications to gain situational awareness and better understand the resources available to them, the lower latency and greater ability to process information at the edge improves the responsiveness of those applications so first responders have the most current information.
2. Improve Security
At a time when cyberattacks targeting government are surging, ensuring cybersecurity is built in — not bolted on — to every technology is a must. The 5G network offers more integrated security than its predecessors to help protect government information and constituent data — and ensure critical systems and tools stay up and running.
"Having some of the security elements built into the 5G network is obviously critical for this community because security is at the core of everything this group does … And 5G is really helping to build the security standards to another level," Harris said.
Moreover, Verizon is vetting the technology for security at multiple levels, right down to nuts and bolts as it evaluates its supply chain for building out the network.
3. Make Mobility More Meaningful
Traditionally, public safety IT infrastructure has been fixed to a single IT environment. As 5G proliferates, mobile technologies will be able to leverage the low latency and ability to process data at the edge the network provides, helping deliver information and insights to first responders.
"Instead of being restricted to simple point-to-point-type connections, we can now be … more functional in how we want to deploy mobile technology," Harris said. For instance, a 5G-enabled mobile command center can be integrated through a private gateway into the agency's typical IT environment. That makes it easier for the agency to manage the command center more centrally than before.
"So starting to look at mobility and wireless solutions as more of an integral part of the overall IT ecosystem, I think, is really, really an interesting switch that's starting to happen," Harris added.
4. Shorter Response Time
In an emergency, responding quickly with a full picture of the situation is vital. 5G helps improve the efficiency of communications, which can bring responders to a scene faster. But it also enables technologies that can alert public safety officials without the need for human intervention.
"One of the things 5G brings to the community is the ability to have far more Internet of Things or smart community-type applications that will start to layer in across the country," Harris said. That results in a denser network and more information passing through.
"And so instead of us relying on, say, a 911 phone call or someone reporting an emergency, we may start to see the network actually report some of the issues and have people responding even faster," Harris added.
Ultimately, the 5G network can unlock new ways first responders and public safety agencies make use of the tools, technology and information available to them.
"5G is really helping to, I think, revolutionize the way public safety and many other federal customers or state local customers meet the needs of their mission," Harris said.
Learn how Verizon can help your public safety agency take advantage of 5G to unlock mobility, improve decision-making and more.