New semiconductor law aims to create 'Silicon Valleys' across U.S.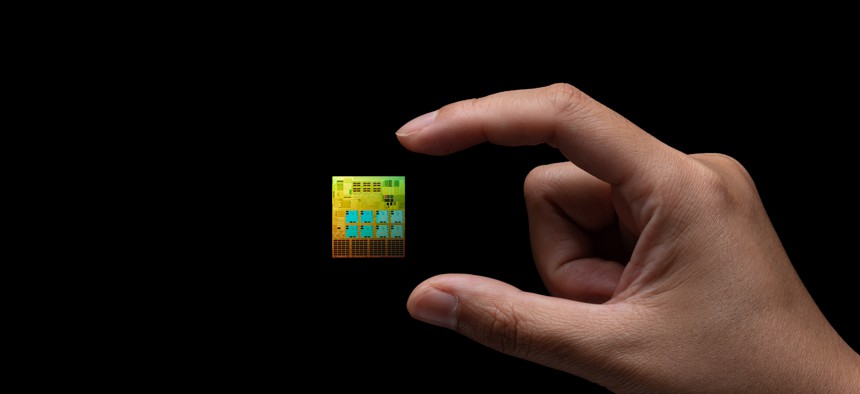 Little noticed in the bipartisan CHIPS semiconductor bill President Biden signed into law earlier this month are funds aimed at transforming where innovation happens in the U.S. Rather than sending money to traditional technology centers like Silicon Valley in Northern California, Seattle or Boston, the law will create technology hubs in many places, including small and rural places. 
Most notably, the $54.2 billion bipartisan bill passed by Congress last month contains $39.4 billion in subsidies to try to restore the nation's standing in the production of chips—which are used in everything from automobiles to washing machines—by encouraging companies to make them in the U.S. The law has bolstered the hopes of cities around the country—like Lafayette, Indiana, and Columbus, Ohio—because it will create jobs in their communities.
But also significant, said Mark Muro, a senior fellow at Brookings Metro, is that the law provides $10 billion over five years to create 20 regional technology and innovation hubs. And, it says they cannot be in places "that are now leading technology centers." 
Instead, the law requires the Commerce Department to "ensure geographic and demographic diversity" by creating at least three hubs in each of the U.S. Economic Development Administration's six regional offices.
At least a third of the hubs will have to "significantly benefit a small and rural community, which the law defines as a metropolitan area with no more than 250,000 people. In addition, at least one of the 20 hubs has to be in a low-population state that does not have an urbanized area with at least 250,000 people.
The requirements are aimed at reversing a trend in the nation, in which jobs based on innovation are being consolidated in a few areas, Muro wrote in a recent report.
A separate 2019 Brookings Metro report found that because industries tend to cluster together, between 2005 and 2017, 90% of the increase in jobs in industries that rely on innovation occurred in only five "superstar" metropolitan areas -- Boston, San Francisco, San Jose, Seattle and San Diego.
As a result, one-third of the innovation jobs are consolidated in only 16 of the nation's 3,006 counties—and more than half the jobs are in only 41 counties. Meanwhile, the share of those jobs went down in 343 metropolitan areas.
"Rather than growing together, the nation's regions, metropolitan areas, and towns have been growing apart," the 2019 report said.
"Over time we can see it has led to great unevenness," Muro said in an interview. In the areas that are being left out, "it's expected that the best and brightest students would head out to superstars [areas], leading to places with dwindling talent." 
That trend already has led to the creation of "very prosperous dynamic, oftentimes coastal hubs," he said.
"No one wants to dissolve the incredible power of these coastal hubs but we think more of that activity can be spread out," he said, speaking on behalf of Brookings researchers.
In addition, Muro noted the CHIPS Act also includes $1 billion in block grants for economic development in persistently distressed communities through the creation of a new RECOMPETE pilot program.
The money can support workforce development to implement regional semiconductor innovation strategies, such as programs at community colleges and those offered by other educational organizations that partner with local businesses. It can also be used to reach out for workers in lower-income neighborhoods and to create job training and placement services in places like churches, housing projects and community advocacy programs, and to support entrepreneurs.
The CHIPS law, meanwhile, requires that networks of institutions and groups in a region band together to figure out what they would do if they were to become a semiconductor research hub. Required is involvement with: higher education institutions; state, local or tribal governments; technology or manufacturing companies; economic development organizations; and labor or workforce training organizations.
To become a hub, the region will have to use its "best assets," Muro told Route Fifty. If successful, they'd receive "a significant surge of research money" as well as funding for facilities to do research and manufacture new forms of semiconductors, he said.
Thomas Sonderman, president and CEO of SkyWater Technology, said in an interview he could see the company being part of a hub that houses research and development in the same facilities as its manufacturing plants.
SkyWater announced in July that it is spending $1.8 billion to build a semiconductor plant near Purdue University in West Lafayette, Indiana. Sonderman said he could envision being part of research hubs in Minnesota and Osceola County, Florida, where it is planning operations.
Integrating research with manufacturing, he said, would help the industry more quickly bring new products to market and compete with companies in Taiwan.
What they could produce could be groundbreaking, he said, noting that smartphones didn't exist a generation ago. "Technology advances at such a rapid pace," he said.
Localities Win Big
Local officials and economic development experts said the research hubs could be the step in diversifying the economies in areas like the Midwest that have only recently begun seeing the impacts of new technology on their communities.
In West Lafayette, the city's mayor, John Dennis, said SkyWater's plants will change the region's economy. "Industry was all heavy smoke stacks and black smokes. The concept has completely changed when you're looking at technology," he said.
The plants, he said, will go on a 400-acre site next to Purdue University the city annexed to be an industrial and research area. SkyWater's facilities will be joined by a manufacturing and research plant announced by the Swedish aerospace company Saab last year.
"It's definitely a boom for our city," Dennis said of the semiconductor plant. The project is expected to eventually double the city's revenue. "It's more investment and more jobs. More money for schools, more money for our commercial entities, for our city infrastructure, police and fire departments," he said, as well as to serve the city's underserved communities.
Meanwhile, in Licking County, just outside Columbus, Ohio, Intel announced in January that it will spend $20 billion to build two semiconductor companies. The project is expected to create 7,000 construction jobs to build the plants and 3,000 permanent Intel jobs.
Intel had said that it could invest $100 billion over time to build as many as eight plants on the site. 
Kenny McDonald, president and CEO of the Columbus Partnership, made up of major businesses in the area, said the semiconductor bill's $39.4 billion in subsidies will make it more likely Intel will invest as much as it's stated.
"It really makes that possible," he said.
The project is another step in helping the region recover from the collapse of its housing market and the banking industries during the mortgage crisis of the early 2000s, he said. The region is diversifying, attracting a Google data center and $1 billion in venture capital investments last year for health-care technology autonomous robotics companies.