Public sector work equals high job satisfaction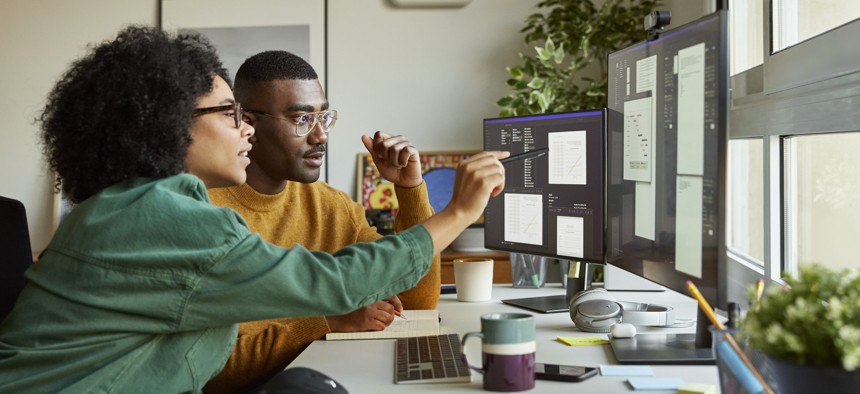 It's no secret the public sector workforce is strapped. While government employment is trending upward, it still remains below pre-pandemic levels by about 376,000 jobs. From massive hiring bonuses to flexible schedules, governments are exploring different ways to attract and retain employees, and a new report offers insight into what workers actually want—and what's pushing them away. 
Overall, the news is good for governments. Public sector employees report finding their work fulfilling and enjoy the benefits provided,, according to a recent survey from the MissionSquare Research Institute, a nonprofit that studies government workforce issues. 
Just over half of respondents reported feeling "very or extremely satisfied with their current employer," and 66% percent said morale at work was high. When asked about what initially attracted public employees to their jobs, the survey found job security, work satisfaction and retirement benefits listed as the top factors. 
For employees under 40, work-life balance, a good supervisor and potential for career advancement were given as the top reasons for taking jobs in the public sector. A hiring bonus was among the least cited reasons for all employees surveyed.. 
But the report also found that a significant share have difficulty paying their monthly bills and feel financially insecure.
More than a third of public sector employees said they struggle to pay their bills each month and nearly 30% described debt as a "major problem." More than 60% were "extremely or very" concerned about inflation making it more difficult to keep up with the cost of living. 
Compared to men, a larger share of women said they felt financially insecure and weren't confident they'd be able to retire when they want. 
The public sector's ability to capitalize on hiring gains made over the last few months were cast in doubt in the survey. In total, nearly 60% of respondents said they were considering leaving their jobs, up from about 52% the year before. The top reasons cited were wanting more personal time and feeling burned out. 
Of those thinking about leaving their current job, the largest share are considering a job change, while others are preparing to retire or leave the workforce altogether. 
Fewer public sector employees is a large reason government employees are spread thin. According to the Brookings Institution, state and local governments cut 1.3 million jobs since the start of the pandemic. The MissionSquare survey found that 77% of employees reported an increased workload as a result of others leaving, and many said the strain was significant. 
The majority of respondents noted that increasing salaries would be the best way to retain employees. When asked if there were other incentives employees could offer, many respondents suggested offering remote work and investing in more employee engagement to boost feelings of respect and communication. 
The report is based on a survey conducted last fall of about 1,000 state and local government employees.