Announcing the 2023 Federal 100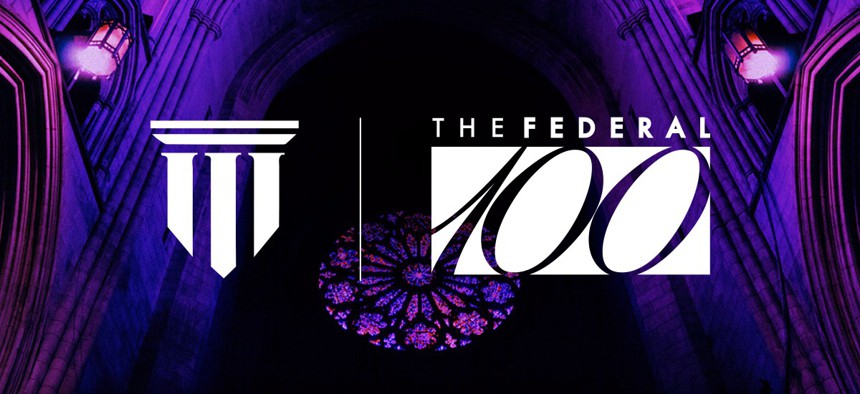 Hundreds of nominations were submitted, and our panel of government and industry judges deliberated for hours. The result? A list of 100 individuals who personify what's possible in federal IT.
Every year, it's a tremendous privilege to be able to sift through all these stories. The pool of nominations shows the vast range of important work being done throughout the community, and there are always far more outstanding individuals than  a list of 100 can accommodate. That was certainly the case this time around.
You'll have the chance to learn more about each of this year's winners in the coming months -- via the profiles we will publish in FCW magazine and on FCW.com, and in person at our April 20 Evening of Honors to celebrate the Fed 100 winners and Government Hall of Fame inductees. For now, though, you'll have to make do with the list of names, which you can find below. Some Federal 100 winners have moved into new roles; the titles and organizations listed below reflect the roles these individuals held in 2022 when doing the work that earned this recognition.
Congratulations to each and every one of the 2023 Federal 100!
Joe Alexander
Director, Special Programs, Technical Integration, and Positioning, Navigation and Timing (PNT) Capabilities, Office of the CIO
Department of Defense
Jill F. Anderson
Legislative Affairs Program Manager
Department of Veterans Affairs
Kelley Artz
Supply Chain Risk Management Technical Expert, Federal Acquisition Service
General Services Administration
Wendell "Baze" Bazemore
Associate Director, Interior Business Center, Financial Management Directorate
Department of the Interior
Caroline G. Bean
Senior Executive, Joint Enterprise Services Directorate
Defense Information Systems Agency
Winston A. Beauchamp
Deputy CIO
Department of the Air Force
Lisa Belter
Product Manager, Operational Medicine Data Service
Joint Operational Medicine Information Systems Program Management Office
Warren J. Blankenship
Deputy IT Governmentwide Category Manager, Information Technology Category, Federal Acquisition Service
General Services Administration
Rob Bohn
Area Vice President, North America Public Sector Sales and Strategic Business Development
Salesforce
Jay C. Bonci
Chief Technology Officer
Department of the Air Force
William C. Bridges
CIO Program Executive Office for Command, Control, Communications-Tactical
Department of the Army
Melvin Brown II
Deputy CIO
Office of Personnel Management
Robert J. Carey
President
Cloudera Government Solutions
Cameron Chehreh
Vice President and General Manager, Intel Public Sector
Intel
Col. Justin K. Collins
Senior Materiel Leader, Upper Echelon
U.S. Air Force
Judith A. Conklin
CIO
Library of Congress
Barbara Cooper-Jones
CIO
Ginnie Mae
Matthew T. Cornelius
Senior Professional Staff Member, Majority Staff
Senate Homeland Security and Government Affairs Committee
Robert "Bob" J. Costello
CIO, Cybersecurity and Infrastructure Security Agency
Department of Homeland Security
Group Capt. J. Blythe Crawford
Commandant, Air and Space Warfare Centre
Royal Air Force
Steve Davis
Director of Infrastructure and Cloud Operations for the Information Technology Operations & Services branch within the Office of the Chief Information Officer, Department of Labor
Mike Dean
Satellite Communications Chief for the Deputy CIO for Command, Control and Communications
Department of Defense
CeCe DeCamp
Senior Partner and Federal Civilian Sales Leader
IBM
Chris J. DeRusha
Federal Chief Information Security Officer and Deputy National Cyber Director for Federal Cybersecurity
Office of Management and Budget
Mittal Desai
CIO, Federal Energy Regulatory Commission
Department of Energy
Martha Dorris
Founder
Dorris Consulting International
Ryan Dukeman
Data Scientist
Department of State
Robert J. Eisenhauer
Enterprise Services Technical Director
White House Communications Agency
Juliane Gallina
Associate Deputy Director of the CIA for Digital Innovation
Central Intelligence Agency
Dr. Angela P. Giddings
Technical Director for Studies and Analysis
Department of the Air Force
Clay Goldwein
Senior Vice-President, National Security and Justice Business Unit Leader
CGI Federal
Venice Goodwine
Director of Enterprise Information Technology, Office of the CIO
Department of the Air Force
Richard A. Grabowski III
CDM Deputy Program Manager, Cybersecurity and Infrastructure Security Agency
Department of Homeland Security
Jeff E. Greene
Former Chief for Cyber Response and Policy / currently Senior Director for Cybersecurity Program, Aspen Institute
National Security Council
Tamara Greenspan
GVP/GM, Oracle Federal and Canadian Public Sector Applications
Oracle
Joel Gurin
President
Center for Open Data Enterprise
Jay Hawkins
Acting Director, Data Center and Cloud Engineering, Office of Information and Technology
Department of Veterans Affairs
Scott A. Heitmann
Chief Technology Officer, Cyberspace Capabilities Center
Department of the Air Force
Christian A. Hoehner
Policy Director, Majority Staff
House Committee on Oversight and Accountability
Carole House
Executive in Residence
Terranet Ventures
Gema Howell
Computer Scientist and Principal Investigator
National Institute of Standards and Technology
Shad Imam
Senior Director of Solutions Engineering, Public Sector
MuleSoft
Chris Inglis
National Cyber Director
Executive Office of the President
Pamela K. Isom
Director, Office of Artificial Intelligence and Technology
Department of Energy
Sarah (Sally) F. Jaggar
Project Director and Fellow
National Academy of Public Administration
Mark A. James
Acting Executive Director Enterprise Cloud Services Directorate, Office of Information & Technology
Department of Homeland Security
Anthony Jungers
Program Group Manager, FEDSIM, Federal Acquisition Service
General Services Administration
Kimberly Kagan
President
Institute for the Study of War
Agha Nabeel Khan
Senior Advisor for Informatics, National Center for Immunization and Respiratory Diseases, Centers for Disease Control and Prevention
Department of Health and Human Services
Stephen Kovac
Chief Compliance Officer
Zscaler
Col. Jennifer M. Krolikowski
"Director Chief Information Officer, Space Systems Command"
U.S. Space Force
Glenn Kurowski
Chief Technology Officer
CACI International
Dave C. Lago
Product Manager, DoD Cloud Infrastructure as Code, Hosting and Compute Center
Defense Information Systems Agency, Hosting and Compute Center (HaCC)
Michael LaRouche
President, National Security and Space Sector
Science Applications International Corporation (SAIC)
Dave Lebryk
Assistant Secretary, Bureau of Fiscal Service
Department of Treasury
Carrie Lee
Deputy Executive Director, Product Engineering, Office of Information Technology, Product Engineering Services
Department of Veterans Affairs
Dr. Amanda Lienau
Director of Data and Analytics Innovation
Department of Veterans Affairs
Renee Lobanovskyy
Deputy Director for Information Systems, Office of Grants, ASFR
Department of Health and Human Services
Maj. Gen. Lorna Mahlock
Deputy Director of Cybersecurity for Combat Support
National Security Agency
Quentin McCoy
Head of Contracting Activity, U.S. Cyber Command
National Security Agency
Dena McLaughlin
Regional Commissioner, Mid-Atlantic Region, Federal Acquisition Service
General Services Administration
Eric R. Mill
Senior Advisor for Cybersecurity, Office of the Federal CIO
Office of Management and Budget
Thomas J. Mills
Executive Director, Cargo Systems Program Directorate, Office of Information and Technology, Enterprise Services, U. S. Customs and Border Protection
Department of Homeland Security
Kamal Narang
Vice President and General Manager, Federal Health Sector
General Dynamics Information Technology (GDIT)
Robert S. Niewood
Director, Systems Team, Assisted Acquisition Services Program Management Office, Federal Acquisition Service
General Services Administration
Maj Gen John M. Olson, PhD
Chief Data and AI Officer (former)
Department of the Air Force
Michael D. Parrish
Chief Acquisition Officer
Department of Veterans Affairs
Mark A. Patterson
CIO, Department of Defense Education Activity
Department of Defense
Max Peterson
Vice President, Worldwide Public Sector
Amazon Web Services
Elizabeth Puchek
Chief Data Officer, U.S. Citizenship and Immigration Services
Department of Homeland Security
Tee Ramos
Director of Participant Services
Federal Retirement Thrift Investment Board
Dr. Ernest M. Reed
Director, Category Management Support Office, Executive Sponsor for ADDS UP (Analytics, Data and Decision Support Unified Platform)
Department of Veterans Affairs
Dr. Lindsay R. Riegler
Innovation Specialist and Speech Language Pathologist, Cincinnati VA Medical Center
Department of Veterans Affairs
Maria Roat
Deputy Federal CIO (former)
Office of Management and Budget
Col. Adolf Rocko Rodriguez
Strategic Military Advisor / Reserve Advisor
Department of the Air Force
Clayton Romans
Associate Director, Joint Cyber Defense Collaborative, Cybersecurity and Infrastructure Security Agency
Department of Homeland Security
James L. Saunders
Chief Information Security Officer
Office of Personnel Management
Dr Jay J. Schnitzer
Senior Vice President and Chief Technology Officer/Chief Medical Officer
The MITRE Corporation
Lynn Payne Schug
Deputy CIO, Enterprise Operations and Shared Services
Department of Energy
Zach Schwartz
Acting CIO for the Office of the Secretary and Senior Advisor to the Secretary
Department of Commerce
James B. Sheire
Branch Chief, Cybersecurity and Infrastructure Security Agency
Department of Homeland Security
Faith V. Shelton
Senior Contracting Officer, Federal Acquisition Service
General Services Administration
Lt. Gen. Robert Skinner
Director
Defense Information Systems Agency
Kenneth D. Slaughter
Program Manager, DoD Healthcare Management System Modernization
Defense Health Agency
Harrison Smith
Chief, Enterprise Digitalization Office
Internal Revenue Service
Jen Sovada
President, Public Sector
SandboxAQ
Spence Spencer
Director of System Configuration and Delivery Automation Division
U.S. Patent and Trademark Office
Laura J. Stanton
Assistant Commissioner for the Information Technology Category, Federal Acquisition Service
General Services Administration
Timothy Strebel
Data Scientist, National Artificial Intelligence Institute (NAII)
Department of Veterans Affairs
Col. Mark M. Taylor
Project Manager, Defensive Cyber Operations, Army Program Executive Office Enterprise Information Systems
Department of the Army
Nathan Tierney
Chief People Officer, Office of Information and Technology
Department of Veterans Affairs
Trish Turner
Program Manager and Senior Advisor for Digital Assets
Internal Revenue Service
Juliana Vida
Group Vice President and Chief Strategy Advisor - Public Sector
Splunk
Teresa A. Weipert
General Manager, Federal Services Segment
Maximus
Nicholas West
Acting Director, Office of GSA Acquisition Policy, Integrity, and Workforce
General Services Administration
Brian Whittaker
Founder
Humans of Public Service
Lloyd "Colt" Whittall
Chief Experience Officer
Department of the Air Force
Charles Worthington
Chief Technology Officer, Office of Information and Technology
Department of Veterans Affairs
Raylene Yung
Executive Director, Technology Modernization Fund
General Services Administration
Briana Zack
Project Manager for Mission Support Cost Transparency
NASA