AFGE member alleges ex-president abused her adult son for years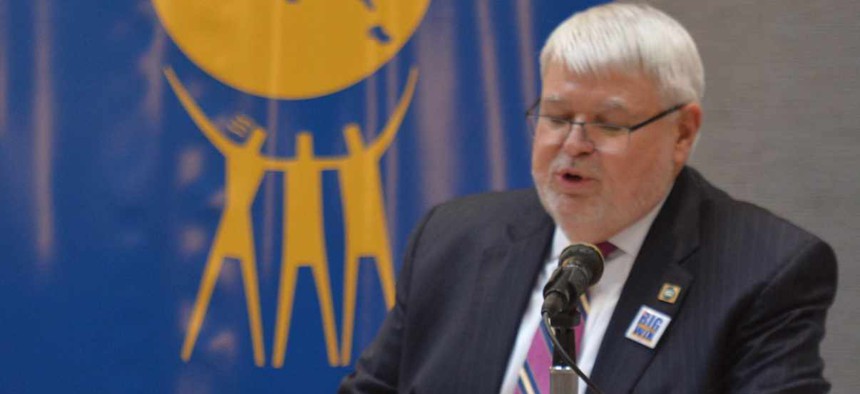 A day after J. David Cox resigned amid charges of sexual harassment and misusing union funds, other alleged victims react to the newest allegations.
J. David Cox, who resigned as national president of the American Federation of Government Employees on Feb. 28, abused his former personal driver for years, according to the man's mother, a current AFGE member who filed internal charges at the beginning of February.
Annette Wells, a Department of Labor employee and member of AFGE Local 12, filed charges against Cox on Feb. 13 for violating Article 10 and Article 23 of the AFGE Federal Constitution, alleging that he had used racial slurs towards her son, forced him to accompany Cox to strip clubs and bars, and sexually abused him.
In an interview with FCW, Wells said Cox had abused her son, who worked for a private chauffer service Cox used for approximately eight years, between 2009 and 2017.
"I knew that something had happened to my son," Wells told FCW. "He was somewhat in denial, and was very upset discussing the things that had happened to him. I knew about the abuse for a while, but I didn't know it was the president of my national union."
"To find out that I was paying all this money, faithfully paying dues to my union, while [Cox] was abusing my son, was devastating for me, my son, my husband, and my family."
Wells said she found out the identity of her son's alleged abuser shortly before she filed the charges on Feb. 13. In her charges, which FCW obtained, she accused Cox of violating his oath of office and of failing to uphold the AFGE oath of membership.
Wells also requested that AFGE's National Executive Council appoint an independent attorney to investigate the charges against Cox, review of all expenses Cox made regarding the car service her son worked for, and that AFGE suspend Cox's union membership in addition to his removal from office.
She also asked that an independent ethics office be established, with former National Secretary-Treasurer Eugene Hudson reinstated to his former position and installed as the Ethics Officer.
An attempt to reach AFGE for comment on Wells' allegations was unsuccessful.
As FCW first reported, Cox stepped down as AFGE national president on Feb. 28, following a months-long investigation into whether he had misused union resources to conduct his 2018 re-election campaign. Cox had been national president of the union since 2012.
Cox had been on a leave of absence since Oct. 27, after news of the harassment allegations first broke. National Secretary Treasurer Everett Kelley announced Cox's resignation in a Feb. 28 email to AFGE members.
"In accepting his resignation, AFGE concluded the processing of the November 2019 internal charges, and Cox has forfeited his right to hold or run for any AFGE office in perpetuity," Kelly wrote. In a separate statement to reporters, Kelley said he would assume the national presidency on an interim basis.
Brett Copeland, a former AFGE communications director, was one of the former staffers who came forward in October when the news of the allegations first broke. He said Cox had grabbed him during a work trip in April 2017, stuck his tongue in his ear, and told him he loved him after inviting him to his hotel room for a drink.
In an interview with FCW, Copeland said, "Cox's resignation is a step in the right direction. I'm interested in seeing what Working IDEAL recommends in their report." He added that he was devastated to hear about the newest allegations.
Jenny R. Yang, a partner at Working IDEAL, a consulting company that advises organizations, is investigating AFGE's workplace culture and the harassment allegations leveled at Cox. Yang previously served as chairwoman of the Equal Employment Opportunity Commission.
A report detailing her findings is expected to be published soon.
"I am glad to hear that AFGE will make Working IDEAL's report public," Copeland said. "I hope something like this never happens again. I hope that union leadership see this as an opportunity to reaffirm the union's mission and protect the dignity and safety of their employees and other union members."
Rocky Kabir, Cox's former secretary from 2016 to 2018, told FCW he too was glad Cox had resigned. Kabir had also made allegations that Cox had sexually harassed him and made him use union resources to support Cox's re-election campaign.
"[Cox] knew what he did was wrong," Kabir said. "I'm glad he no longer has the power afforded to him by his position and title. It belongs to the membership; it was never his to begin with." Kabir added that he felt particularly strongly because he came from a labor family, and that his father was a former labor lawyer and a current dues-paying union member.
Still, Cox's resignation felt bittersweet, Kabir said. When asked his thoughts about the ongoing investigation, he quoted Dante: "The hottest places in hell are reserved for those who, in times of great moral crisis, maintain their neutrality."