OFPP, FAI launch new acquisition training and certification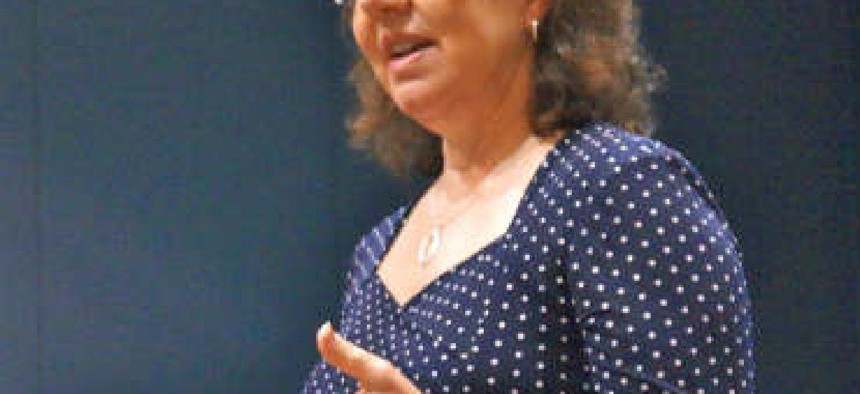 The revised FAC-C curriculum takes effect Oct. 1 and will align civilian agency training more closely with DOD's.
OFPP's Joanie Newhart said the new curriculum stresses areas where contracting professionals have asked for more guidance.
The Federal Acquisition Certification in Contracting has not been updated since 2008, but that's about to change -- and the revised FAC-C will include specialized training for IT procurement.
A May 7 memo from the Office of Federal Procurement Policy outlined the new certification, and OFPP Associate Administrator Joanie Newhart and Tony Grayson, acquisition program executive at the Federal Acquisition Institute, detailed the curriculum and the thinking behind it during a May 13 presentation at FOSE.
"Nobody's happier than I am that this certification has been issued," Newhart said. The old FAC-C is general and lacks a specific course on Federal Acquisition Regulation fundamentals -- whereas the Defense Department's Defense Acquisition University has long offered such training, along with a wide range of advanced coursework.
The revised FAC-C, which takes effect Oct. 1, aligns more closely with the Defense Acquisition Workforce Improvement Act curriculum. And it includes a four-week class, CON-090, that Grayson described as "deep FAR immersion."
"We felt like DOD was getting better training than the civilian folks, and we wanted to address that. Contracting is contracting is contracting," Newhart said, adding that "the closer we are together, the more mobile our workforces are.... We want to make sure that everyone has the training and the skills to buy what's best for the government."
In addition to expanding the curriculum, the new FAC-C targets a broader pool of federal workers. All contracting officers and all other contracting professionals in the 1102 categorization must now be certified. Previously, FAC-C was mandatory only for contracting officers whose warrants had been issued after 2006.
That means several thousand civilian agency workers will soon need to enroll in FAC-C courses, but Grayson and Newhart stressed that agencies will be given leeway in crafting their own transition strategies. Contracting personnel will have a full year to get certified, and previous FAC-C certifications will be grandfathered in, though Grayson noted that new prerequisites for going to the next level must be fulfilled.
Officials believe acquisition personnel will want the new and improved courses, which include topic-specific electives and an online component produced by the Harvard Business School that is already used by DAU, Grayson said. It's especially important "to make Level III [certification] more appealing." Once finalized, the full curriculum will be posted at FAI.gov.
Newhart acknowledged that training is not a panacea but said the new curriculum stresses areas where contracting professionals have asked for more guidance. "Cost and price analysis seems to be a little bit of a lost art," she said, "so we're beefing up that part of the training."
The IT specialization -- FAC-C IT -- will be the first to launch, but similar drilldowns on small business and construction are being considered. And at Level III, there will be added emphasis on industry engagement.
"We're hoping people who are already certified at Level III will come back for some of these electives because they're just that good," Newhart said.