Got an app for that? For combat vets, the answer is yes.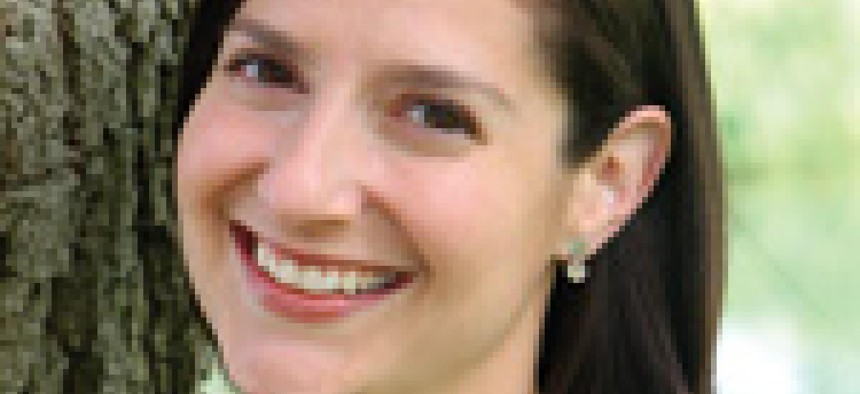 At the Defense Department's National Center for Telehealth and Technology, scientists, researchers, program managers and developers are joining forces to usher in a new era in health care. They are using mobile applications to put portable, interactive health tools in the hands of military service members and help recently returned veterans navigate the complexities of returning to civilian life.
Julie Kinn, a research psychologist and mobile applications program manager who has been at the center since 2009, specializes in developing and researching technologies to support the health and wellness of service members, their families and veterans. She earned an M.A. in clinical and community psychology at the University of North Carolina at Charlotte and a Ph.D. in clinical psychology at the University of Illinois at Chicago.
Kinn recently spoke with staff writer Amber Corrin about how the military is using mobile health technology and its promising future for the general population.
FCW: What is mobile health?
Kinn: The way I'm using the term "mobile health" refers to any provision of health care that uses mobile devices. That can include communicating with a provider using a cell phone, smart phone or tablet. It can also relate to a bigger process we're involved with, which is creating a system so that our service members, their families, veterans and providers can communicate from a distance.
The way technology is fitting in with health is more than just making specific, individual pieces of technology. Our apps — which we've deployed to the market for Android, iOS and BlackBerry — fit into this broader scheme of mobile health.
Developing better systems for providing health care using mobile devices — using all these up-and-coming, developing technologies — will create a better health care system for everybody. Plus, the civilian world can learn from what we're doing and take our best practices and apply them to everybody.
FCW: What kind of apps are you developing and who is using them?
Kinn: Some of our apps are aimed at providers to help make information more easily accessible. We've found a lot of use, by both providers and patients, in accessing [post-traumatic stress disorder] and mild traumatic brain injury [TBI] information — information that has been contained in books and can be difficult to reference.
Users download [the apps] for a variety of reasons. Each app provides some basic information, some psycho-education and usually some assessment. A user can learn more about his or her symptoms and gain a little more awareness about further needs.
Breathe2Relax is a good example. It contains videos and psycho-educational material where users can learn more about why [proper] breathing helps [with stress reduction], see a scan of a human body and learn how deeper diaphragmatic belly breathing can help all sorts of the body's systems.
Although some of our apps are very specifically targeted toward health issues, many are more targeted toward general resilience and quality of life. It's really a combination — there's not going to be one app that works for every person. Users need to try a variety of technologies and solutions and have their own tool kit that works for them.
FCW: How do you ensure that they're having an impact?
Kinn: Some of the impact is unclear. We've found that in general our apps aren't just used once and deleted from the phone or tablet. Our data shows that the average download is used for at least a few sessions. That's good. The kind of material that fits best in a mobile application is information, a skill or a tool that the users can carry with them and access multiple times, any time, any place. That's how we've found our apps have been used.
What we're looking for now are partners who want to help us evaluate our offerings more in terms of outcome. Part of the challenge in evaluating mobile applications is that technology moves very, very fast, so at the same time that we like to evaluate everything, we also need to deploy.
There's always a tension there: When is the right time to deploy a mobile application? Should we wait until our randomized control trial, for example, or should we deploy and evaluate while it's on the market?
We've partnered with the [Department of Veterans Affairs] quite a bit. Our service members who are returning from combat pending separation from the military or pending retirement and our veterans...have many similarities. It's important to work with the VA. We can learn so much from each other, sharing our apps and our modules so that we are efficiently building these tools.
We don't want to be in a situation where we're building identical apps; that wouldn't make a lot of sense, especially since we're both releasing publicly to the market. We frequently share what we're working on so we can make sure we're coordinating and not competing. It's important to us to make sure the apps we're developing are usable and valuable to our troops and veterans.
FCW: What does all this mean for the future of health care — for members of the military and the general public?
Kinn: Traditionally, for Operation Iraqi Freedom, Operation Enduring Freedom and now Operation New Dawn, the wounds of war have been thought of as mild TBI and PTSD. That's changing a bit in that we want to broaden the scope and think about more general health.
We need to be thinking about how to help care for people with things like general pain management, financial management, life stress and relationship issues. These are factors that can be related to PTSD and TBI that are very common to returning combat service members but are also common in other circumstances.
It's essential that we track the consistent health issues of our veterans but also be mindful of general health issues that are consistent with an operational tempo that may be independent of combat. We try to think about our apps in terms of how they can address those signature wounds of war as well as address the general health issues of our military so we can have a healthier force that is better able to re-integrate into civilian life.
This is where the technology can help. It has helped decrease stigma because it's set in this paradigm of "I'm just playing a game on my smart phone." It makes the material a little less threatening for some of our digital natives. It feels very comfortable to them.
It's not that smart phones and tablets can replace traditional care and re-integration activities — by no means. But it's a good addition. There isn't a one-size-fits-all approach to coming back into civilian or stateside military life. Trying different things is a good idea, and it's less costly. We can make an app relatively inexpensively that can be used by hundreds of thousands of people.
We've had good feedback, and we always have our ear to the ground. Often we're limited only by the constraints of current technology. But we're proving the fantasy can become a reality.