DHS: EAGLE will solidify standards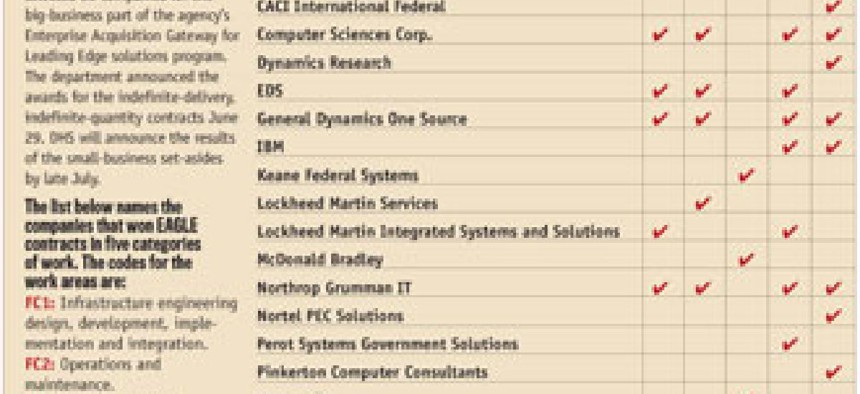 The Homeland Security Department announced that awarding 25 new contracts will save the agency $40 million a year in information technology contract administration fees that it now pays other departments. But the contracts' greatest value will be to help DHS achieve interoperability, standardization and compliance with the department's enterprise architecture, said Charlie Armstrong, DHS' deputy chief information officer.
DHS announced June 29 that it had awarded indefinite-delivery, indefinite-quantity contracts to 25 companies for Enterprise Acquisition Gateway for Leading Edge solutions. EAGLE contracts have a five-year base with two one-year options for renewal, for a total estimated value of $45 billion. The vehicle establishes a departmentwide acquisition program for IT services in five functional areas: infrastructure engineering design, development, implementation and integration; operations and maintenance; independent test, validation, verification and evaluation; software development; and management support services.
DHS weathered a lot of criticism to get the new IT contracts in place, Armstrong said. Through EAGLE, the department expects to reduce the time it takes to identify program requirements and award task orders, he said. "We think this will really get us to solve problems quickly" and establish new programs, he added.
The EAGLE program is based on a decentralized model, said Soraya Correa, director of DHS' procurement operations. Components of the department will order through their own procurement offices, and a central office will coordinate the purchases. The central office will also handle purchasing for the Office of the CIO, she said.
As part of the program, DHS will upgrade its procurement systems to process electronic purchase orders.
Industry officials said EAGLE is significant not as a contract vehicle but simply because DHS awarded it.
EAGLE is well-designed and should operate smoothly, said Ray Bjorklund, senior vice president and chief knowledge officer at Federal Sources Inc. The question is whether people will use it, he said.
Other industry officials said they have some reservations about EAGLE. Phil Kiviat, a partner at Guerra Kiviat, said the program will be good for DHS because it limits the number of companies with which DHS does business to a small group of well-known systems integrators. However, by handing all the business to large integrators, DHS made it difficult for midsize companies to participate in its programs, he said.
Click here to enlarge chart (.pdf).