Mapping cloud to mission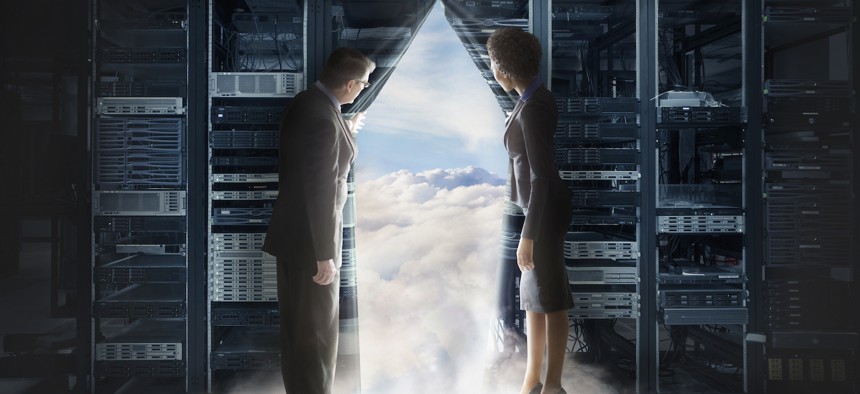 For more than a decade, the federal government has been exploring how cloud computing can help improve its operations, but a new report from the Partnership for Public Service is showcasing where agencies are gaining ground with the technology to produce tangible results. 
The report, which is a collaboration between the Partnership and the IBM Center for The Business of Government, spotlights how agencies like the departments of Agriculture, Defense, Veterans Affairs and others use cloud applications to develop public-facing systems serving everything from collaboration on COVID-19 research to cloud-based disaster response.
The report culls from those experiences to craft a best practices strategy for cloud utilization, from adoption to security and transformation, but Dan Chenok, executive director of the IBM Center, said that the results demonstrate how the technology has evolved from a distinct information technology category to a multi-faceted and integrated marketplace. 
"I think what we've seen today, and the report talks about this a lot, is the evolution of cloud into an open architecture sense where there's different providers offering different types of services," said Chenok, who was part of the team that composed the report. "More of these kinds of open-hybrid architectures are becoming a commercial best practice and we are seeing a lot of interest in government on that topic."
Chenok recalled when he served as the lead of government tech and innovation policy in the Obama transition team, the nascent discussions that would later inform the administration's Cloud First policy centered on helping agencies think about the workloads that could go to the cloud without a focus yet on particular architectures.
He said as the federal government gained more experience with cloud, the Trump administration's Cloud Smart built on the early efforts and further identified the variety of architectures — whether they be public, private, on-prem or hybrid — that could be tailored to specific agency needs. 
Now, the report describes a technology environment that has evolved even further and includes hybrid cloud and multi-cloud deployments as the status quo. And the advantages of the present technology environment can be profound for agencies like the Federal Emergency Management Agency.
The report details how ahead of Hurricane Ian's landfall in 2022, the agency used cloud-based artificial intelligence and data analysis tools to predict scenarios and coordinate its resources.
FEMA officials paired their cloud environment with mobile networking capabilities to ensure efficient operations in disaster zones where infrastructure would likely be compromised. Using an agile cloud framework to performance test, update and iteratively redesign their networks, FEMA officials were able to quickly scale them up as needed. 
One thing the report does make clear is that path to cloud is often varied by agency, with each gaining efficiencies tailored to specific missions and uses, but best practices for mapping cloud to those missions can be surprisingly common. 
"What I love about this report in particular is that it highlights different agencies that are at different stages in their journeys," said Mark Lerner, the Partnership's director of tech & innovation and a former U.S. Digital Service deputy executive director.
"What I love about this type of work is that we are sharing out to everybody, 'Here's the lessons that not only we have learned, but here's stories from your colleagues.' Here's other agencies that are doing this that are running into the same challenges that you are and are having successes that you can look to. Whether you are at the beginning or the end, there's lessons learned all across the spectrum."
Lerner added that while the evolution of cloud and the infrastructure undergirding has spanned multiple administrations, the groundwork is being laid to also build on specific focuses. 
Those focuses could range from both the Trump and Biden White House's onus on customer experience or better data sharing to augmenting research, as illustrated in the report's description of how the National Institutes of Health leverage cloud technology to better share data. But the takeaway is now agencies are starting to look beyond infrastructure to more program gains. 
"I think it's just become an easier part of the nomenclature," he said. "If I had to guess 10-15 years from now, fingers crossed, it's part of the backdrop. It's infrastructure that we can almost take for granted as we deliver our mission. That's my ultimate dream, but we'll see."