Technology at the core of State Department's strategy to counter Russia, China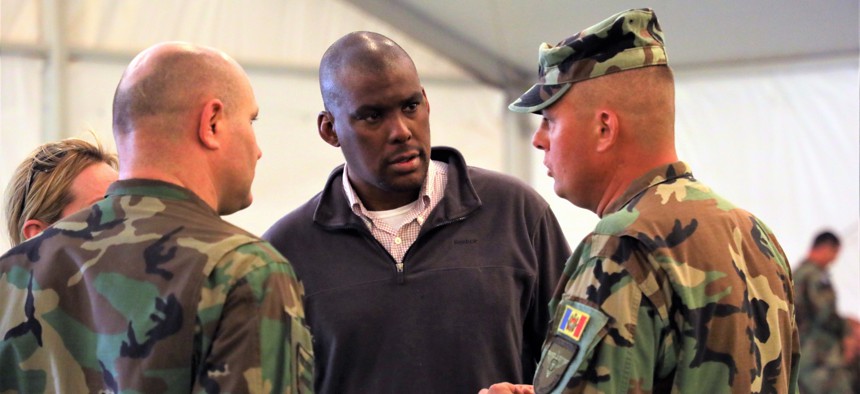 A myriad of information technology modernization initiatives continue to play out across the federal government, but at the State Department, the real-world impacts of those efforts reach directly to the U.S. near-peer competition with Russia and China.
Backed by a 50% IT budget increase in fiscal 2022, the State Department is embracing not only IT modernization, but also the emerging technologies that come with it to better position U.S. interests abroad and in contest with its rivals.
Ambassador Dereck Hogan, the principal deputy assistant secretary in the department's Bureau of European and Eurasian Affairs, said Tuesday that technology procurement and policy are playing direct roles in the State Department's diplomatic efforts to compete with China and Russia. 
"We can, for example, use [artificial intelligence] to look through social media and see what is around the corner, to try and get ahead of that and tell our story," Hogan said during an event hosted Tuesday by The Atlantic Council on 21st Century diplomacy. "To be able to counter the serious disinformation unleashed by the PRC as well as Russia."
Hogan said IT modernization efforts have been coupled with broader policy initiatives within the State Department to stay ahead of the effects of both the global state of play and the impacts of disruptive and emerging technologies.
That has materialized in extensive messaging campaigns to oppugn both Russian and Chinese disinformation efforts and also to galvanize alliances in response to events like the war in Ukraine. 
"We're able to get ahead of stories where, for example, we can say, 'We understand the Russians are planning to take X action and they will use the following arguments. Those arguments are wrong for the following reasons,'" he said. "And then we're able to build an echo chamber through our incredibly real-time coordination with our partners and allies, both in Europe and outside of Europe."
Those efforts have helped the U.S. maintain the solidarity of its alliance in response to the Ukrainian conflict, Hogan said. As a result of the new tools, the State Department is able to take advantage of the data analytics insights in real-time and to be able to quickly coordinate with its military counterparts and the intelligence community.
As it relates to China, the department is also utilizing multilateral diplomacy to build alliances around setting technology standards for emerging tools like AI, quantum computing, 5G telecommunications and others. 
Hogan said that these efforts are materializing in cooperation in issues like removing untrusted vendors from telecommunications infrastructure and safeguarding AI.
"We work now and we work fast and hard with our allies and partners to set the standards for AI, for quantum, for advanced manufacturing so that it is done in a way that actually strengthens democracy," he said.
One example of this, Hogan cited, was September's election of American Doreen Bogdan-Martin as secretary general of the International Telecommunication Union, which is the United Nations specialized agency for information and communication technologies and oversees the shared global use of the radio spectrum.
"In that particular case, we were going against a Russian candidate," he said. "You could imagine if that Russian candidate would have won, what we would be dealing with when it comes to standards setting."
U.S. alliances will continue to remain integral for settling issues like potential global AI standards, 5G infrastructure, curbing intellectual property theft in the technology supply chain and more. 
As a result of these efforts and its goal of data-informed diplomacy, Hogan said the State Department is working to fill more data analytics roles. The next challenge for the department is helping combine those data insights with in-country assessments from its deployed personnel. 
"One of the things that I think we have struggled with is how do we understand trend lines moving across Europe. In my world — but it could also be taken to the global level as well — is how do we understand what's happening in real-time," he said. "So the use of technology to provide the real-time analysis is important, but we need to marry that with our diplomats on the ground to see what's actually happening and interpret what's said and not said."