Sunsetting CVR but keeping the collaboration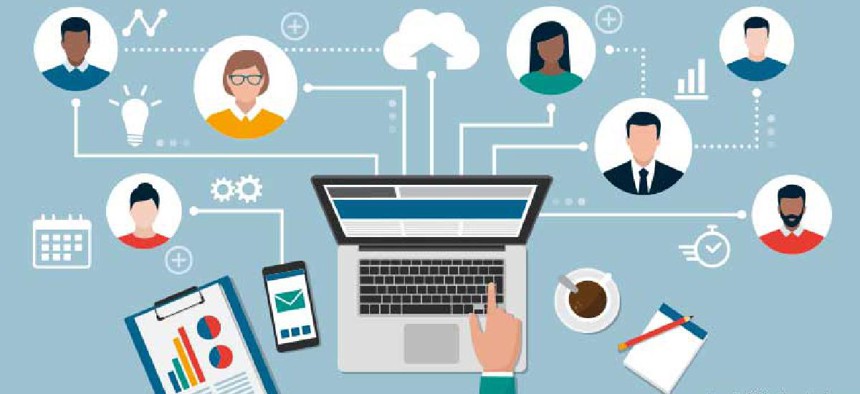 The Defense Department launched the Commercial Virtual Remote environment to accommodate telework during the COVID-19 pandemic. It quickly became the largest Microsoft Teams deployment in the world and brought department-wide collaboration tools to DOD after years of less successful attempts.
DOD employees have embraced the tools and the silo-spanning interactions they enable, but CVR was always intended to be a temporary fix. Therefore, the Defense Information Systems Agency is working hard to ensure that the collaboration doesn't fade when CVR sunsets in July.
Agency Spotlight: DISA
Les Benito, director of operations at DISA's Cloud Computing Program Office, said Global Directory is the key. He told FCW that the initiative will provide "a cloud-wide identity" as the military services spin up their own Microsoft 365 environments under the Defense Enterprise Office Solutions (DEOS) contract.
DISA began developing Global Directory last summer with the goal of augmenting, not replacing, existing identity and access management systems, Benito added. System owners "still control access within their individual tenancies," he said, but having a shared identity framework will allow for "a CVR-like experience that users have grown to expect."
A minimum viable product was tested in the fall, and DISA is now using Global Directory for its DOD365 implementation. In addition, the Army and Navy have adopted it for their DEOS implementations, with the Air Force and the U.S. Southern Command coming on board in April and "others to follow this summer," Benito said.
Department of the Air Force CIO Lauren Knausenberger said the Air Force will fully transition back to its own Cloud Hosted Enterprise Services program before CVR ends in June. The cross-department integration is "not as interoperable as I'd like it to be yet," she told FCW, but DISA and the military services are trying to address the sticking points and ensure that some of CVR's more modern features are adopted.
"People are now used to that," Knausenberger said. "The whole culture has shifted, and people understand how absolutely critical it is to work anywhere you need to work and to have collaboration tools that actually work."