GSA sketches next steps for CEOS, Polaris and EIS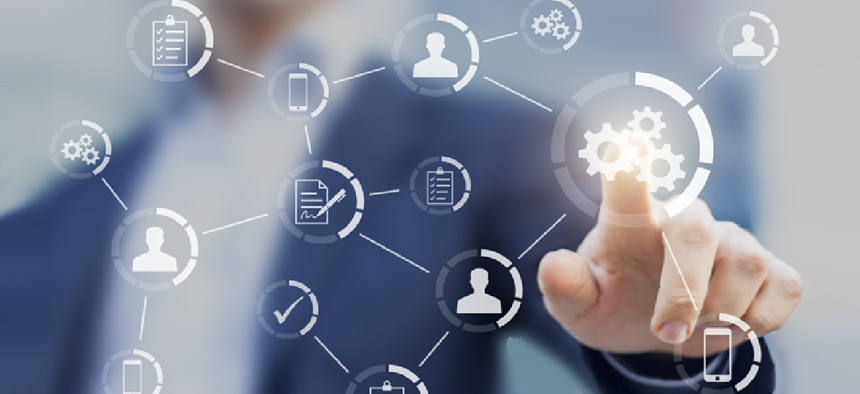 Small business, telecommunications and cloud productivity tool contracts are top of mind for GSA's acquisition service in coming year.
The General Services Administration is continuing to develop a civilian version of the Pentagon's Defense Enterprise Office Solutions (DEOS) blanket purchase agreement for cloud-based productivity tools. The Defense Department's contact vehicle supplies Microsoft 365 cloud-based email, productivity and communications apps. A GSA official explained in a Dec. 9 virtual event hosted by AFFIRM that a Civilian Enterprise Office Solutions (CEOS) contract requires a different approach.
"Agencies are much different in how they're federated compared to the DOD," Allen Hill, acting deputy assistant commissioner for category management in the Federal Acquisition Service's Office of Information Technology Category, said. "That takes more planning. You can't just put in an acquisition vehicle and everybody gets in line. We're taking a more strategic approach of what types of services to include in CEOS."
GSA's fiscal 2021 priorities also include a new small business multiple award contract and helping agencies take up its next-generation telecommunications contract.
"FY 21 is a big year for Polaris and STARS III," said Laura Stanton, assistant commissioner of the Office of Information Technology Category, in the GSA's Federal Acquisition Service, referring to the agency's two emerging small business-centric multiple award contracts.
Bids for the 8(a) Streamlined Technology Acquisition Resource for Services III contract closed in August, Stanton said during a Dec. 9 AFFIRM webcast on the agency's priorities for the coming months. "We're looking at getting that awarded in 2021," she said.
Additionally, the agency continues to develop its Polaris small business government-wide acquisition contract. Stanton said GSA officials are talking with industry about innovative technologies that could be included in the vehicle. She didn't provide specific timelines for either contract, but said a draft of Polaris would be released "in the fairly near future" through beta.sam.gov.
Hill, who also oversees GSA's $50 billion Enterprise Infrastructure Solutions (EIS) contract, said agency transition to that vehicle is ahead of where the transition was with its Networx predecessor. The transition to Networx dragged on for three years.
To date, Hill said, six large agencies have awarded all their EIS task orders, while 10 medium-sized agencies have awarded all their EIS task orders. GSA is working with the remaining agencies to help them inventory systems, support and draft solicitations, Hill said, as well as provide tools to help them track orders and inventory.
Under the GSA's timeline, agencies have until March 31, 2021 to have 50% of their services transitioned to EIS and until March 22, 2022 to have 90% of their services moved to EIS. They have to have 100% transitioned by Sept. 2022. Networx and GSA's other legacy telecommunications contracts that EIS will replace expire in May 2023.
 "We're in a much better position than with what happened with Networx," he said. "Would we like to be in a better position? Of course we would." Some agencies are leading the transition, while others have challenges like staff changes that have held them back, according to Hill.
"Next year, our goal is to get the agencies to where they're meeting the milestones. Our hope is that all are at that point," he said. Some "straggler services" because of unique agency requirement could linger and take longer to plan, he said.