A smarter approach to cloud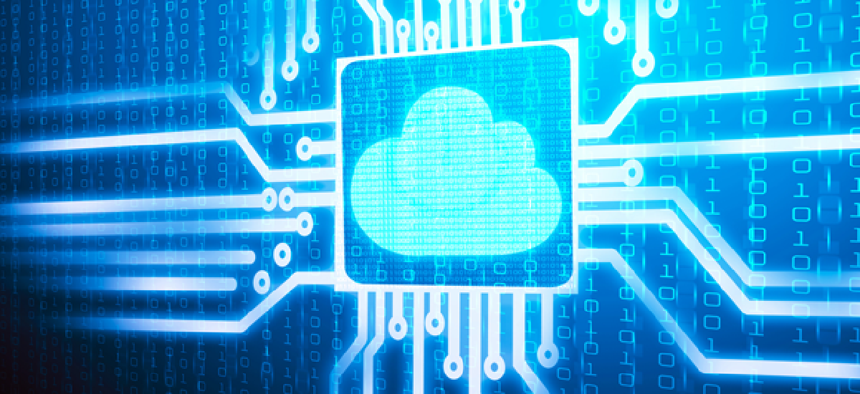 Several years after cloud adoption became a priority for the federal government, the technology and the challenges for agencies continue to evolve. Now cloud-based services are playing a key role in IT modernization efforts, which increases the pressure on agencies to move their activities from data centers to the cloud.
The way forward is not always clear, however, and regardless of which flavor of cloud they choose, agencies still face significant challenges related to acquisition models, governance and cost savings.
In December, FCW gathered a group of federal leaders to talk about their experiences and the latest developments in cloud technology. The discussion was on the record but not for individual attribution (see below for a list of participants), and the quotes have been edited for length and clarity. Here's what the group had to say.
A question of lease vs. buy
With regard to the government's progress on moving to the cloud, one participant said, "We are not as slow as we think we are. A vendor recently told me that government is moving faster to the cloud than the commercial sector is."
As cloud options mature and agencies gain more experience, many participants noted a trend toward environments that feature a more sophisticated sharing of responsibilities between government and industry.
"You have traditional brick-and-mortar data centers, then you've got on‑prem cloud and off‑prem public cloud," one executive said. "I think the momentum is going toward that on‑premises cloud. My data center is probably moving toward having the infrastructures still provided by the government but the guts and the software be privately held."
In other words, "you're still in the business of maintaining the hardware, but the platform and the service are contracted out," the speaker added. "I see value in that because you already made the investment in the hardware."
Another participant drew parallels to earlier investigations into whether it was better to buy or lease computer equipment. "We did studies back in the '90s, and the longer you leased, the less it took to become financially stable in the out-years. I don't know if the economics have changed — I've got to believe they have — but we are having that lease‑versus‑buy conversation again by doing these on‑premises clouds. Even the hardware, end‑of‑life stuff, we're going to do that as a service. We'll essentially let the vendor upgrade our stuff as it's made."
The participant added that "when I re‑compete that contract, I'm probably going to do a lot as a service. The vendor will handle half my dataset, but the other half will probably be the classified stuff."
Participants also discussed the pros and cons of community and multi-cloud environments. With multi-cloud, "you're taking the best-of-breed of whatever services you might use," one executive said. "You might use, for example, the Watson data platform from IBM integrated with the AI platform in Azure and call out APIs and Amazon Web Services. I can foresee something like that."
By contrast, a community cloud is more constrained in terms of structure and the potential for innovation. "There are going to be fewer services and a different quality of services in a community cloud," the participant said. "You're isolated, and isolation means that the number of cloud services that you have to build applications actually is reduced in a community cloud."
Does cloud computing really save money?
Some participants pointed out, though, that cloud technology is not a panacea and might not always be the best choice.
For some agencies, "it costs four or five times as much to run apps in the cloud as it does to run them on your own hardware," one executive said. "We were able to take 40 percent of our apps into the cloud and lower our rack count by 40 percent, but the rest of it, unless someone gives you money to rewrite all the code, you're screwed."
Another executive concurred, saying, "We assume it'll be cheaper to go to the cloud, but is it really? You still have to maintain the staff. You still have to maintain some of the stuff that surrounds that staff. You still now have to pay for the top of the iceberg, which is the compute and the storage, but you don't see the bottom piece, which is the long‑term use of that storage."
Participants
Richie Balkissoon
Cloud Architect, Department of Homeland Security
Claudio Belloli
FedRAMP Program Manager for Cybersecurity, General Services Administration
Mark Busby
CTO, National Archives and Records Administration
Robert Frum
CIO, Navy International Programs Office
Gregory Garcia
CIO/G-6, U.S. Army Corps of Engineers
Tim Hale
Acquisition, Logistics and Technology Enterprise Systems and Services, U.S. Army
Capt. Craig H. Hodge
Deputy CTO, U.S. Immigration and Customs Enforcement, Department of Homeland Security
Robert Holloway
Enterprise Architect, PEO EIS, U.S. Army
Darryl Peek
Director of Operations, Office of the CTO, Department of Homeland Security
Ed Simcox
Deputy CTO, Department of Health and Human Services
Tony Summerlin
Senior Adviser, Federal Communications Commission
Andras Szakal
Vice President and CTO, IBM U.S. Federal
Navin Vembar
CTO, General Services Administration
Note: FCW Editor-in-Chief Troy K. Schneider led the roundtable discussion. The Dec. 12, 2017 gathering was underwritten by IBM, but both the substance of the discussion and the recap on these pages are strictly editorial products. Neither IBM nor any of the roundtable participants had input beyond their Dec. 12 comments.
One participant said his agency reduced the number of contractors by moving to the cloud and lowered costs by one-third, but the key is also shifting to software-as-a-service applications. "Going to the cloud is really about flexibility, response and availability," he said.
"I think the true value is going to come when we start building or replacing those applications in at least platform as a service," another participant said. "Just taking everything and moving it over to infrastructure as a service, we're not really going to save anything. We'll have agility, but we're not going to save any money."
For another executive, the question is more fundamental and comes down to how cloud technology can serve the agency's mission. "That's really what the question is: How do you focus on the most important thing? If that's the cloud, great. If it's not the cloud, great. It's the mission that's got to be first."
Finding and paying for cloud services
Many participants praised the General Services Administration's efforts to improve the Federal Risk and Authorization Management Program for buying cloud services.
"FedRAMP luckily is getting much better, which is great because it was supposed to facilitate people going to the cloud to give agencies a reason to feel secure," one executive said. "Instead, it became a huge obstacle. Now it's coming back to being a secure and great way to move forward."
However, a number of executives said agencies still need more flexible approaches to buying cloud services that go beyond a capital expenditures mentality.
"It's very complicated to devise a scheme that comports with all the rules, regulations and laws, and move quickly," one participant said.
Many participants expressed support for buying cloud services along the lines of a pay-as-you-go utility.
"We need to get some flexibility to say, 'I don't know how much I'm going to use until I use it. Let me have some flexibility with the budget,'" one executive said.
"We would like to see our contracting officers have the capability to, as we say, speed cloud," another participant said. "There's a learning curve, and that's part of the problem that we run into. I haven't found any contracting agency at this point that can offer a contract that is based on pay‑as‑you‑go utility-style pricing."
Predicting usage is the challenge, and one participant said agencies should be given the flexibility to "just measure it over the course of the year, then it becomes more predictable."
Industry also has a role to play. "There is a perception that everything you buy in the cloud is bought as service, but the vendors have infinite flexibility," another executive said. "They can offer enterprise license agreements for cloud services, and they can offer different flexible plans."