IT's role in supporting workplace collaboration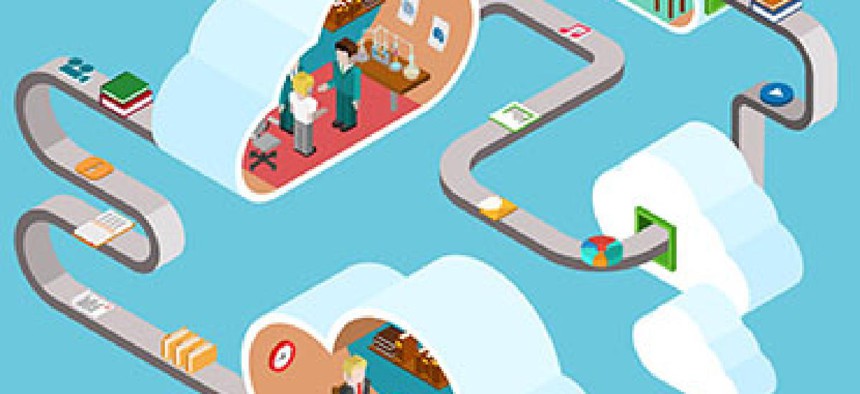 As feds increasingly turn to cloud-based tools, IT leaders have an opportunity to reduce risks without hindering innovation.
Today's workforce is more collaborative than ever. CEB research shows that the average employee works with 10 or more individuals to accomplish daily tasks, and nearly half of an employee's performance comes from integrated contributions. Two-thirds of employees report doing more collaborative work now than they did three years ago, and this change in the nature of how work gets done will only increase.
Despite the demand for collaboration, however, federal employees are often dissatisfied with the managerial support and tools they receive to enable it. In the 2014 Federal Employee Viewpoint Survey, only 54 percent of federal employees said their managers support collaboration across work units to accomplish organizational objectives. Additionally, our research shows that only 42 percent of employees rate their IT-provided collaboration tools as effective.
In the government, business units have addressed the gap between their collaboration needs and IT's current support by turning to cloud-hosted solutions. A recent report by cloud security company Skyhigh Networks claims that the average government organization uses 721 cloud services — more than 10 times the number that central IT expects. Of those cloud services, collaboration tools top the list, with the average organization making use of 120 cloud-based resources.
Business units and individual employees are turning to those solutions because the unpredictability of collaboration needs defies IT standards and set processes. IT leaders and even business unit leaders can't typically foresee which processes will be the most effective for a future opportunity, which greatly reduces the value of preexisting IT-provided tools. Effective collaboration tools meet real-time needs, and employees are voting with their feet by choosing apps and cloud-based tools that meet their needs in a more targeted and timely fashion than traditional IT offerings.
Despite the demand for collaboration, federal employees are often dissatisfied with the managerial support and tools they receive to enable it.
IT departments have valid concerns about such business-led technology sourcing, including potential security risks, excessive portfolio complexity and potentially duplicative spending. However, IT often underestimates the benefits of business-led technology experimentation, while business partners often underestimate the risks and true lifetime costs of cloud-based services.
IT leaders can best balance concerns about risks with potential rewards by adapting their engagement model to meet the context of collaboration. Frontline employees and their managers are typically best positioned to know their collaboration needs, but IT has a cross-enterprise perspective, knowledge of the capabilities and limitations of enterprise systems and data, and expertise in managing technology projects.
IT leaders can maximize those advantages by:
* Equipping business leaders to be informed technology consumers. Instead of trying to force business leaders to source their solutions through IT, the department can act as a "buyer's agent" for business units. The IT team can educate them to ask vendors the right questions and gain an early and complete understanding of the trade-offs associated with a particular solution.
* Scaling good solutions to the enterprise. Although business units are more capable of experimenting with collaboration tools, IT can promote scalable solutions across the enterprise. Instead of developing applications internally, IT should provide a set of integration services and a flexible access point for all potential users in the form of an enterprise app store.
* Enabling stakeholders to manage information risks. Business units are the true owners of the risk from self-procured cloud services. The IT team should act as a security adviser and teach employees to identify risks by providing clear, easy-to-use risk assessment templates and reference guides.
The IT team can't predict all the collaboration needs of its workforce, but it can provide direct support in targeted ways by enabling self-service and better risk awareness.