The Mobile Wave Still Looks Like a Trickle in Government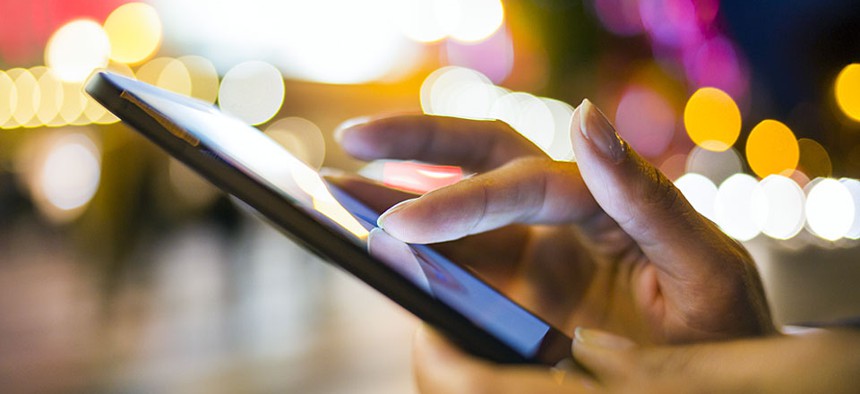 This story has been updated. 
Don't say federal agencies are phoning it in.
As Americans take to smartphones, tablets and other mobile gadgets in droves, agencies are slowly but surely making sure government websites and services are available from those devices.
The Obama administration has set a lofty aim of providing government services "anytime, anywhere and on any device." But with thousands of federal websites not yet optimized for miniature screens, agencies clearly have their work cut out for them.
That's the takeaway of a new report from the Government Accountability Office, assessing how agencies are meeting the challenges of an increasingly mobile America.
The Obama administration made accessing federal services on mobile devices a key part of its 2012 Digital Government Strategy. The framework specifically called on agencies to identify two or more services they could make mobile friendly, such as allowing Americans to apply for certain benefits or learn more about car safety, for example, directly from their phones.
Mobile-wielding Americans are eager to access federal services from their phones. About one-third of Americans reported visiting a federal website on a mobile device in 2013, according to the American Customer Satisfaction Index.
And while mobile traffic to federal websites still pales in comparison to traditional desktop visits, the number of mobile visitors is growing rapidly.
The number of people using mobile devices to access Interior Department services increased from about 57,000 in 2011 to more than 1.2 million in 2013. Meanwhile, the Federal Emergency Management Agency received 3.1 million mobile visits in 2013 -- the most of any agency site.
Still, challenges persist. Looming large is the fact that not all, or even most, federal websites are designed to be consumed with pocketsize screens, touch-screen keyboards and scaled-down browsing capabilities.
Too many of Uncle Sam's websites are cluttered with extraneous information and require users to click through multiple screens to access information, GAO noted. 
"Government websites in particular are not always streamlined with the end user in mind … Government websites may include unnecessary content, making it difficult for mobile users to find the information they are looking for," the report stated.
To be sure, agency officials and Web designers have made strides remedying the lack of mobile-optimized federal content.
On the left, the Transportation Department's website before it overhauled it using responsive design. On the right, the streamlined, mobile-friendly version of the website. Source: GAO
All 24 agencies required to comply with the Obama administration's digital strategy -- all executive branch agencies and most of the large independent ones -- have identified the services they plan to revamp for mobile devices, GAO noted. Meanwhile, 21 of them have already revamped at least two services as required by the strategy.
For example, the Interior Department optimized its main Web portal using responsive design, building a website so it operates the same on desktops and mobile platforms alike.
Taking a different tack, FEMA and the National Weather Service created separate mobile versions of their main websites. FEMA also created a mobile-optimized version of its DisasterAssistance.gov site in January 2013.
But even those agencies that have seen success at mobile overhauls now appear at a bit of a crossroads.
Interior, FEMA and NWS all plan to more fully implement responsive design across their sites but lack hard deadlines for doing so, GAO noted.
The General Services Administration's Office of Citizen Services and Innovative Technologies provides agencies with guidance and tools for making more government services mobile friendly.
GSA's mobile program helps agencies develop mobile strategies, helps them implement responsive design and provides compatibility testing and a mobile code-sharing catalog, among others initiatives. 
But GSA "does not have the authority to require that agencies take certain actions," the GAO report noted.
Funding streams to support mobile efforts are also looking a little dry, according to Tom Suder, founder and president of private sector group MobileGov.
Agencies "appear to have very little 'new' money and [are] gradually shifting to mobile using their 'website' budget," Suder told Nextgov. "While the world is rapidly going mobile, it seems like the government is taking a more gradual process to a 'mobile-first' world."
For breaking technology news and analysis, download the free Nextgov mobile app. 
(Image via LDprod/Shutterstock.com)