17 hot companies to watch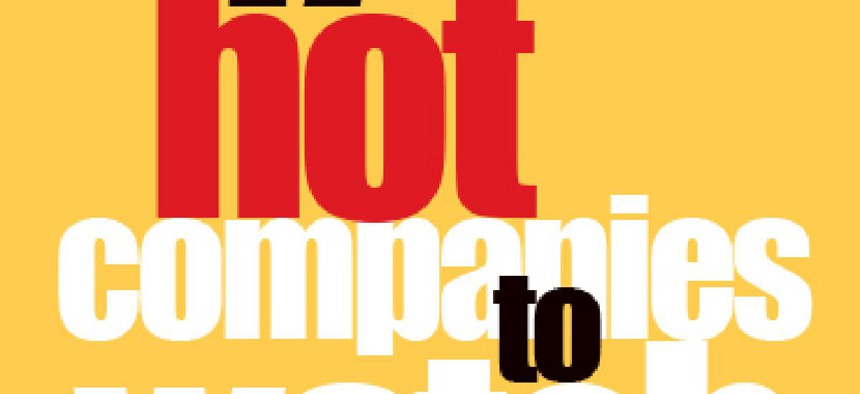 From security and mobile to data management and open source, these firms are driving innovation in agency IT -- and growing their businesses in the process.
Never ones to carelessly leap into the latest tech trend, federal agencies are nevertheless taking steps to reinvent key IT infrastructure components.
New approaches to data centers, networks and data management solutions are finding their way into government agencies. Cloud computing continues to make its presence felt as vendors offer new platforms for developing and delivering applications. Mobile technology is expanding, with position-based tools among the key developments. Security products, meanwhile, are evolving to keep watch over the changing landscape.
The 2014 edition of FCW's hot companies to watch features vendors that seek to help agencies build and manage the new IT environment. We chose 17 firms based on a number of factors, including the relevance of their offerings to key federal needs, how well they were represented on contract vehicles, their ability to make strategic alliances with other companies and their efforts to reach out to the federal market.
Here are this year's companies to watch, by area of expertise.
Data center technology
Agencies looking to save rack space and reduce operating costs at their data centers are turning to converged infrastructure products, which combine servers, storage, networking and a software management layer in a single device. Networking is also in for an overhaul as software-defined networking (SDN) continues to improve flexibility and ease of management. Companies that are introducing those technologies to government customers include Nutanix and Big Switch Networks.
In the converged infrastructure space, Nutanix has landed customers at about 70 agencies since entering the federal market nearly two years ago. The company's most recent customers include the National Guard Bureau headquarters, the National Nuclear Security Administration, FBI headquarters and the Army's Human Resources Command.
Nutanix's federal business grew 569 percent from 2012 to 2013, and the company reports that its number of federal customers, its revenue and its transactions with federal entities all more than doubled in the first half of 2014.
Dave Gwyn, vice president of federal sales at Nutanix, said agencies are beginning to think outside the box when it comes to challenges such as consolidation, cloud migration, mobility and data center modernization. "This has resulted in a movement toward a converged infrastructure approach, which is transforming how agencies are viewing the traditional data center," he said.
Big Switch, which offers SDN software for data center networks, recently announced a partnership with In-Q-Tel, the investment organization that identifies technology solutions that support the missions of the CIA and the wider intelligence sector.
Big Switch CEO Doug Murray said the company has partnered with In-Q-Tel on multiple projects, with an emphasis on OpenStack cloud deployments.
"We have seen a lot of the U.S. intelligence community's interest in hyperscale data center networks," he said, adding that federal sales represent more than 15 percent of the company's 2014 revenue forecast.
Big Switch is also in active discussions with potential federal partners outside the intelligence community, Murray added.
Data management
Big data and NoSQL technologies are transforming the data management sector, and products in this category seek to provide the ability to scale as datasets grow. Solutions from MongoDB, Splunk and Talend are finding roles at government agencies.
MongoDB, developer of the MongoDB NoSQL database, counts the intelligence community, Defense Department and civilian agencies among its customers. The company is zeroing in on government needs such as crime data management and analytics, citizen engagement, program data management and health records management.
Top federal projects in fiscal 2014 include the Department of Veterans Affairs' Virtual Lifetime Electronic Record, the Federal Communications Commission's mobile broadband Speed Test app, the Lawrence Berkeley National Laboratory-supported Materials Project and the genome sequencing catalog at the National Cancer Institute's Advanced Biomedical Computing Center.
Will LaForest, senior director of U.S. federal sales at MongoDB, said the rapid proliferation of different types of data requires flexible solutions and technologies that scale and deploy across a range of platforms.
"The federal market is experiencing huge growth in the amount of data it is consolidating, which often means government big data doesn't just mean volume but also variety," he said.
Splunk -- which provides software for searching, monitoring and analyzing big data -- has gained new federal clients and expanded existing deployments in fiscal 2014. Customers include NASA's Johnson Space Center, the Army, the Air Force and the departments of Health and Human Services, Justice, Energy and Interior.
The company also reports growing interest in using its data analytics platform for security purposes. DOE, for example, has adopted the Splunk App for Enterprise Security at two sites, replacing a security information and event management tool. The company is broadening its government reach through alliances with Carahsoft and Georgia Tech Research Institute, among other partners.
"Data drives decision-making in federal agencies, and this focus on intra-agency information sharing and analytics is an important factor in Splunk's public-sector growth," said Bill Cull, vice president of the U.S. public sector at Splunk.
Talend, which offers big-data solutions, targets data consolidation and systems modernization projects in the federal sector. Customers include the National Oceanic and Atmospheric Administration.
Cloud computing
Cloud adoption continues to grow in the federal sector, with vendors offering solutions for developing and delivering cloud-centric applications. Acquia, CloudBees and Docker are among the companies gaining federal momentum.
Drupal development firm Acquia offers the open-source content management system on its cloud platform. The company experienced a year-over-year growth rate of more than 35 percent in 2013. Recent federal customers include the Justice Department (via a departmentwide blanket purchase agreement); the Agency for Healthcare Research and Quality; National Institutes of Health clinics; the Bureau of Alcohol, Tobacco, Firearms and Explosives; and Lawrence Livermore National Laboratory.
Recent alliances include a partnership with NuCivic to launch NuData Enterprise, which Acquia describes as the first fully open-source software-as-a-service (OpenSaaS) data management solution.
Todd Akers, public-sector vice president at Acquia, said his company is positioned to help agencies respond to new Obama administration directives.
"With the launch of the U.S. Digital Service and the Digital Services Playbook, the administration is allocating resources to help government agencies build extraordinary Web and digital services, such as portals, websites and mobile applications," he said.
CloudBees offers a platform-as-a-service tool for building, running and managing Web and mobile applications. The company strengthened its position in the government market by striking an alliance with DLT Solutions in July. The arrangement lets CloudBees tap DLT's government customer base and contracts.
DLT's vehicles include DOD Enterprise Software Initiative contracts, General Services Administration contracts, and BPAs at NASA and the Navy, among other agencies.
"Government agencies face the same challenge common in the private sector: the need to accelerate application development and deployment, to solve business problems and better serve their constituents," said Mike Lambert, CloudBees' vice president of sales for the Americas.
The open-source Docker project, meanwhile, could make it easier for agency IT managers to deploy applications in the cloud. The platform containerizes applications so they are more readily deployable across different IT environments, whether in the cloud or in the data center.
In April, open-source IT consulting firm Vizuri announced a partnership with Docker that could give the open-source technology a wider government outlet. Vizuri's parent company, Applied Engineering Management Corp., has contracts under GSA's Schedule 70, GSA's Mission-Oriented Business Integrated Services and the Navy's SeaPort-e.
Mobile technology
Companies such as Digital Management Inc. and NC4 seek to push mobile technology as they grow their businesses.
DMI, which focuses on mobile enterprise solutions, recently announced that it has been placed on GSA's $50 billion Alliant governmentwide acquisition contract for large businesses after already participating in the Alliant Small Business vehicle. In addition, DMI recently obtained prime contracts with the Agriculture Department and the Defense Information Systems Agency.
The DISA and USDA contracts, both for mobile device management, make DMI the largest provider of mobility services to the federal government, according to the company.
"We find our government clients are increasingly turning to mobile solutions to enable them to effectively engage with citizens and more efficiently achieve their missions," said DMI President and CEO Sunny Bajaj.
Other DMI projects include an IT service desk support contract with the State Department, a continuous monitoring contract with the Department of Homeland Security, and an advisory and assistance services contract for U.S. Air Forces in Europe.
NC4, a safety and security solutions provider, launched a mobile app in July that uses location data to boost employee safety. ActivPoint takes advantage of smartphones' Global Positioning System features to capture position data, which is delivered to analysts in the company's Risk Center. The app provides incident alerts and global security information based on a GPS-enabled device's location.
In other projects, NC4 provides secure collaboration portal and risk mitigation services to a variety of federal customers, including DHS' U.S. Computer Emergency Readiness Team, the Office of Personnel Management and DOE. The US-CERT initiative involves providing secure cybersecurity information-sharing capabilities with other federal agencies and private-sector partners. The OPM project also involves secure information sharing, while the DOE effort provides management services for foreign visitors to DOE facilities.
"Cybersecurity professionals are using technology in innovative ways that dramatically improve our ability to respond to and mitigate cyber threats," said Jim Montagnino, president and CEO of NC4.
Enterprise software
As virtualization and the cloud revolutionize enterprise software, Delphix, Economic Systems and NuCivic are delivering technologies that capitalize on those developments.
Delphix's data virtualization software targets modernization, migration, application development and consolidation initiatives. The company's federal sales team has doubled in size in the past year to expand its market presence.
The Marine Corps and NASA are among Delphix's customers. The company also works with In-Q-Tel and has partnerships with several federal integrators, including Deloitte, SAIC, Accenture and CSC.
The expansion of the government's software inventory has fueled the demand for data virtualization, according to the company. Delphix is projecting a growth rate of 300 percent for 2014.
"The size, number and complexity of databases and applications have increased significantly, forcing agencies to streamline redundant systems to reduce storage overhead and increase efficiency," said Ted Girard, vice president of federal sales at Delphix.
Earlier this year, EconSys received the Federal Risk and Authorization Management Program's seal of approval for its FHR Navigator software. The cloud-based human resources offering has been deployed at more than 100 federal agencies, according to the company. Customers include DHS, USDA, the Federal Deposit Insurance Corp., the Federal Election Commission, the Labor Department and the Department of Housing and Urban Development.
EconSys has added cloud-based modules to FHR Navigator for position classification and management, staffing, onboarding, workforce planning, and electronic performance management. In addition, the company said it will release a module that integrates with the electronic Official Personnel Folder for federal employees in early fiscal 2015.
As for alliances, EconSys is in discussions with staff augmentation firms, human resources shared-services providers and other federal software providers.
NuCivic, which focuses on cloud-based OpenSaaS solutions for the public sector, can point to a number of government wins. A project with the U.S. Agency for International Development, for example, employs the turnkey NuCivic Data portal, which is based on the company's DKAN distribution of Drupal. Other efforts include a prototype of a DKAN open-data-sharing platform at USDA's National Agricultural Library.
NuCivic partners with Acquia and Carahsoft to provide NuCivic Data, an OpenSaaS offering that aims to help agencies meet the White House's open-data policy requirements.
"We believe that OpenSaaS solutions are going to become widely preferred by agencies in the coming years due to the burgeoning popularity of open-source solutions at all levels of government, coupled with the ongoing need to deliver solutions securely and at scale in the cloud," said NuCivic CEO Andrew Hoppin.
IT security
In the security field, AlienVault, FireEye, Route1 and Vaultive are building a book of business in the federal sector, often through alliance partners.
AlienVault, which provides its Unified Security Management (USM) product and crowdsourced threat intelligence, has grown its federal customer base in 2014, signing NASA, the Peace Corps, the National Security Agency and Wright-Patterson Air Force Base, among other agencies.
The company cites its partnership with DLT as important to its growth in the federal sector. AlienVault also has a strategic arrangement with Telos to support large federal customer projects.
Looking to the future, AlienVault has been working closely with a strategic systems integration partner to build a cloud-based offering for federal customers that complies with FedRAMP. The company is also in the process of achieving National Information Assurance Partnership certification for USM.
Justin Endres, senior vice president of worldwide sales at AlienVault, said the government's adoption of USM provides "strong validation of the market's eagerness for a solution that is easier to use while offering higher fidelity as it pertains to security visibility and threat detection."
FireEye, which provides a virtual machine-based security platform, began 2014 with the acquisition of endpoint security vendor Mandiant. Through the acquisition, FireEye gains government customers as well as security technology.
Route1, a digital security and identity management solutions provider, has customers at DOD and DHS. In fact, the company highlighted the sale of 7,000 of its MobiKEY Fusion identity validation devices to DHS and a DOD component's purchase of the MobiKEY application software as factors in the company's recent growth.
More than 80 percent of Route1's income stems from its relationships with federal government customers.
"Currently, the major theme is government's challenge of securing mobile data," a company spokesman said. "A mobile government workforce is the new reality due to its positive impact on productivity. [But] mobility presents a significant cybersecurity risk to government agencies."
Vaultive, which offers cloud encryption technology, is involved with a number of federal agencies, including DISA, the Navy, the Army and DHS. Officials said the company's recent partnership with immixGroup gives it access to a wide range of sales and marketing resources, relationships, contract vehicles, business processes and domain knowledge.
Vaultive's technology applies encryption prior to the transmission of data over a wide-area network. Ken Knueven, senior director of channels at Vaultive, said the approach gives agencies greater control over their data.
"The best way to maintain control of data is to encrypt it before it leaves the agency's network and persistently encrypt it while it's stored and processed at a cloud provider," he said.