Feds reject counterterrorism reporting apps over privacy, security concerns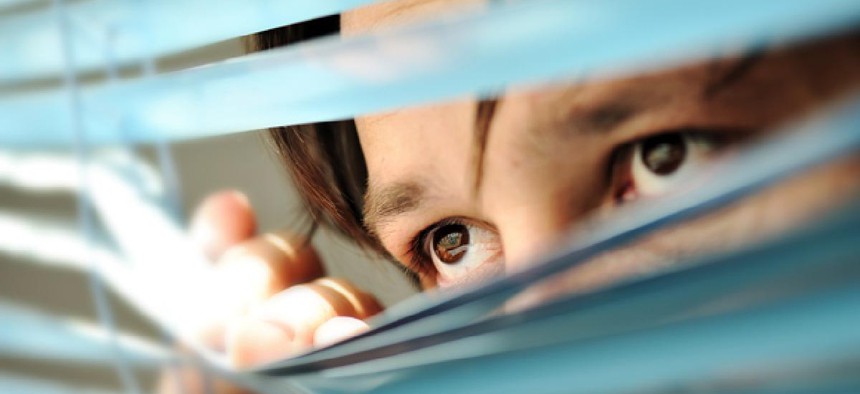 The Obama administration is discouraging authorities and citizens from reporting suspicious behavior through smartphone apps because of privacy concerns, as local governments begin releasing the anti-terrorist tools 11 years after the World Trade Center attacks. Privacy advocates and federal officials may be at odds on many counterterrorism surveillance techniques but they are of the same mind-set that reporting apps present too great a risk of stalking, discrimination and security breaches.
Since 2008, state and local authorities have been sending credible tips from citizens to regional analysis centers through a special network. Now, some of those fusion centers are adapting the program, called the Nationwide Suspicious Activity Reporting Initiative, or NSI, for the iPhone crowd, according to current and former Justice Department officials.
The draw of iPads, Android-based phones and other personal devices is their ability to quickly transmit the location coordinates of abnormal activities and photograph the surrounding circumstances, according to Tom O'Reilly, who until April directed NSI. "There are a number of fusion centers that are using that for input," he said. The program recently offered fusion centers digital forms with blank entry fields to ease information sharing among police, citizens and companies that operate critical infrastructure, such as power plants.
The form is "provided to, say, the Tennessee fusion center, and then they could embed that information into whatever business processes are in place," including apps, O'Reilly explained.
Justice officials on Monday, however, said they specifically do not recommend translating the templates into apps.
Only authorized NSI users who are trained in what constitutes suspicious behavior should be exchanging alerts, and they should do so only through secure law enforcement networks, officials said.  They added that vague data from non-expert passersby can hamper police response times. And apps lack the human judgment of 911 phone centers. During emergency calls, trained operators weed out false reports and extract pertinent information that can only be found in spoken conversation.
O'Reilly, now executive director of Rutgers University's Police Institute, said, "I don't disagree that it's good to have interaction with a 911 call center; at the same time there needs to be encouragement to get the information to the place that can deal with it as soon as possible."
The West Virginia Intelligence Fusion Center now offers a downloadable suspicious reporting app for this very reason.
"The longer you wait, the less accurate eyewitness information becomes and evidence fades," the center's director Thom Kirk said in a February statement. "Enabling the information to be sent at the time the activity is taking place will not only improve the accuracy of the report, but also improve the ability of the authorities to respond quickly." The tool allows citizens to take a photo, automatically pinpoint their address, report detailed subject and vehicle descriptions, and remain anonymous if they wish.
Plus, many young people communicate better with a computer screen than with voice, law enforcement experts noted.
If federal personnel want to share tips via personal smartphones approved by their employers, the administration's information-sharing framework allows for that with BYOD -- or bring your own device -- policies that protect privacy and security, Director of National Intelligence officials said.
O'Reilly stressed that federal authorities only store reports of irregular behavior, not irregular people. "It needs to always be emphasized that we are not plotting . . . a certain description of how a person is dressed or what they look like," he said. "The issue is what are they doing and how is that relevant."
But civil liberties groups fear citizen policing programs like the federal See Something, Say Something campaign, which funnels information to NSI, encourage citizens to use their phones for racial profiling.
"Every time surveillance gets cheaper or easier, there is more of it," said Amie Stepanovich, associate litigation counsel for the Electronic Privacy Information Center, pointing to body scanners at airports, drones flying over the United States and now smartphone tracking. "Whether or not it's effective remains to be seen. More information doesn't necessarily mean you are going to catch more abuses," she said.
The American Civil Liberties Union is particularly concerned about citizens and authorities transmitting innocent people's photographs, as facial recognition becomes more integral to investigations. "Whether it's the company phone or the personal phone, it's the information that matters," ACLU Senior Policy Counsel Michael German said.
O'Reilly said the goal of apps is to appropriately harness "the many eyes and ears that are out there on the street," but "it certainly needs to be tempered -- with standards that are behavior-based and not personal or traits-based."
As somewhat of a counterinitiative, ACLU encourages citizens to use their smartphones for documenting and sharing inappropriate police behavior. In July, the ACLU of New Jersey released a free app called "Police Tape" that lets people "securely and discreetly record and store interactions with police, as well as provide legal information about citizens' rights when interacting with the police," the chapter's website states. 
(Image via Zurijeta/Shutterstock.com)