What the U.S. East Coast's Massive Snow Storm Looks Like From Space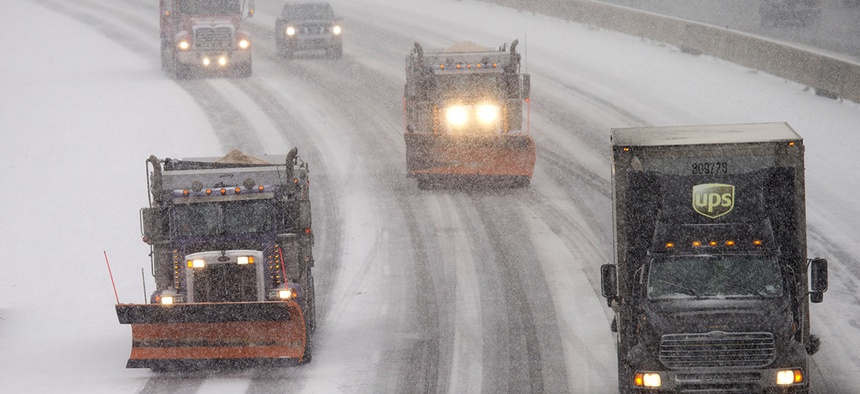 Updated January 22 at 11:10 a.m. EST
That swirling cover of white up there is the first blizzard of 2016, captured by satellite as it barreled across the central United States, toward the East Coast.
The "potentially crippling" storm is expected to bring powerful winds and up to two feet of snow to parts of the Mid-Atlantic this weekend, which could result in flooding in coastal regions, the U.S. National Weather Service warned. The storm has the makings of the "Big One" and so far appears "textbook," according to the winter-weather expert who literally wrote the textbook on northeast snowstorms.
As of Friday morning, more than 85 million people—or more than one in every four Americans—were covered by some kind of blizzard or winter-storm advisory, according to weather.com. Local, state, and federal officials have been scrambling to organize their responses to the blizzard as residents swarm grocery stores to stock up on food and water.
We'll be tracking the snowstorm here throughout the weekend at various levels: meteorological, street, local, state, federal, airspace, and, thanks to satellites and space stations, planetary. Click on the links to jump to each section.
The Meteorological Level
In recent days, a low-pressure system originating in the eastern Pacific Ocean moved ashore and began tracking across the country. The storm will intensify as it picks up plenty of moisture from the Gulf of Mexico. Meanwhile, high pressure from Canada is expected build Friday and feed in the cold air to the system, producing snow.
Forecasters predict "prolonged, heavy snow" in at least 15 states and Washington, D.C.—which appears smack dab in the center of the snowstorm in radar images, and is expected to be the hardest hit—between Friday and Saturday. Wind gusts may reach 40 miles per hour.
The Street Level
Road-treatment crews have been dispatched in cities along the East Coast. Expect driving conditions to worsen in the coming days.
Some snowfall Wednesday night resulted in slippery roads and dangerous driving conditions in some cities. In Washington, D.C., often teased for its acute inability to handle even the tiniest coat of snow, about 2 inches of the stuff turned commutes into hours-long ordeals as crews scrambled to salt roads. Witness:
This is the current scene at 10:35pm on 395 south across from pentagon #@WTOP be safe #DC #VDOT pic.twitter.com/P4DNHitcum

— Lori Montenegro (@lorimontenegro) January 21, 2016
The crowd-sourced road-conditions app Waze showed a map of the area peppered with symbols signifying traffic jams or fender-benders Thursday night. Even Washington's most important resident wasn't spared: It took President Obama's motorcade about an hour and 14 minutes to trek the 15 miles between Andrews Air Force Base and the White House.
The Washington metro will close Friday at 11 p.m. for the entire weekend. City buses will stop running Friday at 5 p.m. for the weekend. As of Friday morning, metro ridership in D.C. is already down 50 percent. Meanwhile, in Philadelphia, most public transit will be shut down by early Saturday morning.
The Local Level
In some cities along the East Coast, mayors are declaring various emergencies that would allow them to tap into certain resources.
In D.C., Muriel Bowser on Thursday apologized to the city's slow response to Wednesday night's snowfall and declared a state of emergency in the district. On Friday, she urged D.C. residents to be in their homes by 3 p.m.
In Baltimore, Craig Moe declared a snow emergency, which allows city officials to designate certain streets as snow-emergency routes and prohibit parking in specific areas. In New York, Bill de Blasio advised residents to stay off the roads, but did not issue a travel ban.
The State Level
Governors in Maryland, Virginia, Georgia, Tennessee, and Pennsylvania have declared states of emergency, which free up resources for storm response. The Delaware National Guard has also set up stations throughout the state.
The Federal Level
The Federal Emergency Management Agency, the Department of Homeland Security, and the National Guard are working with D.C. in its response to the storm.
The Airspace Level
Travelers should prepare for flight delays or cancellations. According to the flight-tracking site FlightAware, nearly 6,000 flights scheduled for Friday and Saturday have been canceled ahead of the winter storm. All flights at the three Washington and Baltimore area airports will be canceled Saturday.
The Planetary Level
Thanks to satellite imagery from the National Oceanic and Atmospheric Administration, we can get a good look at the snowstorm as it approaches. Here's the latest image, released Thursday afternoon: