Veniam aims to connect urban vehicles to an "Internet of moving things."
You've heard of the "Internet of things." Get ready for the "Internet of moving things."
That's how a start-up called Veniam describes its mission to transform all the cars, trucks, and buses on city streets into a mobile WiFi network connecting anything and anyone around it. Veniam has already brought a version of this free public network to Porto, Portugal, where it's using some 600 vehicles to test the technology in a "living lab." Today the company announced that it's received $4.9 million in venture funding to expand operations into U.S. cities from a Silicon Valley headquarters.
Veniam leverages short-range vehicle-to-vehicle communication systems to create a "mesh" network of wireless hotspots. That process may sound complicated, but the outcome is simple: city residents can stay connected to WiFi everywhere they go, even in a moving vehicle, without losing service or being pushed onto more expensive cellular networks. Company co-founder Robin Chase says that means less network congestion and near-constant connectivity across a city.
"Just thinking about your cell phone—when it doesn't connect, we just kind of shrug and wait," says Chase, who previously founded Zipcar (and has contributed to CityLab ). "But if you're doing things that are important, or you're in a fixed place with no service, that doesn't work. Veniam technology gets around that."
In Porto, Veniam has equipped some 400 public buses , 150 taxis, and more than 30 city garbage trucks with its technology to form a wireless network across the city. Bus riders, for instance, can simply click on the free STCP WiFi network through their smartphone and stay connected throughout the trip. CEO João Barros, an engineering scholar at the University of Porto, has said that in addition to acting as mobile WiFi hotspots, the connected fleet also sends "terabytes" of real-time data from the physical world to the cloud, helping cities respond to local challenges.
Take garbage collection. In Europe, says Chase, many sidewalk trashcans have sensors under their lids that are continually sending out information about the receptacle's volume. Veniam's mobile mesh network can monitor those sensors and, when a can is full, tell the connected garbage trucks that it's time for a pick-up. Chase says that could reduce garbage trips by 30 percent, alleviating some traffic congestion and saving taxpayer money.
"If we think about smart cities, what's always been an issue for me is, how does that data get to the Internet?" she says. "Vehicles are the way to do it."
Veniam's technology should be especially beneficial to urban transportation systems. The mobile mesh network can read parking meters, measure traffic patterns, act as a backup traffic light system, and administer road pricing, among other uses. Barros's own research has shown it can optimize freight movement in ports ; in a field test at the Port of Leixões, in Portugal, equipped vehicles were less than a minute away from mesh network connection about 70 percent of the time, and less than 5 minutes away 95 percent of the time (below).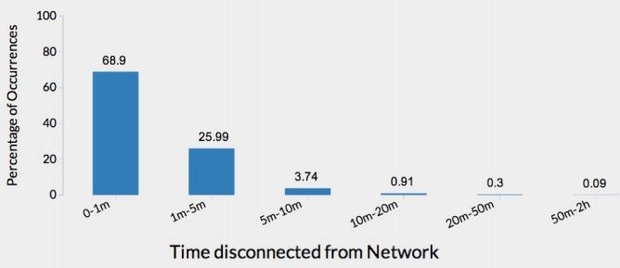 The technology could make roads safer, too. The U.S. Department of Transportation believes an "internet of cars" will have "overwhelming safety benefits," and earlier this year, the National Highway Traffic Safety Administration announced that it would soon make it mandatory for car-makers to include vehicle-to-vehicle technology in future models. But using a network like Veniam's, which can be installed in any vehicle, could achieve this connectivity much more quickly than waiting for every American to buy a new car.
In response to the privacy concerns often associated with big data, Chase says no personal information is broadcast over the mobile network. For now, Veniam provides network service to vehicle fleets run by private organizations or public institutions for a monthly fee; the start-up can also partner with telecommunication companies, who pay to offload data from cellular networks onto wireless ones. Ultimately, says Chase, Veniam may offer network access directly to general consumers through "some very low-cost data plan."
"One reason the 'internet of things' hasn't happened for so many years is there's been a lack of very low-cost data that's leveraging existing devices and existing vehicles and existing communication networks," she says. "That's all the stuff Veniam does."
( Image via Tashatuvango / Shutterstock.com )