New Jersey voters Tweet problems with online voting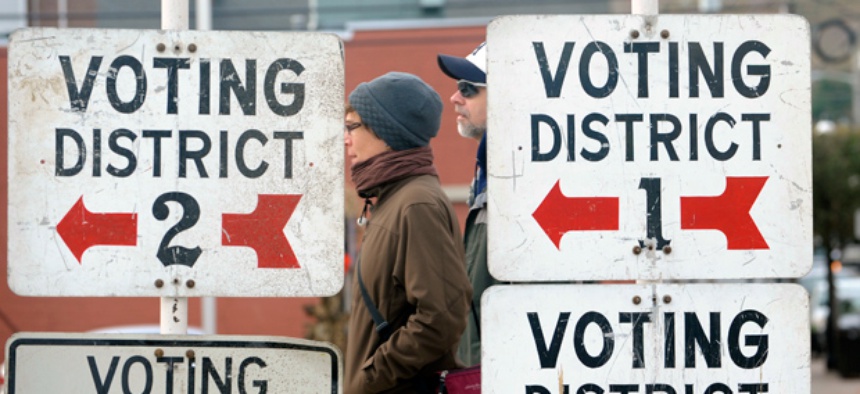 This story has been updated.
New Jersey voters flocked to Twitter Tuesday to report problems with the state's makeshift online voting plan for residents displaces by Hurricane Sandy. That trend is in keeping with
a study released Tuesday by the Pew Internet and American Life Project that found nearly one-fourth of registered voters have told friends and family about their votes or their voting plans on social networking sites.
About 30 percent of Democrats described their votes on social media compared with about 20 percent of Republicans. An earlier Pew study showed conservatives are closing the gap with liberals in their use of networking sites but haven't yet drawn even.
Voters are also using social media to urge others to vote for their preferred candidate. Thursday's study showed 30 percent of registered voters had been encouraged to vote for either President Obama or Republican challenger Mitt Romney and 20 percent had encouraged others to vote.
Younger people were more likely than older people to advertise their own votes or encourage others to vote using social media, according to the survey.
Social networking sites are capitalizing on people's interest in the election. Twitter launched an #election2012 page Monday that curates tweets about the election and from candidates. Facebook has posted numerous stories and tools related to the election on its U.S. Politics page.
Twitter was processing about 2,000 "I voted" tweets per minute as of about 3:30 p.m. Tuesday and had processed 1.4 million such tweets since the polls opened, the social network reported.
People had posted more than 7 million tweets generally related to the 2012 election since the polls opened, Twitter said. The economy was the most popular election topic among tweeters, but taxes and foreign policy were also popular. Election Day tweets mentioning President Obama were significantly more prevalent than those mentioning challenger Mitt Romney, Twitter said.
Twitter was taking a long time to load Tuesday afternoon and bouncing some users entirely.
President Obama's campaign team was also attempting to capitalize on social media interest during the final hours of the campaign by promoting a tweet from the president's account using the #voteObama hash tag. Promoting tweets is an advertising method by which a company or group can pay to have a tweet remain at the top of the Twitter stream for a particular hash tag or search term.
The president's tweet links to a campaign search engine that tells searchers their polling site.
A Harvard University-based startup called MyFairElections is also trying to leverage social and mobile technology to record instances of voter suppression.
Meanwhile the Citizen Media Law Project is warning voters against using Instagram and other smartphone photo tools to record their filled-out ballots, which is a crime in many states.