Nobody knows if you're a fed online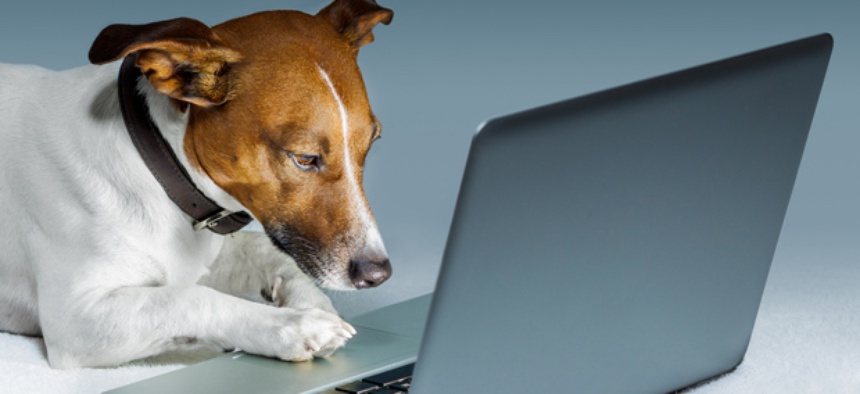 The General Services Administration launched a tool Thursday that allows social media users to test whether they're interacting with a legitimate government agency or official and not an imposter.
The Federal Social Media Registry is essentially a search bar where people can paste the Web address of a social media account. The site then shows verification information for registered accounts and a warning about unregistered accounts.
Users with government email addresses can apply to register an official account on a separate page.
The registry was spawned by concerns the public might be duped by sham accounts purporting to represent federal officials or agencies, according to GSA press release. Unlike agencies' own websites, there's no dot-gov or dot-mil suffix on a social media account to prove it's legitimate.
GSA also wanted to ensure there was a single governmentwide registry so a hodgepodge of agency-specific registries didn't begin springing up, the press release said.
"In this way, GSA is helping federal agencies and the government be more cost-efficient," the agency said. "By collaborating across agencies, we can deliver a tool that is continuously improved for the benefit of everyone."
The site is designed to register and verify accounts from 22 social media sites, including Facebook, Twitter, LinkedIn, Flickr, Scribd, Storify, Tumblr and YouTube. It can be scaled to host more sites if necessary, GSA spokesman Robert Lesino said. The same tool is available in Spanish at GobiernoUSA.gov.
The registry will include only accounts managed by federal employees as part of their job, the agency said, not employees' personal accounts or those connected with political campaigns.
Many federal social media accounts already were registered in the site Thursday, with a few exceptions such as a Twitter account dedicated to GSA's digital government initiative.
Information from the registry also will be available as an application programming interface so researchers can collect all federal social media accounts focused on a particular topic, according to the press release.
The agency received input on the registry from the transparency group Sunlight Labs and the civic hacking organization Code for America, GSA said. The government is offering the registry's source code on the code-sharing site Github.
GSA has been testing the index internally for several months.
(Image via Javier Brosch/Shutterstock.com)