Dems have new mobile app for convention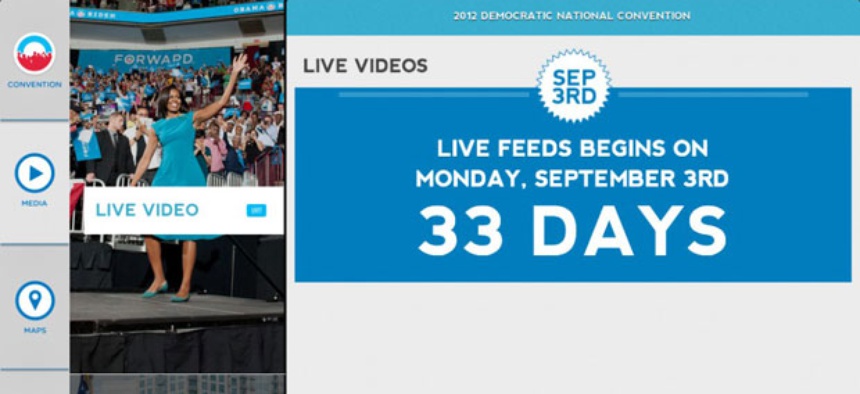 Democratic National Convention organizers released a mobile app on Tuesday designed to help conventioneers navigate the busy proceedings, find their way around Charlotte, N.C., and, it is hoped, share images and messaging from the convention with their social networks back home.
The app is a clearinghouse for all sorts of convention material, including live video of speeches, news links, blog posts by delegates, press releases, and Twitter feeds from convention organizers. An interactive map of the area around the convention sites includes venues where official events are taking place as well as listings of restaurants, bars, and retail stores.
It's the front door of a broader social-media strategy that includes live-streamed convention speeches, a blog that will be updated frequently, and live chats hosted on Twitter and Google+. Organizers tried a more personal outreach last month, attracting 18 local Twitter followers to a "Tweet Up" event that included appearances by Los Angeles Mayor  Antonio Villaraigosa, the convention chairman, and Charlotte Mayor Anthony Foxx, as well as a private tour of how the host committee is beginning to turn the Time Warner Arena into a convention hall.
The organizers are looking to delegates and home viewers to share their own experiences with the wider world. The convention site is soliciting pictures to be posted on the convention website, and trying to reach people on Flickr, Facebook, and YouTube.
"The goal of this convention has always been to be the most open and accessible convention in history and we see this app as one tool to help make this goal possible," Nikki Sutton, director of Digital Media for the Democratic National Convention Committee, told National Journal in an e-mailed statement. The organizers plan to publicize the app in volunteer materials, delegate packets, and the media guide.
With 35,000 visitors expected to attend the convention in September, organizers are relying on AT&T to help with the bandwidth crunch. They're planning to upgrade systems around the convention sites in order to accommodate those who are tuning in the events, as well as those who are using their smartphones to tune them out.
The move comes a little more than a week after the Obama campaign released an app that functions as a databank for Democratic canvassers in the field, supplying addresses for registered voters and talking points to be used in voter interaction.