Army delays transfer of 634,000 email accounts to DISA cloud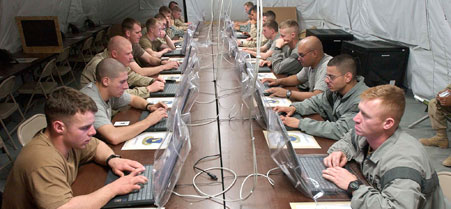 Julie Jacobson/AP file photo
The Army has delayed migration of 634,000 unclassified email accounts to a cloud computing service operated by the Defense Information Systems Agency until officials examine alternatives, costs and savings, and submit the findings to Congress in a mandatory report.
Mike Krieger, the Army's deputy chief information officer, said in a blog post last week that he expects the report, required under the fiscal 2012 National Defense Authorization Act , will be complete Jan. 18 and the service will submit it to Congress on Feb. 15, after coordinating with the Office of the Secretary of Defense.
The authorization act, which President Obama signed on Dec. 31, 2011, locks up $84.5 million for the DISA-hosted enterprise email project until the Army submits the required report and designates the effort as a formal acquisition program under the oversight of the its acquisition executive.
The Army cannot spend any of the funds until 30 days after it submits the report, meaning the unclassified email migration will not be completed until at least mid-May, more than a month later than the original target of March 30. This delay will mean the Army will not realize the benefits of cloud computing as quickly, including improved security and an expected savings of $100 million annually, Krieger noted.
The service already has moved 302,257 unclassified email accounts to the DISA cloud, Krieger said. The authorization act requirement temporarily halts the move of 234,000 Microsoft Outlook mailboxes and 400,000 Webmail-only accounts.
Migration of classified email accounts, slated to start April 1, should not be affected by the development and submission of the report, Krieger said, as long as deadlines are met. The transfer of these accounts is scheduled to run through Sept. 30.