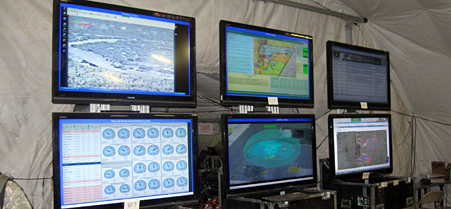 Bob Brewin/Nextgov
White Sands Missile Range, N.M. -- The Army has deployed 35 digital systems for the largest communications network evaluation in history here, and Col. Daniel Pinnell, commander of the test brigade, said the exercise has shown the need to balance enhanced access to information with the power demands of thousands of pieces of equipment.
The myriad systems the Army has fielded to 3,800 soldiers participating in its Network Integration Evaluation test that spans 2,220 miles of this range and nearby Fort Bliss, Texas, run off either generator or battery power. This requires enormous amounts of fuel for the generators and a way to constantly recharge batteries under combat conditions.
The Army, said Pinnell, commander of the 2nd Brigade, 1st Armored Division stationed at Fort Bliss, needs to determine the value of enhanced communications and improved situational awareness versus the cost of the logistics to keep the digital systems running.
The service has fielded hundreds of commercial cellphones to soldiers for this test from a development project called Connecting Soldiers to Digital Applications , and Lt. Col Robert Goodroe, deputy brigade commander, said troops had to jury-rig a way to get 120-volt power off of military vehicles to charge the phones.
The smartphones under evaluation use Voice over Internet Protocol (VoIP) and handle data as well as voice transmissions, which Pinnell said strained the capacity of the network, requiring troops to cut back on calls.
Capt. Kevin DeWitt, commander of Alpha Company, 1st Battalion, 35th Armored Regiment of the 2nd Brigade, said one benefit of issuing cellphones to digitally savvy soldiers was the short training time. But, DeWitt said he had concerns about the use of commercial products in the field, and suggested it might be necessary to make them more rugged.
Pinnell also expressed concern about the boot time required for a key software-based radio under evaluation, the Handheld, Manpack and Small Form Fit (HMS) , a variant of the Joint Tactical Radio System. JTRS is a more than decade-old program to develop a family of radios for all three military services.
HMS, developed by General Dynamics, uses software to manage both voice and data transmissions, and Pinnell said anecdotal evidence from the first six weeks of tests indicates it takes more than one minute for the radio to boot up to handle a voice call, well above the tolerance level of soldiers in combat who need to communicate quickly. He declined to specify exactly how long it took the HMS to boot up in voice mode.
Evaluation of another JTRS radio, the Ground Mobile Radio, could determine its fate. In tests last June the GMR had a 72 percent failure rate, and this April the Space and Naval Warfare Systems (SPAWAR) Command, which supports the JTRS program office, put out a notice to industry seeking commercial alternatives .
The Army wants to use the GMR to transmit broadband data over the battlefield using a software-based wideband networking waveform. Sgt. David Johnson, an infantryman who helps manage the systems installed in the Alpha Company command post in a mountaintop aerie more than 1,000 feet above the desert floor, said during evaluation the GMR has "worked wonderfully," with 90 percent to 95 percent reliability in the wideband mode.
Capt. Phillip McCoy, brigade tactical operations center manager, faulted the configuration of the GMR system installed in the center. That system is bolted into waist-high plastic shipping cases that cause the radio to overheat. "This configuration is no good and it's too big," said McCoy, who added he could not figure out why the radio was bolted into its shipping case.
Pinnell said the one key piece of information he needs as a commander is the exact location of his troops -- data available from multiple systems under evaluation here. This includes the Rifleman Radio , also developed by General Dynamics, which contains a built-in Global Positioning System receiver to help pinpoint the location of individual soldiers.
But Pinnell, who said he learned how to find his position as a young soldier with a compass and a map, does not want his troops to rely solely on gadgets to do their job. They still should be trained to use a map and a compass when their GPS receiver fails, he said at the end of his media briefing here.