Remembering reinventing government 30 years later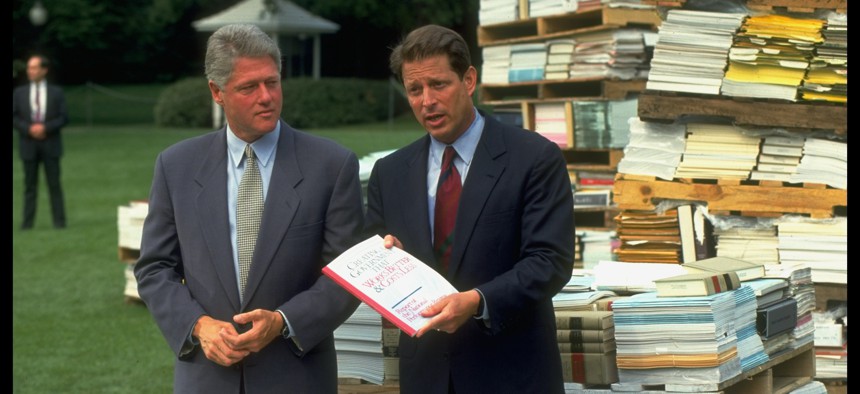 As noted in Government Executive, September 7, 2023 was the 30th anniversary of the publication of the original Reinventing Government report under the leadership of former vice president Al Gore. It was a huge pleasure and privilege for me to be able while on leave from Harvard for four years between 1993 and 1997 to support Gore's efforts and to work closely with Elaine Kamarck, who ran Reinventing Government for Gore, and is now at Brookings. 
Equally amazing was collaborating across party lines with supporters of reinvention on the Hill, especially Republican friends such as Ellen Brown and Alec Rogers. And with Ellen's boss Rep. Bill Clinger, one of the most decent people I have ever encountered in public life. 
Aside from being perhaps the best four years of my life, this was a real period of accomplishment for innovation and performance in the federal government. It was during these years that innovation became for the first time a central theme of government management, a theme that continues to be important to this day. 
There was also an important strategic change in the procurement system, where procurement people working in government started referring to those in the agencies on whose behalf they bought as "our customers" rather than "them" – when people began talking for the first time about "customer satisfaction" as an important goal.
These were years of a number of management changes in the system, such as the use of past performance in source selection, the spread of performance-based contracting, and the development of award term contracting (where well-performing contractors could be rewarded by extending the life of their contract). 
And we in the government were lucky to have a number of industry partners who supported the reinvention effort, such as Stan Soloway, then of the Contract Services Association, Bob Guerra and Don Arnold, consultants who also­­­­­­­­ remain friend­­­­­­s, and Bert Concklin (now deceased), who ran the Professional Services Council.These years were the high-water mark for government-industry collaboration in the procurement system.
Most of the specific changes introduced during the reinvention years have survived, but the spirit of innovation that spurred them has flagged. Maybe a new generation in government and industry can bring this spirit back.