A U.S diplomatic organization that works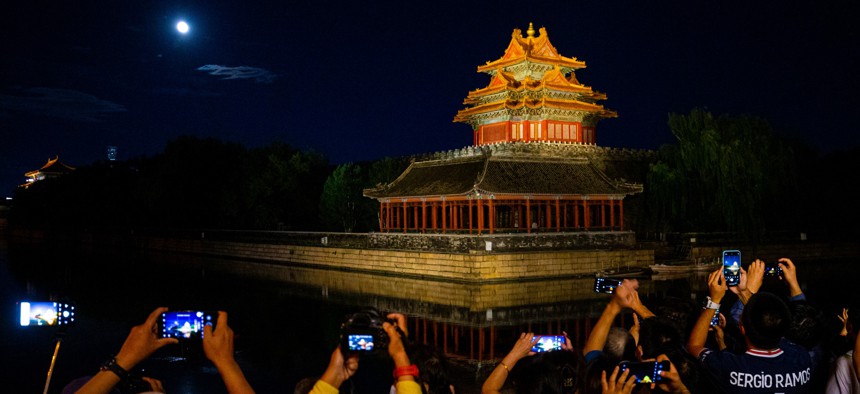 I am guessing that very few blog readers have ever heard of a Chinese holiday called Mid-Autumn Festival, even though it is the second-biggest holiday in the Chinese calendar, after Chinese New Year.
The holiday celebrates a full moon that appears, usually in September. In Chinese culture, a full moon represents family reunion, and the holiday is a time when families get together and eat mooncakes, circular cakes that are too sweet for my taste. It is a custom in China for employers to give staff boxes of mooncakes for this holiday, sometimes simple and sometimes expensive and elaborate.
Around the time of the holiday, there arrived on my WeChat page (the Chinese ubiquitous social media app) a video from a friend in China, which you can watch together with this post. The video shared a greeting for the Mid-Autumn Festival from the U.S. embassy in Beijing. But it wasn't a formal greeting note from the embassy, of the kind one might have expected. Instead, it was a recorded video from U.S. Ambassador Nick Burns.
Two things especially caught my eye in the video. One was that the greeting—which featured lines from a famous 11th-century poem for Mid Autumn Festival that, I have now been told, every Chinese school child would know—was in Chinese. Burns, who is a colleague from the Kennedy School as well as a career diplomat, had told me before leaving for his ambassadorial post that he had started to learn Chinese; he's apparently gotten far enough to be able to use it to record this message. (My Chinese friend told me his Chinese sounded quite good, including getting his Chinese tones right, something hard for foreigners learning Chinese, including me.)
The second thing that caught my eye was that the video did not just feature the ambassador. Lines from the poem were read by seven other, mostly young, embassy employees, also in Chinese.
The video was a hit online in China. 1.9 million Chinese downloaded it on Weibo, the Twitter-like message platform. This is certainly not a record number of hits for a Weibo post by any means, but it is a very respectable number. The message also got 3,000 comments, many of them expressing friendship with the U.S. and the hope the countries can be friends.
Where did the idea for doing this video come from? The answer is, as I learned from a knowledgeable source, that it came neither from the ambassador nor from a public affairs staffer, but from a frontline embassy employee.
So this organization worked well in two respects. A frontline employee came up with an idea for how to do something different and better, rather than believing developing such new ideas was not part of his job description. And the chain of command in the organization didn't just ignore the idea but embraced it.
This is a very different approach to public diplomacy than we see from the China. For example, when the UN High Commission on Human Rights issued a report on human rights in Xinjiang, the Chinese Embassy issued a statement that the report "smears and slanders China, and interferes in China's internal affairs," adding that the report "is a patchwork of disinformation that serves as a political tool for the U.S. and some Western forces to strategically use Xinjiang to contain China."
When I see the clumsy and heavy-handed interventions of Chinese diplomats, the young Americans with their poem seem more attractive.