Performance measurement is alive and well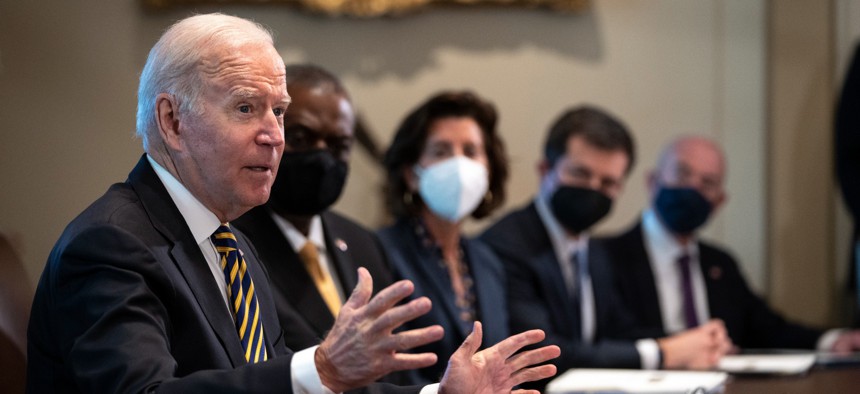 Steve Kelman reviews the current slate of the Biden administration's priority performance goals and corrects the record about the use of performance management.
I recently wrote a blog post, partly growing out of the publication of the Biden administration's President's Management Agenda asking, whether performance measurement was a fad that had now "come and gone."  What most disturbed me was that the PMA had mentioned performance measurement only in passing. (I also noted that in the last two years or so I had stopped seeing Kennedy School executive education participants listing their job responsibilities as involving performance measurement.)
After I wrote the blog, I heard from a senior civil servant in the government who works on performance measurement. He wanted to assure me that my fears were unfounded. OMB leadership had held meetings last spring with agency leadership and relevant policy council staff to discuss agency draft strategic plans and agency priority goals to ensure senior leadership engagement with this issue. There was little in the President's Management Agenda because the administration's performance goals would be announced with the budget in March.
Well, the President's budget just came out -- and lo and behold, it includes a document called Our Government's Goals, that lists performance goals by agency. I opened a few of them – for Social Security, Transportation, the Environmental Protection Agency, the General Services Administration and the Office of Personnel Management. (For some major agencies, such as Veterans Affairs and Energy, the goals are not ready yet, and will be presented at a later date.)
As I look at the priority performance goals in the list, my overall reaction is that they are pretty good. Many are the kind of mainstream improvement goals that one would hope for in a list of goal priorities. Most are specific and have improvement numbers attached to them. Thus, for example, by September 2023:
The International Trade Administration will accelerate its digital transformation to double the annual number of clients assisted from 38,000 to 76,000 .
The Department of Health and Human Services will increase by 15% over a baseline of 1 million the number of patients dispensed prescriptions for a detox drug for opioid addiction.
The Department of Transportation will reduce the rate of motor vehicle fatalities from 1.36 per 100 million vehicle miles traveled, to 1.22.
The Social Security Administration will achieve an average processing time for initial disability claims of 164 days.
The Bureau of Reclamation will facilitate water conservation capacity of 55,236 acre-feet to help reduce the impact of drought.
GSA will increase the number of annual active users on the Login.gov platform from 16 million to 41 million.
OPM will increase the number of on-board military spouses by 5%, employees with disabilities/targeted disabilities by 5%, and early career employees (interns, post-secondary, and recent graduates) by 10%.
Some of the goals in the list are less good than others. For example, some are inputs or activities not tied to actual accomplishments – e.g. "HHS will increase by 10% the number of birthing facilities that are participating in the Alliance for Innovation on Maternal Health," and, even less impressive, "HHS will complete 4 projects, establish a new office, and increase by at least 10% key deliverables to increase resources that develop and improve the national capacity of public health, human services, and global health disaster management entities to respond equitably to emerging threats and emergency incidents." 
For similar reasons, I was underwhelmed by "EPA will provide technical assistance to at least 10 communities to help achieve clean and safe water and reduced exposures to hazardous substances." In some cases, it is hard to tell whether what is promised is a lot or a little – "The Bureau of Reclamation will facilitate water conservation capacity of 55,236 acre-feet to help reduce the impact of drought." Should I be impressed or not? (As for the bizarrely specific total of 55,236 acre-feet, I won't even go there.)
A big problem is that these goals give no background information on what the current level of performance is, or trends over time, which would help us judge whether reaching these goals will be easy or hard. More information is promised next quarter, and this may help.
Another problem is that I don't know from this list which of these goals are new and which represent efforts to make further progress on earlier priority performance goals. As part of my effort to calibrate the new goals against iterations of performance goals in earlier administration, I looked at earlier priority goals. There is less continuity than I would like between the Biden goals and the goals of earlier administrations.
It's not surprising that Biden's goals differ from those of the Trump administration, but the place where one might hope for continuity was between Obama administration goals and the current administration's. 
For EPA, both the Obama and Biden goals, not surprisingly, included clean air, clean water, and reduction of hazardous chemicals. Transportation's goals for both administrations include reducing highway and air fatalities. Both Obama and Biden have goals for speeding disability claims determination at Social Security, but the way they are measured is different and not really possible to compare. And Obama's HHS goals included "advance scientific knowledge and innovation" and "strengthen health care," neither of which appears for Biden, who instead has "child well-being" and "maternal health," though it's not as if the earlier goals are no longer relevant. Obama's goals for the Department of the Interior included reducing incarceration in Indian country saving the monarch butterfly, while Biden's included increasing water conservation capacity and promoting offshore wind.
Having said that, performance measurement is alive and well. Actually, a recent Government Accountability Office survey showed that managers' use of performance information actually increased notably between 2017 and 2020. About 40% of the managers surveyed knew the concept of "data driven reviews," also known as "performance reviews," where senior managers meet with staff to walk through and do a status check on measures the relevant staff are working on.
In past posted, I have called these meetings the most-important public management reform in many years. It is important that this reform be pursued and promoted by the Biden administration.
The bottom line: the Biden administration is basically continuing the development in performance measurement in government undertaken by every administration since Bill Clinton. No news is good news. Performance measurement is alive. I was wrong. I hope the administration can provide more pleasant surprises in this area.
(By the way, a new executive education program at the Kennedy school begins next week, and yet again none of the participants works on performance measurement.)