Agencies Can Tap Tech to Bridge Language Divides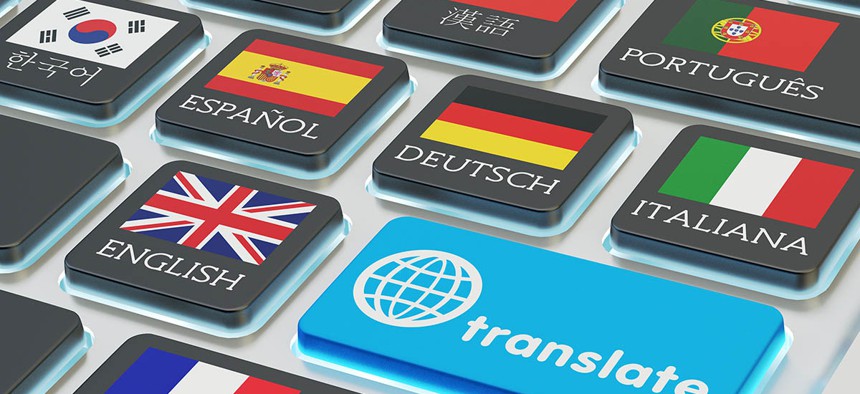 Susan Gryder is the government industry director for Lionbridge.
Government agencies must refocus their strategies to support the languages of everyday life to ensure they reach all citizens—regardless of their native language—in a seamless manner.
The way government agencies engage with constituents is changing dramatically because of two critical factors. First, globalization and immigration are creating more diverse populations than ever before, with populations that speak limited English growing larger by the day. Second, the explosion of emerging digital technologies has dramatically shifted consumer expectations so constituents now expect access to information across all channels, at any time, in any language.
» Get the best federal technology news and ideas delivered right to your inbox. Sign up here.
Current executive orders in the U.S. require local government and federal agencies to provide equal access to information to limited English proficiency speakers. Ineffective communications can result in regulatory noncompliance for the agency but could prohibit individuals from having access to services that impact their everyday lives like paying taxes or applying for Social Security.
Many government agencies struggle to be truly multilingual. The public sector, however, can lean on translation and interpretation technologies such as over-the-phone interpretation and real-time translation for self-service and agent-assisted communications channels to interact with all constituents regardless of language. This allows them to overcome emerging trends that include:
Lack of language breadth. Government agencies must serve all their constituents, even those who speak languages not frequently used in the business world. This means agencies must go beyond common business languages like French and German, and address the language needs of smaller populations. This presents major challenges for many government agencies, such as the Homeland Security Department dealing with inbound immigration. Hiring staff to support the hundreds of languages spoken in the U.S. alone is expensive and inefficient, but agencies can leverage translation and interpretation solutions to provide equal access to speakers of all languages from Acateco to Zulu.
Digitization of communications channels. While industries like banking and retail have embraced digital to reach their customers across an array of channels for years, the public sector is still in the beginning phases of digital transformation. For example, some Departments of Motor Vehicles have recently added online chat as a communication channel. As more local and federal agencies expand their digital options, leveraging translation and interpretation solutions will be the key to providing seamless constituent support while maintaining compliance.
High demand, less capacity. Another major challenge facing the public sector is the attrition of staff because of downsizing, hiring freezes or retiring employees. Coupled with increased diversity and the demand for support across new languages and communications channels, adapting to this new normal with limited resources can be extremely difficult. But agencies can take advantage of the same translation and interpretation solutions today's big businesses use to manage their diverse sets of customers. By utilizing these services and technologies, organizations can experience an improved, streamlined workflow that enhances overall constituent experience.
Security standards. Many federal and state organizations work with sensitive information and as organizations bring language providers into the fold, it's important to ensure they have the appropriate security clearances prior to accessing protected information. One way agencies can address this challenge is by partnering with a language services vendor that specializes in working with government clients. By doing so, local and federal agencies are able to leverage a vast network of highly qualified linguists who have been thoroughly vetted. As a result, organizations can rest easy knowing its translated content and communications include added layers of security while remaining compliant.
As the public sector continues to evolve because of new technologies, globalization and ever-changing regulatory requirements, government agencies are refocusing their priorities to adapt to these pressures. Leveraging translation and interpretation solutions to increase language breadth and provide multichannel support is opening new opportunities for the public sector to ensure effective communications, reduce costs and maintain compliance.