A New Way Drone Hobbyists Are Endangering First Responders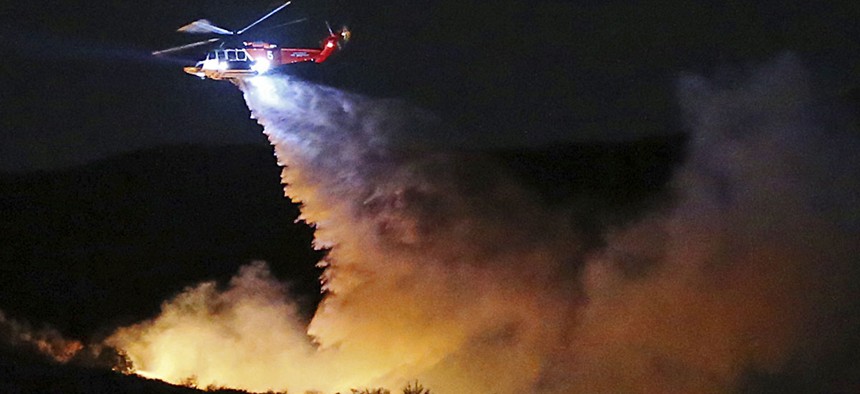 Amateurs flying unmanned aerial vehicles have previously grounded firefighting aircraft. Now, their devices are actually sparking wildfires.
Unmanned aerial vehicles have many practical applications for agencies fighting fires, including giving first responders on the ground a better view of what's happening from above. That vantage point can provide valuable intelligence to agencies trying to figure out how to best fight a blaze and help keep personnel safe in the process.
Drone aircraft in the hands of hobbyists, on the other hand, can be a different story. As the devices have become more popular and sophisticated in recent years, federal, state and local agencies have made numerous appeals to the drone-flying public not fly their aircraft in the vicinity of wildfires or firefighting operations.
Capturing footage of a major blaze may result in stunning imagery, but drones pose a very real and serious danger to firefighting aircraft, oftentimes resulting in agencies temporarily grounding their aerial response.
Last year during the Wine Country fires in Northern California, firefighting agencies reported encountering numerous unmanned aerial vehicles. The California Highway Patrol arrested one such hobbyist in Petaluma for flying a drone near a local airport used as a base for CalFire helicopters, which prompted operations to be grounded.
As The Mercury News reported at the time:
The helicopters being flown out of Petaluma have been an integral part of the firefighting operations in Sonoma, Napa and Lake counties. "The drone," said police, "was not only potentially perilous for the helicopters landing at and leaving the airport" but "it also held up the operation, endangering lives and further fire damage to an already fire ravaged area."
During a fire in Arizona last year, the Yavapai County Sheriff's Office arrested a Prescott Valley man spotted flying a drone in an area where 14 aircraft and aircrews were operating during a wildfire response.
If those situations weren't hazardous enough, there's now a case of a drone aircraft actually causing a wildfire.
Last week in Northern Arizona, a battery-powered drone sparked a 335-acre blaze after catching fire upon landing in the Coconino National Forest north of Flagstaff, according to Fire Aviation.
Fortunately, the blaze was contained by 30 firefighters who responded, according to the Arizona Daily Sun. But it was a reminder that it only takes a spark to lead to a potentially destructive and deadly wildfire.