Big Rideshare Says Your Cars—Not Theirs—Are the Enemy of Public Transit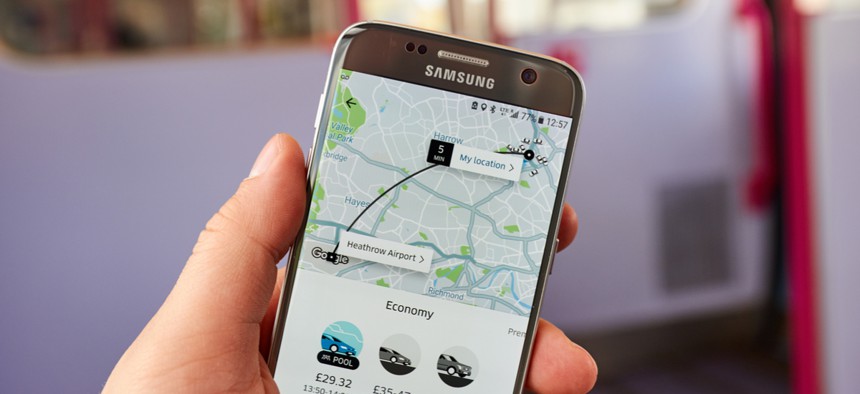 Fifteen of the world's leading transport and technology companies  announced their shared resolve to help keep cities livable.
Fifteen of the world's leading transport and technology companies, including Uber, Lyft, Didi, Mobike, and Zipcar, announced yesterday (Feb. 1) their shared resolve to help keep cities livable. Under 10 "shared mobility principles," spearheaded by Zipcar CEO Robin Chase, they pledged to prioritize people over vehicles, promote equity, transition to a zero-emission future, and encourage data sharing.
"These principles represent our aspirations," Chase said on a press call, admitting some of the principles would be trickier to implement than others. "As you can see, these companies have taken an incredibly bold step by supporting these principles, and I'm excited to see where this vision leads."
The announcement comes amid rising concerns that ride-hailing tech companies are having a negative impact on cities—a realization that directly conflicts with the benefits they claim to provide. Last October, Uber and Lyft came under fire when a working paper by researchers at the Institute of Transportation at the University of California, Davis found that cities heavily reliant on ride-sharing apps were seeing declines in low-emissions transportation modes. Around the same time, China's leading dock-less bike-share companies Mobike and Ofo drew significant criticism after jarring images of giant bicycle graveyards brought to light the wasteful consequences of the ballooning industry.
Several of the 10 principles seem to address these concerns head-on, but offer little guidance for how they will be achieved. During the press call, the companies also failed to give clarity around how they will evaluate their progress on these commitments. Instead, Chase seemed to suggest that progress was somehow guaranteed.
"We will judge it as a collective," she said, side-stepping Quartz's question. "We need transit and shared bikes and shared cars and ride-sharing and intercity ride vehicles to replace personal cars in this more efficient and more sustainable way. So collectively as a group I think we will be seeing measurable progress in cities."
At another point in the call, the leaders seemed to suggest that any consequences of their services weren't actually their fault. "Is there a risk that [shared vehicles] do cannibalize public transit and we actually end up with more traffic?" asked Bloomberg reporter David Welch.
"It definitely could cannibalize public transportation," Chase said, adding that private cars, not ride-share services, would be the ones to blame.
"Right now…we let a person drive a personal car during peaks times in New York or in Paris, taking up a huge amount of space and making bus travel…very slow," she said. "So yeah, I'm a selfish person, and for 50% more I'm going to get out of a subway and I'm going to get into a shared car. Today that makes rational sense because we are not charging the right amount for people to be using our scarce resources."
Lyft's representative flatly denied the implication, citing dubious data in his counterargument. "Everything that we've seen so far is that the idea of shared rides and other mobility as a service generally is very complimentary to existing public-transit options," said Joseph Okpaku, Lyft's VP of government relations. "Using San Francisco as an example to start off with, we see here that around 20 to 25 percent of our rides either begin or end near a major transit stop or station." The statistic, though neat, doesn't dispel the possibility that Lyft has led to a decline in transit ridership.
These answers have troubling implications when considering how much influence the 15 companies collectively exercise. Together, these companies serve 77 million passenger trips per day, according to the press release—a level of power not lost on the companies themselves.
"Our goal is to align cities, the private sector, and civil society around a shared vision to ensure we harness the good and avoid the bad," said Chase in the press release.