US Lead in Quantum Computing 'Under Siege,' Says White House Cyber Adviser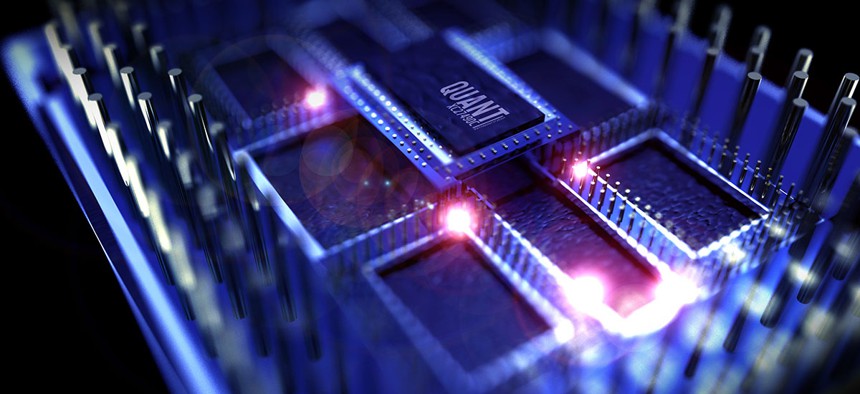 The United States needs to invest more in quantum computing, a White House assistant director said Tuesday.
While the federal government has been funding quantum research for decades—quantum refers to a computing paradigm that relies on particles known as qubits instead of the traditional ones and zeros in classical computing—its global leadership position is "certainly under siege," Tim Polk, assistant director of cybersecurity within the Office of Science and Technology Policy, said during an event in Washington.
"There are significant quantum programs in Canada, in the U.K., in the Netherlands, the [European Union], China," Polk said at an event hosted by the Information Technology and Innovation Foundation. "They don't have the depth, the foundation, that the U.S. has from its long, long interest in quantum. But those programs are definitely going to pose a challenge to us and that's really important to us ... we believe [quantum] will be the foundation for so much economic development as well."
» Get the best federal technology news and ideas delivered right to your inbox. Sign up here.
At OSTP, Polk has overseen the National Strategic Computing Initiative, an effort to promote research in high-performance computing, and a quantum research interagency working group.
Quantum computing could lead to advances in physics and material science, Polk explained. In time, he said, quantum algorithms could help solve "long-standing challenges with low-temperature nitrogen fixation and actually give us back 10 percent of the world's natural gas supply that we currently spend to make fertilizer."
But the nation's quantum physicists often complain they're not able to get computer scientists to really pursue quantum computing, often because they don't have access to today's simulators, which may be prohibitively expensive to access, Polk said.
To really advance quantum, "we're going to need to be able to build small quantum devices that are off the shelf, commercially available, and that we can actually use not in the lab but actually in real life," he said.
And building a workforce technologically savvy enough to research quantum is another challenge, he added.
"It really doesn't help us to have a quantum computer if no one knows how to program it," Polk said.