Why Federal Agencies Won't Take Up the Internet of Things Anytime Soon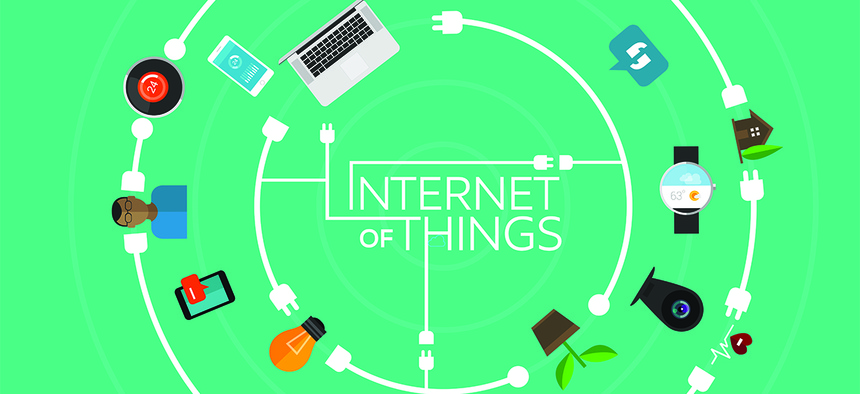 A new report suggests leadership vacuums and lack of an IoT strategy could hinder adoption.
Public spending on sensor technology might be up, but internet of things enthusiasts shouldn't get too excited about a futuristic, hyperconnected government.
Without top-down strategies for using networks of devices and embedded sensors, federal adoption "will likely remain low," a new report suggests. Other barriers include a lack of funding and general risk aversion in government buying.
The technology is slowly gaining traction in the federal market — the government spent $8.8 billion on the internet of things in fiscal 2015, up 20 percent from fiscal 2014, according to a report from big data and analytics firm Govini. It has also garnered congressional attention: A bipartisan group of senators last year passed a resolution calling for a national strategy for the internet of things that would outline how it could boost the domestic economy.
But no federal agencies have their own broad plans for using that network, according to a report compiled by the Center for Data Innovation, a division of Washington think tank the Information Technology and Innovation Foundation. No agency, CDI found, "addresses how it will use the internet of things in its strategic plan."
CDI's interviews with 22 tech professionals in both the public and private sectors surfaced concerns about "fragmented authority" in government — for instance, project managers who want to test-drive internet of things projects have to get buy-in from IT departments to set up the software on a case-by-case basis. Office managers "cannot even buy a 'smart' coffee maker for the breakroom without getting their IT departments involved," the report said.
Another challenge is the dearth of chief data officers. Only eight federal agencies, including the Agriculture, Commerce and Homeland Security departments, have professionals whose job is to manage large amounts of data, which would be likely be multiplied by IoT systems, the report said.
Government buying also isn't set up for buying IoT solutions to internal problems, CDI found. If an agency wanted to make its building "smart" — maybe setting up HVAC and lighting units that adjust to employee behavior — it would likely buy the hardware and software and set up the analytics system on its own instead of issuing a contract for a specific outcome — a 10 percent energy-use reduction, maybe.
But the federal buying system "is more likely to purchase technology hardware, software and services rather than issue a contract to achieve specific business outcomes — even if the former is riskier and more expensive," CDI concluded.
CDI made several recommendations to agencies, including that the General Services Administration, which houses tech consultancies including 18F, create an "IoT Corps" that can advise potentially high-impact tech projects across other agencies. It also proposed that the Federal Chief Information Officer Council create a task force overseeing government adoption of the technology.