Q&A: Can Pitch Competitions Really Help the Government Discover New Tech?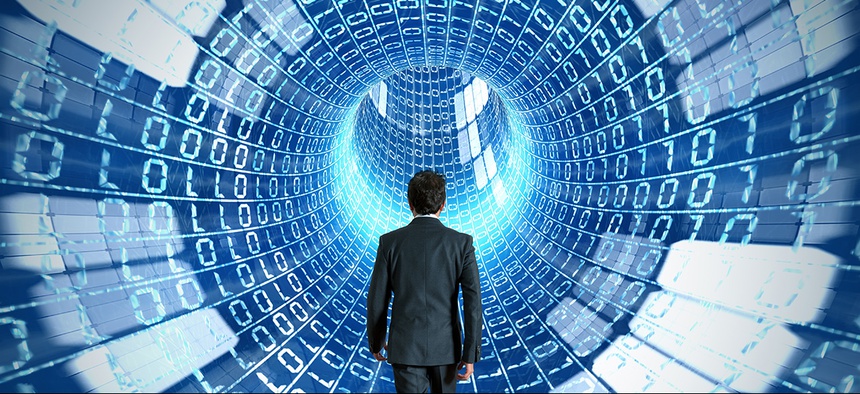 Local tech hub Eastern Foundry, focused on getting new businesses to work with the government, hosts an annual demo day focused on a particular federal need.
With a new Silicon Valley office, Defense Department officials could soon be mingling with techies and entrepreneurs who used to avoid the public sector. But will we be seeing Pentagon buyers at local startup pitch competitions, scoping out potential primes on defense contracts?
Sharon Burke, a New America adviser, thinks we might -- but not for a while. A former assistant secretary of defense for operational energy at the Pentagon, Burke recently judged a demo day competition at Eastern Foundry, a Crystal City-based co-working space and technology hub that helps its customers navigate the procurement process.
Eastern Foundry hosted its annual "Foundry Cup" last week, during which a handful of startups pitched "portable power" products, designed to provide off-grid power for soldiers. Companies were vying for a $10,000 top prize. Energy Intelligence, which sells a mat-like product that generates power from cars braking as they drive over it, was awarded first place.
Nextgov spoke with Burke after judging about the Pentagon's search for new technology. This conversation has been edited for length and clarity.
NG: How might pitch competitions help fulfill DOD's mission to connect with Silicon Valley talent? 
SB: For DOD and for any government contract, it's a bit of a passive system. You put out a request for proposals or information, and whoever replies to it, replies. A competition like this can help you identify new technologies . . . that wouldn't normally come to you.
NG: How formally can DOD be involved in an outside pitch competition?
SB: It's certainly possible for DOD to participate in things like this in a variety of ways. There's a tech accelerator that DOD has set up. It would be difficult for a Defense entity to be at a competition like this and set up a contract with the winner. But one of the judges [at Foundry Cup] was with In-Q-Tel, and he can do that. 
NG: How quickly can a contract arise from competitions like this?
SB: It depends on what kinds of contracts you're looking for. The consistent complaint we heard [at DOD] from small businesses like this is that it's really hard to get a contract with the government. At this scale, they just need the validation of having a demonstration project to say, "We're doing business with these people." It's a lot easier to get that kind of contract than getting a full product line contract. 
There are actually some good reasons that the contracting process is so laborious. When you're spending billions of dollars on something that can last you for 40 years, you've got to make sure you do it right. So, how do you get a balance between getting it right and getting it fast? 
A lot of Secretary [Ash] Carter's new initiatives aimed at speeding innovation and strengthening the link between Silicon Valley -- it's focused on Silicon Valley but it shouldn't be, because innovation is generated in a lot of places -- I think his focus on that will really make a difference. But people are still cautious about whether it's going to work, or whether it's something that's going to evaporate in 10 months. 
NG: Are startups hearing what Carter's saying? Do you see a lot of early-stage businesses pivoting from the commercial to the government markets?
SB: I don't think so. That was one of the challenges when I was in office -- we were looking for companies that wouldn't ordinarily do business with the Defense sector. They were hard to find and hard to convince that it was worth it. I do think that's a remaining challenge for the department, how to lower the barrier to entry for new innovation and new companies.
It hasn't happened yet. Carter's big challenge is, he says to Silicon Valley, "My door is open; I'm ready." And they're not walking through the door, necessarily.