How Can the Internet of Things Fight Fires?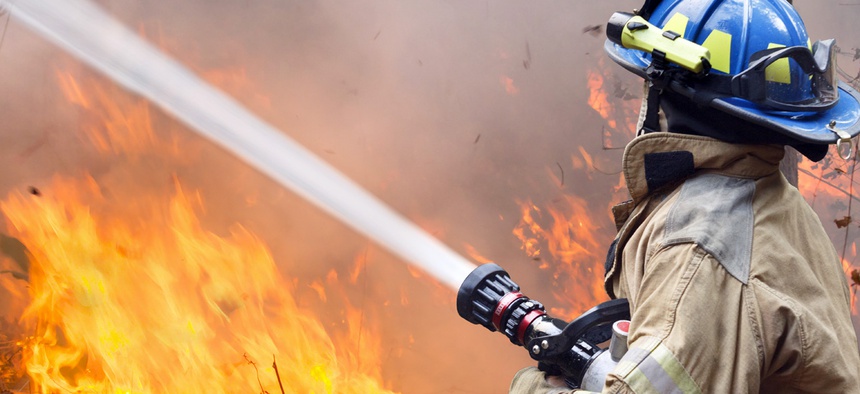 Firefighters might have embedded sensors in their protective suits, alerting them about external temperatures and chemicals.
Firefighters of the future, according to the National Institute for Standards and Technology, might have sensors in their protective suits constantly alerting them about external temperatures and chemicals. The suits might contain embedded wireless communication systems, letting the wearer contact a team outside or a health status sensor that could notify them if the wearer is injured. 
Those are just a few solutions outlined in NIST's new Research Roadmap for Smart Fire Fighting, which lays out how the Internet of Things can aid first responders. The report was written in conjunction with the Fire Protection Research Foundation, the research affiliate of the National Fire Protection Association.
Other "cyber-physical systems" mentioned in the report include robots, (like those being researched by NASA and the Defense Advanced Research Projects Agency) that could navigate debris or conditions too dangerous for humans, and technology that could gather information about the scene from smart appliances located at potential disaster sites, such as air conditioning units, elevators, sprinklers and other devices.
This information could be used before, during and after specific incidents according to the report -- possibly to determine the fastest route to a scene, or examine floor plans, for instance. 
For many of the 1 million firefighters in the United States today, information about emergency situations "becomes apparent piecemeal -- neither collected nor processed in a systematic fashion," the report said. "Small teams of fire fighters analyze their immediate situation, based on locally collected data, and take action based solely on that analysis."
In the report, NIST and the foundation point to New York City's FireCast system, which creates risk profiles for city buildings, using information gathered from building permits, power outage reports and other sources. Fire inspectors can use those reports to prioritize their inspections.  
Building a reliable network infrastructure to support this technology could be a challenge. In the report, NIST and the FPRF direct researchers to satellite networks, among other solutions. 
"By bouncing signals off satellites in orbit back to gateways on the ground, fire-fighting personnel can establish communications with other jurisdictions or remote personnel without nearby dedicated infrastructure," the report stated.
Casey Grant, executive director of research foundation, told Nextgov the timeline for this high-tech firefighting equipment is uncertain. Some of the technology mentioned in the report is commercially available, but government groups need to devise standards before they can be widely adopted. 
A fire chief, for instance, probably "doesn't want to go out and spend $5,000 on something and it doesn't work, or it can't be depended on," Grant said. Though there is some resistance to adopting new technology among a firefighting community used to a certain response protocol, "there's all kinds of rich information that's just popping up and the emergency responders are saying, 'Well, we can use this.'"
But funding also remains a challenge, Grant said. Even with demand from fire departments for more advanced firefighting technology, "it's always a matter of what resources are available."
(Image via Toa55/ Shutterstock.com)