Consumer Electronics Show Sets up Shop in Least Tech-Savvy Place on Earth: US Congress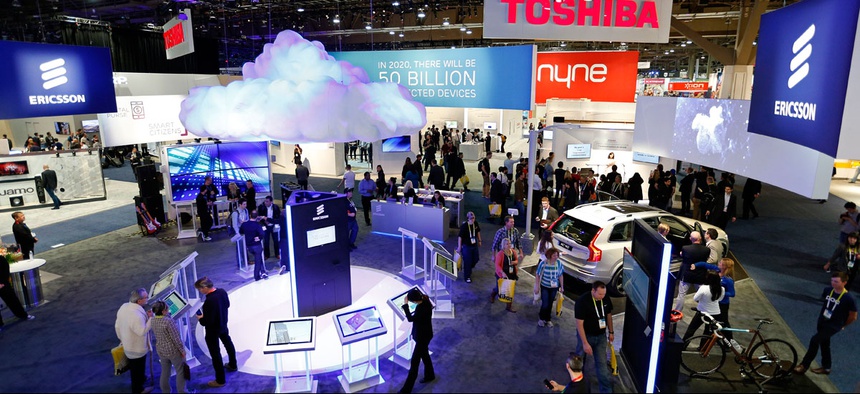 Tech companies, from startups to heavyweights such as Google and LG, came to the Rayburn House Office to pitch their products to lawmakers.
Had it descended on the Capitol lawn a few hours later, the infamous gyrocopter might have joined other high-tech gadgets at Congress' annual Consumer Electronics Showcase on the Hill.
Tens of technology businesses, from startups to heavyweights such as Google and LG, came Wednesday to the Rayburn House Office to pitch their products to lawmakers. It's Washington's version of the consumer tech mecca, the International CES expo in Las Vegas, also organized by Arlington-based nonprofit the Consumer Electronics Association.  
Products showcased include SMARTWheel, a steering wheel cover that can sense a driver's hands, potentially discouraging distracted driving, and Ecovent, a network of sensors and a smartphone app that lets users control the temperature in individual rooms. 
For Michael Boczek, chief executive of Bellingham, Washington-based Descartes Biometrics, the "CES on the Hill" event was an opportunity to market his technology to the public sector, especially to law enforcement agencies.
Boczek was demonstrating Helix, software designed to identify people by catching a snapshot of their ear. (In his demonstration, Boczek had pre-populated Helix with images of members of Congress from the Internet -- the system could then identify individual members as they walked past the booth, he explained.)
If Descartes Biometrics' technology were integrated into bodyworn-cameras, for instance, "as the officer approaches your car, they could potentially in real-time transmit the image of your ear . . . to determine if you're a risk."
It was also a chance to talk to lawmakers about patents and nascent attempts by Congress to clamp down on so-called patent trolls. 
"If we were faced with a frivolous lawsuit, that could bankrupt us," Boczek said. 
Representatives from Del Mar, California-based Humetrix demonstrated an app that could aggregate a patient's medical records, storing them on an smartphone for quick sharing and access.
Chief executive Bettina Experton said the company came to engage lawmakers in a discussion about the state of electronic medical records. Last month, senators met to discuss ways to speed health care providers' adoption of these systems -- including financial and technological barriers preventing these systems from seamlessly exchanging records when patients change providers.
Experton said she hoped lawmakers would see that despite these barriers, apps such as Humetrix's could help patients carry their own records with them. 
"Congressmen have to know there are off-the-shelf solutions that their constituents can use," she said. "[We] don't need to invent new technology. The so-called difficulty of existing standards is proven wrong right here."
Representatives from Panasonic's automotive technology team were hoping to nudge along legislation governing higher-tech cars. Gary Nelson, a senior manager in sales, was demonstrating a rearview monitoring system that can detect pedestrians and potential obstacles in low light, among other features.
Though auto manufacturers are interested in integrating this technology into new cars, Nelson said, the National Highway Traffic Safety Administration doesn't yet allow it. (The example they demonstrated was a dealer-fit option for Nissan, and the Japanese market is a few years ahead of the American one in terms of regulations, Nelson said.)
Jeff Joseph, CEA's senior vice president for communications and strategic relations, said while the event is intended to show regulators "the policies they create have a real-world impact," it's also a chance for lawmakers to see how technology could improve the public sector. 
For instance, a smartphone-based parking payment app might be useful for a consumer, he noted, but "maybe there's an application from a public policy perspective for better governance."